The Heber Valley Railroad, or Heber Creeper as the locals call it, is a historic railroad located in Heber City, just 20 minutes away from Park City. Whether you are looking to soak up a bit of history, need a rainy day activity, or just want a fun way to spend the day giving your feet a break, the Heber Creeper is great.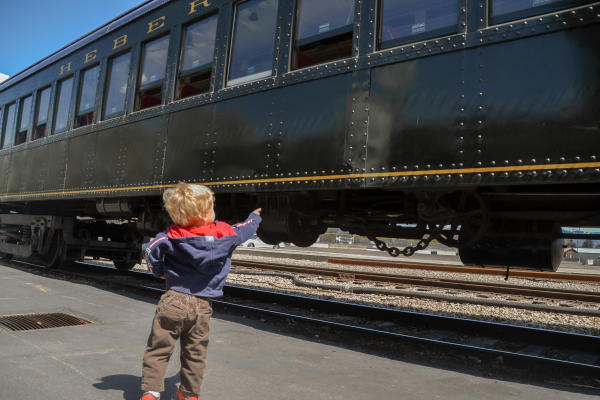 Details
What: Heber Valley Railroad
When: Year-round
Where: 450 S 600 W, Heber City, UT 84032 (20 minutes outside of Park City)
Who: All ages
Experience 
Wanting to soak up a bit of local history, I loaded up all my kids for our first visit to the train. A variety of trains have used this local railway line since the 1800s and the scenery down Provo Canyon is absolutely stunning. Throughout the year, the train has several different options for rides including scenic trains, family nights, and special theme rides including wizard trains, murder mystery rides, wild west trains, and even combinations where you can go rafting and then take a ride on the train.
For our first visit, we chose to take the 90 minute scenic Deer Creek Express down to Deer Creek Reservoir. In retrospect, I wish that we'd taken the 3 hour Provo Canyon Limited because it goes farther into Provo Canyon where the views are even better (our views were beautiful, but it made me really want even more!).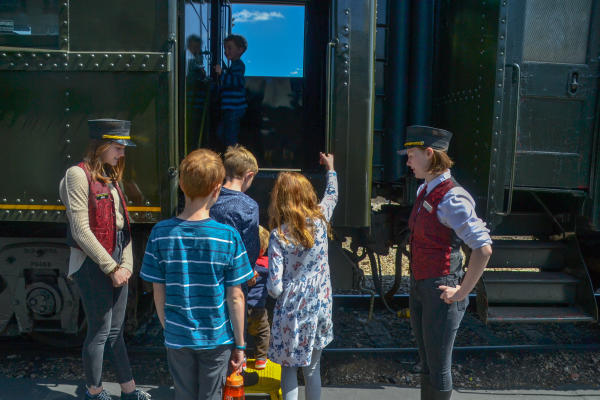 I wish that I could tell you that my kids were all absolutely thrilled when I told them I was taking them on a train ride, but that just wasn't the case. Sure, my 2 and 5-year-old were super excited, because of little boys and TRAINS!  Two of my other kids were slightly irritated that they had to come along, but my 12-year-old was pretty angry that I was taking him on a train ride because he's WAY too old for things like this!
We got on the train with all the kids and I was holding my breath to see how things would go. For the first 10 minutes or so, the train heads through rural backyards and farmers fields, and it was the perfect transition to get the kids used to the idea of what our ride would be like. By the end of that time, they were all looking out the window for animals and things seemed to be going pretty smoothly.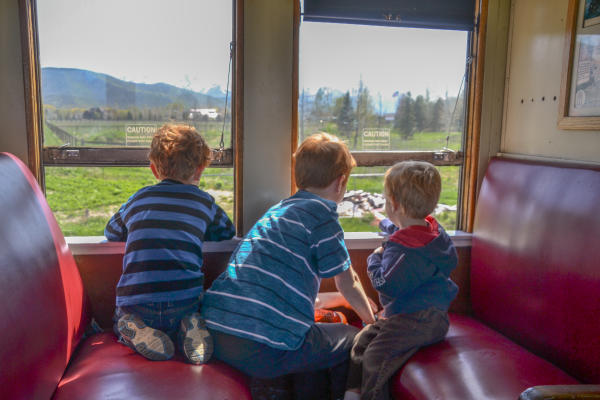 Once we started to get close to the reservoir, the train made a stop, where we were "robbed" by a pair of bandits. While my 2-year-old was a bit frightened by the fake gunshots, the rest of our kids got instantly sucked into the scene and had their hands up in the air for the bandits as they played along. Thankfully, we were rescued by the sheriff who ordered the pair to entertain us for the rest of our train ride (all trains have some sort of live entertainment).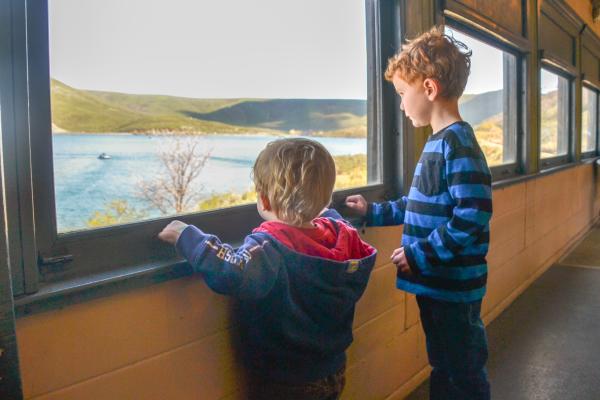 This was exactly what we needed. Our kids loved the performers, and my 12-year-old who was clearly too old for something like this, couldn't stop laughing at all the corny jokes they told, and from that point on he had a great time. Having a ride that was interactive made all the difference because suddenly going on the Heber Creeper wasn't just a form of slow transportation, it was an experience!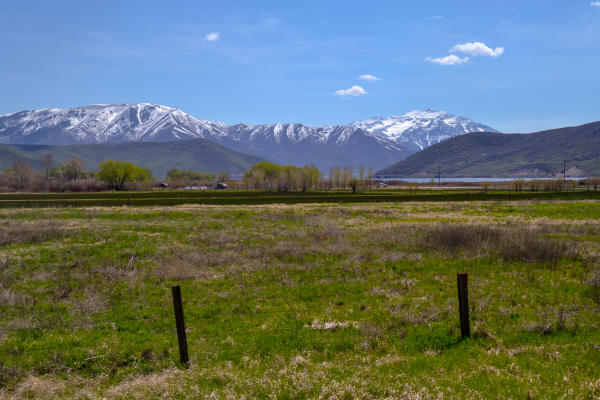 And it's an experience with an amazing view. About half of the Deer Creek Express ride goes right alongside a lake that's surrounded by mountains, and the views are hard to beat. The train doesn't go very fast at all, but that's part of the beauty of it. We were going at a speed where we could really get a good look at the mountain pelicans on the lake, and where we got a front row seat to an osprey hunting for prey. These sorts of experiences are hard to come by and seeing it all from the train made it extra special.   
By the time we turned around and headed back to the station, our train car was all smiles and laughs.  This was our first ride on the Heber Creeper, but everyone had such a great time that it certainly won't be our last.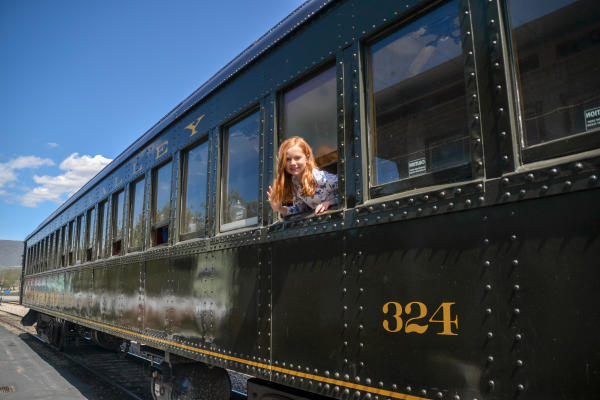 Additional Information 
Provo Canyon Limited
Departs:  Tuesday-Saturday at 11 am (through October 31)
Duration: 3 hours
Cost:   $30 - Adult $15 - Children (3-12)  Children 2 and under FREE
Lunch:  $13 (must be ordered 24 hrs in advance)
Deer Creek Express
Departs: 3 pm most Tuesdays - Saturdays through August 30 and most weekends in September (check the calendar for specific dates)
Duration: 90 minutes
Cost:  $20 - Adult $15 - Children (3-12)  Children 2 and under FREE
Family Night Train
Departs: 7 pm most Monday evenings
Duration: 90 minutes
Cost: $8 per person or $35 for 6 people  Children 2 and under FREE
Note: The Monday Night Train includes sing-a-longs, loud music, and fun!
Theme Trains available at various dates throughout the year. Check here for special events.