While skiing and snowboarding tend to be the stars of the winter season, snowshoeing provides another fun, active way to take in the snowy sights. This unique winter sport requires no experience and delivers a host of benefits, including fantastic exercise, a new perspective on familiar places, and an exhilarating outdoor adventure, no matter your age or fitness level.
With White Pine Touring's Historic Snowshoeing Tour in Park City, you'll also gain insider knowledge about Park City's mining history, complete with surprising (and sometimes sordid) tales of that era. Learn more about this family-friendly activity and everything you need to know before you go, below.
What: Historic Snowshoeing Tour with White Pine Touring
Where: Ontario Mine Trail (or other trails identified by the guides)
When: Winter (Nov. 20 — April 1) 
How much: $195 per person, $85 per additional person 
Who: Anyone with an interest in Park City's mining history and/or who loves getting active in the great outdoors 
What You'll Need for a Historic Snowshoeing Tour
The best part of taking a tour with White Pine? You only need to bring yourself — all of the gear you'll need is included! That said, be sure to dress the part: Wear clothing designed for wet, snowy conditions, and dress in layers (similar to what you might wear on the slopes or for cross-country skiing), so you can remove outer layers if you get too warm. Don a pair of waterproof boots (hiking boots will do the trick) and warm socks, and don't forget a hat, gloves, and sunglasses.
As for the actual snowshoes, White Pine will get you set up with an appropriate pair adjusted for your weight, the terrain, and the conditions that day. They'll also lend you a pair of poles that come in handy for navigating in the snow, as well as snacks and water bottles.
Also included with your White Pine Historic Snowshoeing Tour: a highly experienced, local guide. Our guide was a longtime Park City local, Art, who helped set us up with the gear and gave us some simple tips for snowshoeing in the deep, snowy conditions.
Luckily, the art of snowshoeing is fairly simple — a lot like hiking — so there wasn't too much to learn! The biggest tip we learned was not to walk backward in snowshoes, and if you're going through deep snow, keep moving so you don't sink in!
If you're less experienced with snow sports or uncertain about your fitness level (especially at altitude!) don't worry. Before your tour, your White Pine guide will contact you to find out what sort of experience you're looking for and to plan an appropriate route for everyone in your group.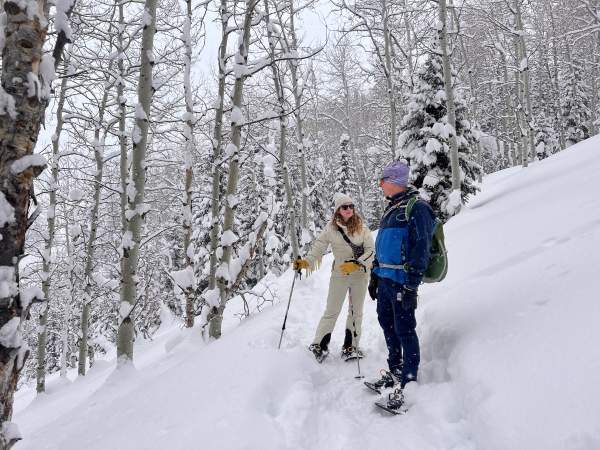 What to Expect on a Historic Snowshoeing Tour
After meeting Art at the White Pine Nordic Center, we took a short car ride to the Ontario Mine parking lot on Marsac Avenue. Our trail started with a fairly steep path up above the mine. As we caught our breath, Art filled us in on some interesting history about the Ontario Mine.
Discovered in 1872, the Ontario Mine became one of the most consistently productive silver mines in Utah in the late 1800s. In 1872, American businessman and politician George Hearst purchased the mine from the prospectors for $27,000 — a smart investment, considering he'd earn $12 million from the mine by the time of his death in 1891! The mine would go on to produce over $50 million worth of silver and lead during its operation.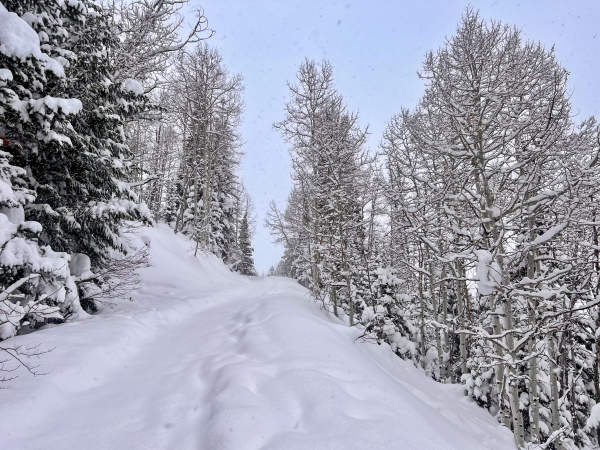 We continued on through the pine forests and Aspen groves along the Ontario trail as flurries of snow fell. The piles of snow on the trees made for picturesque views no matter where we looked. We got glimpses and heard more about other mining sites through the trees and mountains of snow, such as the mines on Daly Ave, and heard tales about more intriguing characters from Park City's past.
Overall, our 2.5-hour tour gave us a good grasp on how Park City went from a mining boomtown to sleepy ghost town to the thriving, vibrant mountain town it is today. Art also took us through some super snowy sections of the trail "for fun" — we only fell once! — and had a good sense of humor that kept us entertained on the trek.
As we made our way back to the parking area, we passed by the Ontario Mine again on our way out, providing the perfect place to reflect on the history and landmarks we'd just learned about.
The Bottom Line
Whether you're interested in Park City's mining history, looking for a fun, family-friendly activity on a winter morning or afternoon, or simply want to change it up from skiing or snowboarding, a snowshoe tour with White Pine is sure to satisfy.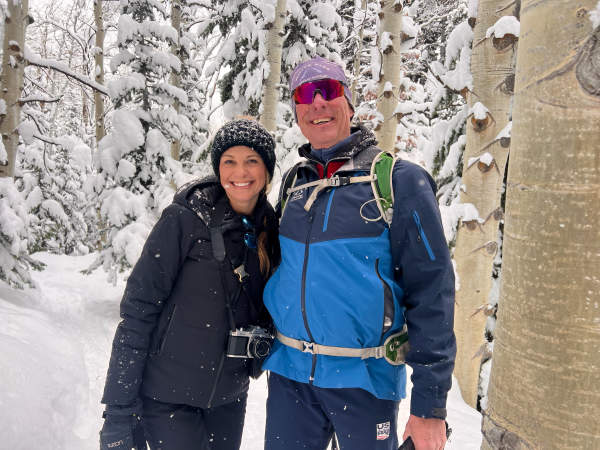 Find more ways to explore Park City's mining history here!