Built for the Salt Lake 2002 Olympic Winter Games, the Utah Olympic Park located in Park City, is a 400-acre venue that houses one of only four sliding tracks (that's used for bobsled, skeleton, and luge) in North America, six Nordic ski jumps, a 2002 Winter Games museum, and a multitude of adventure activities. We are so lucky to have the Utah Olympic Park in our backyard, as it is this amazing dynamic multi-use facility focused on developing and growing participation in winter sports and is an official USOC Training Site.
In the summer the UOP gives visitors an experience of a lifetime with multiple heart-pumping activities through their Gold Adventure Pass that will surely raise your adrenaline level. Included in the Gold Pass is a 3.5-hour session of unlimited use of the Alpine Slide, Extreme Tubing, Extreme Zip, Freestyle Zip, Discovery Course, Canyon Course, Summit Course, Drop Tower, Airbag Jumps, Action Tower + Scenic Chairlift Rides. Not included in the Gold Pass is the Summer Bobsled Experience, which is totally another beast of an activity that will leave you weak in the knees, but in a good way.
After living in Park City for over 4 years I realized I'd never experienced the summer activities at the UOP so given the opportunity I jumped on it and needless to say it left my heart racing.
Details
What: Gold Adventure Pass $85 per person and Summer Bobsled Experience $100 per person
When: Summer Bobsled Experience has 5 sessions a day starting at 10 AM and there are two Gold Pass sessions per day - morning and afternoon
Who: For the Bobsled riders must be 13 years of age or older and at least 100 lbs to ride, and for the Gold Pass activities there are a variety of age and weight restrictions - so please check the UOP's website.
Experience
Booking your Gold Pass and Bobsled Experience is super seamless online. Simply choose the dates and times you'd like to go and save yourself the hassle of waiting in line at the UOP. Plus, a big benefit of doing it in advance is making sure you secure tickets in case they sell out for the day you want. Each one-hour bobsled session is limited to 26 people and each Gold Pass session is limited to 275 participants. So online reservations are highly recommended. Once I had my reservations settled, I was able to sign my waiver online before arriving. The check-in attendant gave me two wristbands, one for my bobsled experience and the other for my Gold Pass Experience, and I was on my way.
The Alf Engen Ski Museum
Before heading over to the chairlift that would take me to the bobsled track I checked out the Alf Engen Ski Museum and the Eccles Salt Lake 2002 Olympic Winter Games Museum. This world-class facility highlights the history of all skiing disciplines in the intermountain region through interactive touchscreen displays, videos, a virtual reality ski theater, games, and topographical maps. Visitors can also experience the glory of the 2002 Olympic Winter Games through a gallery of visual highlights and artifacts from the 2002 games. A newer part of the exhibit is the Hometown Heroes feature which showcases our Park City Hometown Heroes from the latest Winter Games. In the current exhibit, you will meet Park City athletes who competed in the 2022 Beijing Olympic and Paralympic Winter Games. These athletes include Colby Stevenson, Freestyle Big Air Silver Medalist, Justin Schoenfield, Chris Lillis, and Ashley Caldwell, Mixed Team Aerials Gold Medalists, Casey Dawson Speed Skating Long Track Team Pursuit Bronze Medalist; and Danelle Umstead Alpine Skiing.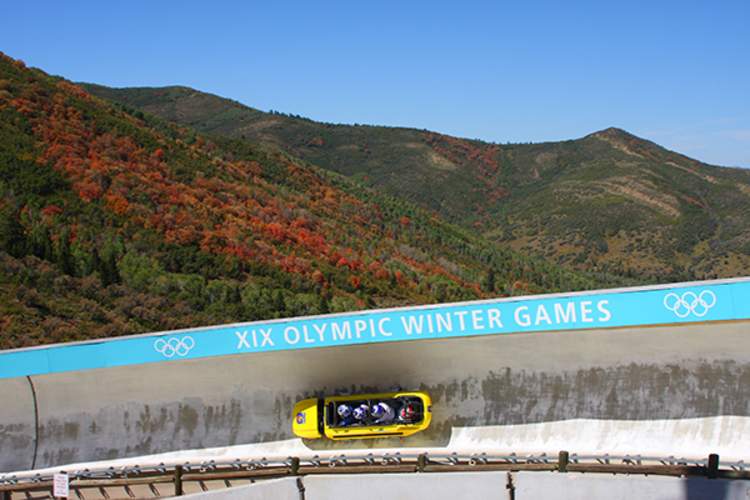 Riding the Bobsled in Park City
After perusing Olympics history it was time for my Bobsled Experience, so I headed up one of the UOP's scenic chairlifts that overlooked the very twisty turny track. We then took a shuttle to the top of the track where I and other riders were briefed on safety instructions, given a correctly sized helmet, and instructions on how to sit in the bobsled. For the summer season, the bobsleds are modified to roll on the track's concrete surface. Each professional pilot takes up to three passengers per bobsled, and the experience only takes one minute to get from top to bottom. It's a heart-pumping (I think I've mentioned this before) one minute where you get to experience three times the force of gravity and expect to reach speeds up to 70mph. This ride is quite extreme and highly physical. Anyone with chronic neck problems, back or kidney problems, heart problems, recent surgery, pregnancy, and/or high blood pressure is strongly discourage from riding the Summer Bobsled Experience. I was personally a little hesitant as I had not been on any sort of roller coaster in a very long time, but here we go …
I hopped into the sled with another visitor and our pilot and was told how to lock ourselves into the sled by bracing our arms and legs and shrugging our shoulders to support our heads. As we were locked and loaded and ready to go the pilot shoved off and we cruised through the first turn picking up speed, and OH MY GOD, the shear force of the turns and the pressure you feel on your body is like no other feeling I've ever endured, you must go through it for yourself to really understand what it's like! The ride was over before I knew it, but I was already feeling the after-effects of wobbly legs and heart racing. I had to take a minute to collect myself before heading on my way to the other adrenaline-inducing activities.
More Activities at the Utah Olympic Park
The activities at the UOP are like an amusement park for adrenaline junkies pushing your limits in a really safe environment where every activity is super dialed for enjoyment and safety. As you roam from one plaza to the next you can watch Olympic or soon-to-be Olympic athletes in training jumping into the aerated pools which is just a peak at the UOP's Flying Aces show that sets flight on Fridays and Saturdays at 6:30 PM. What I really love about the Gold Pass experience activities is that they have set it up as a progression where you can begin at a more basic level and work your way up to something more extreme. In other words, if you're feeling just the slightest bit of fear or you are uncomfortable you can still challenge yourself, and potentially begin to feel more confident in your abilities and mindset. I appreciated the progression as an adult trying to lean into a beginner mindset and working through my fear of heights.
My next stop was the Airbag Jump where there is an opportunity to leap off multiple platforms of differing heights, 5 feet, 10 feet, and 15 feet, into one of the airbags below. As someone who is a little bit afraid of heights, I started by jumping off of the 5-foot platform and then moved onto the 10-foot after feeling confident with my technique. After my jumps, I watched guests try their hand at the ropes course which looked super fun and challenging, but I had my eyes on the zipline, so I walked over to the Nordic Plaza that has access to the extreme tubing and the ziplining, took another scenic chairlift ride up and soared my way down. So fun! The zipline creates a unique experience around what it's like to be an Olympian flying off the K120 Nordic ski jump. The ride starts at the edge of the K120 jump, at which point the force of gravity takes over and propels you to 50 mph – fairly close to the speeds of world-class ski jumpers.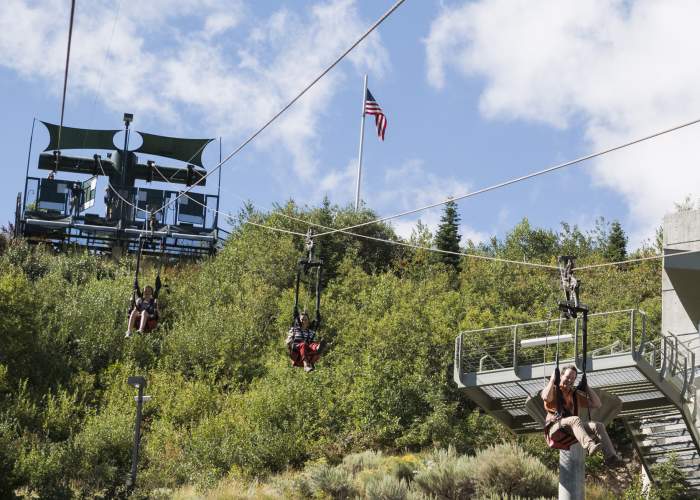 Advice
Online reservations are highly recommended.
Dress comfortably, especially for the heat.
Closed-toe shoes are required.
Must meet age, weight, and health requirements to participate.
Sunglasses, hats, and other accessories that may become loose during the rides are not recommended.
Hydrate as it does get warm!
Please note that there is a possibility of injury.
The Utah Olympic Park has fun for the whole family as there are so many different options and levels of activities to choose from. There is something for everyone, starting at a less intimidating level and working your way up! By spending the day at the UOP you will certainly get a feel for what it takes to be an Olympic athlete and tap into the extreme feelings of flying through the air.