Passing by a historic structure of cement and iron that has not been operational for nearly a century, a knowledgeable voice offers that the crumbling column before us was most likely used for extracting material from a mining tunnel resting hundreds of feet below us. Our snowshoeing guide and the fascinating history lesson were part of our snowshoeing journey, adding a touch of intellectual stimulation to our outing through a winter wonderland.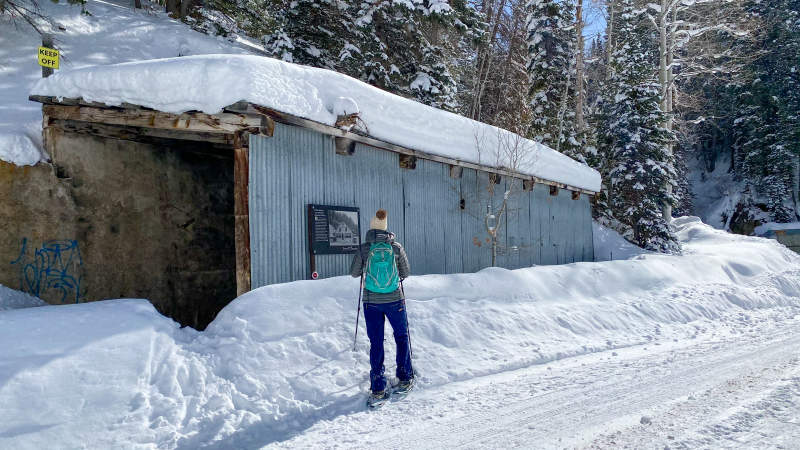 Details
What: Guided snowshoeing experience with Utah Outdoor Adventures
Where: Trail system within Park City
Who: All ages (recommend checking on gear availability for young children)
When: Winter season, 7 days/week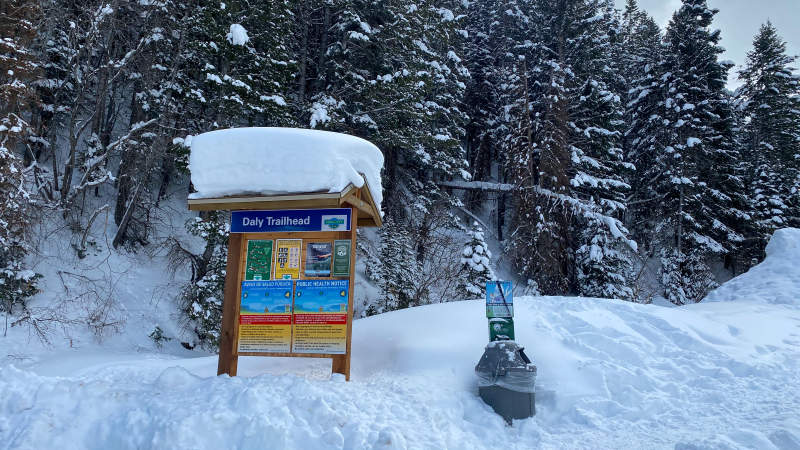 Experience
A couple of weeks prior, we called Utah Outdoor Adventures' office to schedule the two-hour tour as portrayed on their website. While talking with them over the phone, the outfitter shared three primary trails they typically tour but allowed us to make recommendations if we felt strongly about alternatives. Knowing that winter weather can be unpredictable, we were penciled on the calendar and advised that our guide would reach out to us at some point the day before the snowshoe tour to confirm the time and location.
When we were a day out from the tour, much of the state was experiencing a substantial snowstorm, so our designated guide called us later in the evening when the weather forecast was most accurate for the day ahead; we opted for meeting at the Daly Canyon trail located near Historic Main Street. The guides do offer guests transportation if needed, but we agreed to drive ourselves this time around.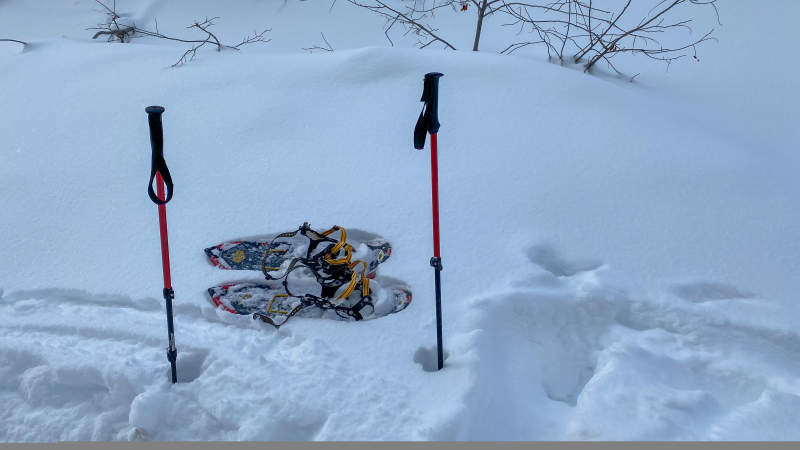 When we reached the trailhead the next day, our expert snowshoe leader was ready with snowshoes and poles set out. We all came dressed in snow apparel including snow pants, snow jackets, snow boots, hats, and gloves to stay comfortable in the wintery climate. The guide also packed complimentary water bottles in his backpack if we needed them; I chose to carry my own backpack equipped with a reusable water bottle and spare layers.
Once we geared up with snowshoes and trekking poles in hand, the guide led us onto the trail, breathing in the crisp air and nature bathing our senses. Originating as a silver mining town in the late 1800s, Park City is smattered with mining relics while underground is flooded with miles of abandoned—and closed-off—mining tunnels, and a spectacular component of our snowshoe experience was our trail passing along many of the mining-era vestiges like the material-extraction well.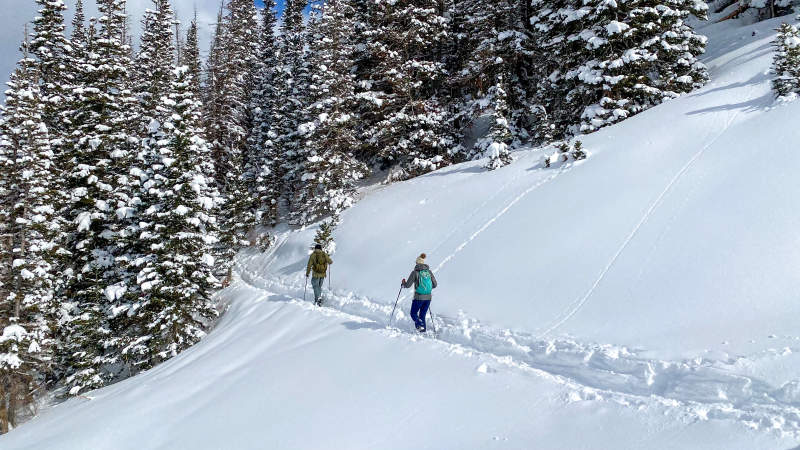 Wearing snowshoes makes walking on a snowy trail easier than trying to hike in just snow boots. With the larger surface area to help distribute weight more evenly, walking on top of snowpack or powder is like walking on a cloud without digging into the ground like fluffy sand on a beach. And thanks to the more ergonomic design of modern snowshoes, there's less need to widen the walking stance, saving the knees and hips from added stress experienced with older, "clunkier" snowshoe designs.
Along the way, several stopping points and forks presented themselves and our guide assessed how we were doing and gauged our energy levels and enthusiasm for one route or another. For varying customer needs, I appreciate that Utah Outdoor Adventures always has numerous plans in place to account for a diverse range of participant desires throughout the trail.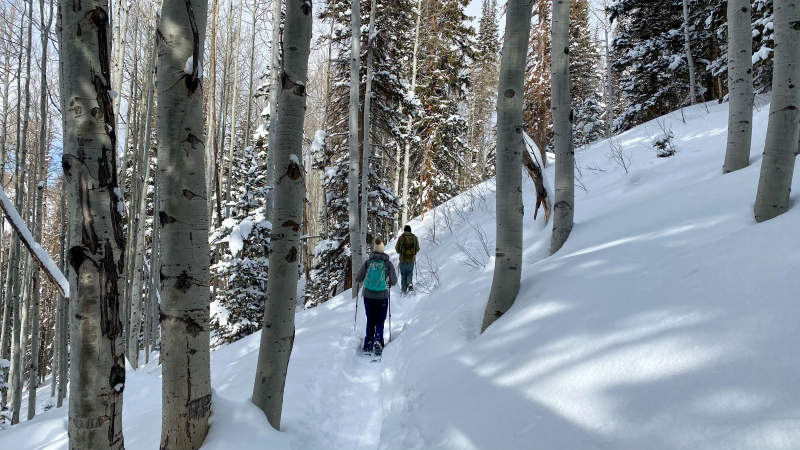 We carried on, covering a few miles of terrain with plenty of breaks and learning material as we went. Not every trail will necessarily pass mining artifacts. Still, the guides at Utah Outdoor Adventures are lively and know their stuff, from assessing safe snow conditions to town history to general fun facts about the plants and animals that inhabit the landscape. No matter what trail or scenery is experienced, Utah Outdoor Adventures are the pros, and they know how-to guide, entertain and educate to everyone's merriment.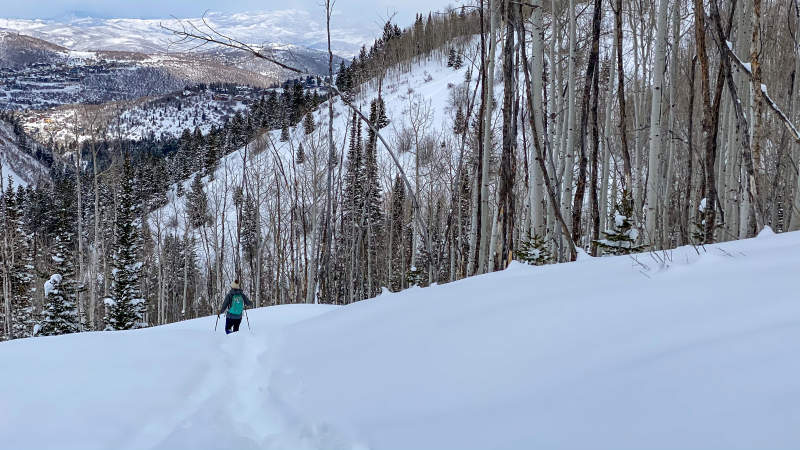 Advice
Call ahead. Winter is peak season, so time slots can fill up quickly and it's best not to wait until the last minute to make a reservation.
Wear layers. Even on a cold day, snowshoeing is a physical activity so it's best to wear layers that can easily come off or on to keep you comfortable throughout.
Wear snow pants. Even though snowshoes keep you afloat on top of the snow, it's still likely to have surrounding snow find its way onto your pants, which can melt and make you feel damp, so it's recommended to wear snow pants over your bottom layers.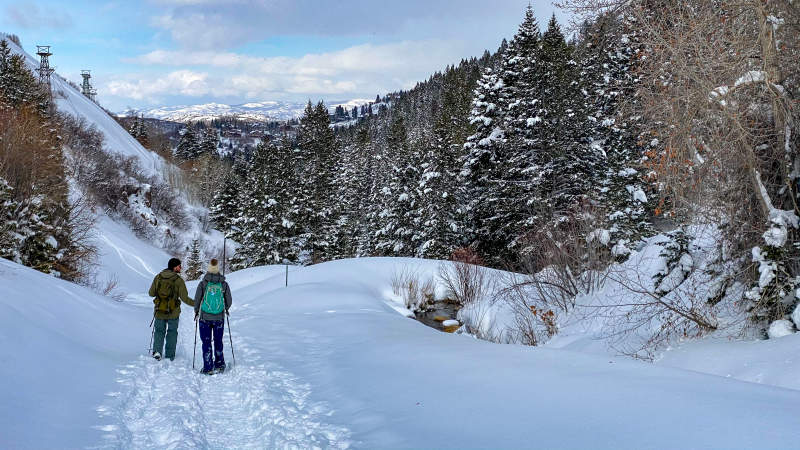 Home to the Greatest Snow on Earth™, Utah serves up dry and fluffy snowfall thanks to the desert climate. With Park City sitting at 7,000ft elevation with its mountain peaks approaching 10,000ft, the town sees more snowfall than surrounding communities, and there are ample ways to enjoy Mother Nature's seasonal gift. Snowshoeing with Utah Outdoor Adventures is high on the list of recommended experiences.
Snowshoeing is accessible to all ages and fitness levels, making it inclusive and unintimidating to never-evers and enthusiasts alike. Entrusting an experience to a local guide company is encouraged because it leaves the decision-making and handling of equipment to the pros, and Utah Outdoor Adventures made the experience seamless and, more importantly, enjoyable from start to finish.