Perched above the Park City Golf Course at the base of the Silver Star lift, Jeff and Lisa Ward own and operate Silver Star Café. The family-run spot makes a perfect place to dine before or after exploring the mountain in both summer and winter, offering stunning views and live music several nights a week. 
Jeff and Lisa met years ago, when both were waiting tables at Stein Eriksen Lodge in Deer Valley, and the five-star dining experience forms the foundation of Silver Star Café, which they opened in 2010. They've worked in the restaurant industry for so many years that their kids grew up in restaurants as well. Today, the Ward's children are also involved in running the restaurant, making it a true "mom-and-pop" place. 
Due to Silver Star's location, nestled between a golf course and easy access to biking, hiking, and skiing trails, the Wards wanted to make sure they were serving flavorful comfort food that was still light enough to make you want to get back out on the mountain. Their food philosophy: 
"It's a healthier way of eating, multi-layered, with a lot of flavors," Lisa tells us. 
The intimate restaurant feels like the interior of a cozy alpine cabin, which is the vibe that the Wards hoped for. "We wanted it to feel like you're a guest in someone's home," Lisa says. It's filled with mountain-inspired knick-knacks, signs, and sayings, plus lots of cozy pillows. The overall ambiance lends an upscale, but not formal, feel, "which is a reflection of how we approach food and our style of service," Jeff adds. 
Every Thursday, Friday, and Saturday night, diners can also enjoy live music to accompany their delicious meal. On these nights, Silver Star hosts an acoustic music dinner show called "Park City Limits," featuring a variety of musicians from genres ranging from blues to bluegrass. Singer-songwriters range from local acts to national touring artists. In the fall, winter and spring, performances are held inside, but in summer, shows take place outside on the spacious patio with 360-degree views of the mountains.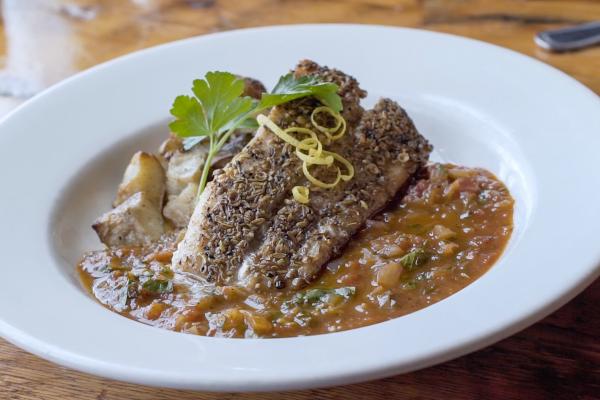 In this episode, we chat with Jeff and Lisa about their inspiration for the restaurant, cooking methods, and the perks of working with their family. We also get a taste of several made-from-scratch meals Jeff has prepared, from a braised pork Osso Bucco to aromatic seed-crusted Mahi.