A little hay, a few carrots, and a snow-covered trail is not unlike your typical day in Park City, but today, instead of walking, biking, or skiing through exposed twigs on a groomed trail while pulling snacks from your pack, Rocky Mountain Outfitters is providing a little horsepower to get the job done. 
Nestled in Soldier Hollow to the North side of the Heber Valley railroad is Joe Loveridge's herd- trained, groomed, and saddled for the road ahead. Since 2003 Loveridge has been offering trail rides from both his outpost in Heber Valley and in partnership with Sundance Mountain Resort, his winter rides being a newer fan favorite.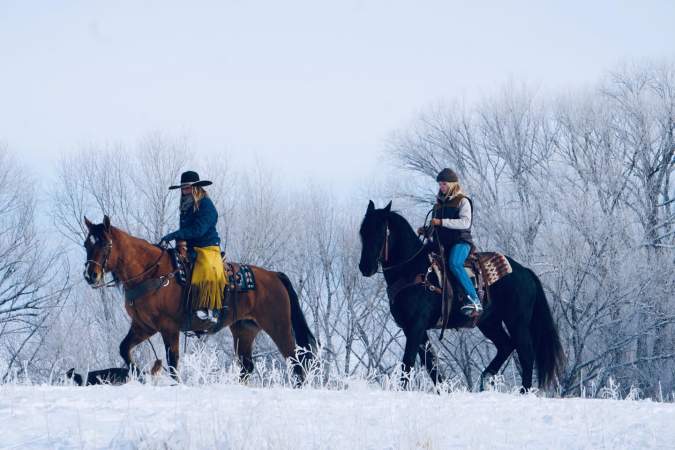 The History
Born and raised in Northern Utah, Joe Loveridge's time riding horses was spent in the mountains hunting and fishing with his father, "a true outfitter," says Loveridge, "We always had horses growing up. Used 'em to get up the mountains to go fish and hunt. I didn't do the rodeo thing, more just riding in the mountains."
Riding, and skiing. For 15 years Joe worked winters as ski patrol for Sundance Mountain Resort, spending his summers as one of their wranglers leading trail rides between the Aspen trees. Eventually, Joe's experience allowed him to take over the stables entirely and extend the riding season from spring to fall. As the years passed, RMO expanded its arsenal of offerings from summer trail rides to fly fishing rides, yoga rides, and sleigh rides, adding what are now their winter trail rides to the growing list. "We started doing [winter rides] about seven, eight years ago," says Loveridge, "People wanted to ride in the snow, I figured, I feed these horses all winter long, so may as well let 'em do something."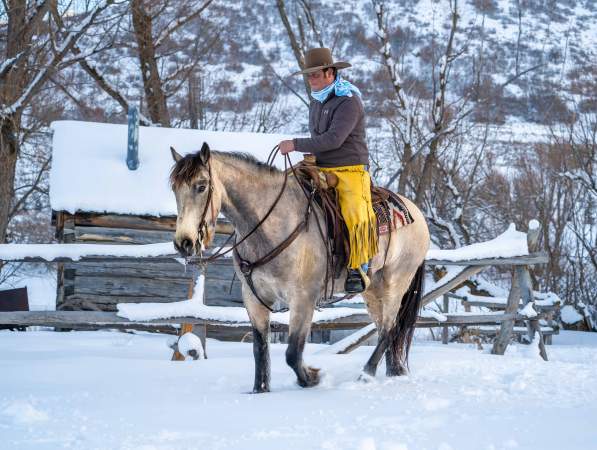 The Trail + The Ride
While summer boasts a medley of trail options, winter rides are done exclusively out of Soldier Hollow, offering a breathtaking view of Deer Creek Reservoir with a few peek-a-boo's of Mt. Timpanogos in the distance, snow-covered and standing in all of her almost 12,000' glory. "The trail is pretty mild," says Loveridge, "You'll see people ice fishing on the lake and Bald Eagles in the winter. We do a lesson before any ride. Talk to people about how to react and how to act. [Horses] are a herd animal. They're going to react to whatever the lead horse is seeing and not seeing."
Rides are geared towards all levels beginning at eight years old. Rides done from spring through fall offer opportunities for more advanced riders to get on a horse and pick up some speed, but winter is largely about the experience and the views. "We've got a string that takes care of the beginners and the less-experienced riders," says Loveridge, of his trail horses, "They know they're job. They're good dude horses. They know what they're supposed to do, and they do it."
With a season of bookings, and an increased desire for outdoor activities, Loveridge's herd of roughly 50 horses, a blend of draft and quarter horses, have had their busiest winter yet, "We're fortunate with COVID," says Loveridge, a bit surprised in his tone, "We've never been busier in our lives." Fortunately, with a herd his size, the horses easily rotate between two to three trail rides a day for three to four weeks, and a week off here and there in the pasture. "Horses like to work. especially our draft horses, that's what they were bred to do," says Loveridge.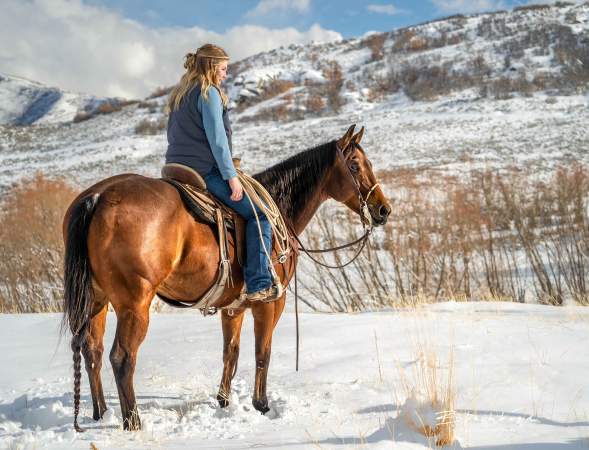 The Wranglers
RMO guides are experienced in a variety of ways, with diverse backgrounds in horsemanship. "We've got a lot of college age wranglers coming to school here. Guys that have done rodeo, guys that just used 'em and hunted on 'em. Girls that have competed on 'em in the hunter jumper world," says Loveridge, "Most of 'em find me. My biggest thing is having people skills. Horse skills is obviously mandatory. 'Gotta know how to saddle a horse, work with a horse and what not, but you 'gotta have the right personality for it."
A personality for the guests, the work, and the colder temperatures, something that feels like a clear 'yes' when the opportunity to experience winter on horseback arrives. Between the serene peace of the snow, the panoramic views of the lake, and the surrounding mountains, winter on horseback offers an immersive connection to Northern Utah's winters thanks to RMO's ability to guide their guests on a memorable and alternative adventure through the Greatest Snow on Earth®.
What to Expect
Attire
Winter horseback riding is obviously a bit chillier than the summer months so dressing for the occasion is vital. We recommend long pants, gloves, hats, jackets that allow you to bend and move easily, and scarves that do not dangle or that can get twisted in the wind, saddle, trail, horse, etc. We also recommend wearing pants and boots you don't mind getting dirty. Snow means water, which means mud. And while the trail is fairly well packed (depending on the conditions) the loading and unloading area where the horses are kept can get dusty and if it's recently snowed, a bit muddy.
Access
RMO is located in Midway, Utah, just 30 minutes from Main Street Park City. The best way to access the stables is by car, either renting a vehicle or by hiring a cab, Uber, or Lyft. Depending on where you are staying, consult with your concierge about shuttles and drivers that can take you to and from your destination. The drive out of town is well worth it, with views of Jordanelle Reservoir, Heber City, and the Provo River.
Time
Time on the trail ranges from 60-90 minutes, depending on your preference and the cost ranges from $75-$90 per person for a fully guided ride.
Instruction
Prior to each ride, the guide will cover basic horsemanship, how to turn, how to ask them to walk, how to sit in the stirrups, etc. The horses themselves will be saddled and bridled when you arrive, so all you'll need to do is await your turn to mount your horse. Trail horses have a knack for knowing where to go and what to do, much of it determined by the lead steed whom the other horses follow. Rides are geared toward all-levels, which means no prior riding experience is required.