Park City is not only a destination for high energy action-adventure but also a place to unwind, relax, and invest in a little you time. We might be known for our ski resorts, Deer Valley Resort and Park City Mountain, and having The Greatest Snow on Earth,™ but did you know about all the other ways you can indulge in a little self-care amongst our mountains? 
It's all about getting away from the day to day and creating a new type of routine that will bring you back to equilibrium. Watching the snowfall is mystical in itself and recalibrates the senses by putting you in the present moment.
If you're looking to complement your trip to Park City with some self-care or you are looking to get away from it all to nourish your soul, pamper your body, and initiate a new wellness routine read on as this guide to a winter wellness weekend in Park City will help you craft the perfect vacation to rest, rejuvenate, and reset. 
Renew at the Spa
What wellness weekend wouldn't be complete without a spa day to rejuvenate and renew! The spa at Hotel Park City is the perfect spot for a tranquil afternoon of pampering. This luxurious facility includes private treatment rooms, herbal-infused steam rooms, saunas, whirlpools, meditation rooms, men's and ladies' locker rooms, fitness equipment, and a hydrotherapy tub. Their extensive spa menu has a plethora of treatments to choose from and is set up in a way where you can choose your own adventure with a variety of a la carte treatments from therapeutic massages, body wraps, and aromatherapy services, to facials, manicures, and pedicures.
Details
What: Spa Treatments at Hotel Park City
Where: 2001 Park Ave, Park City, UT 84060
When: Anytime you are looking for a little pampering and relaxation.
Who: These treatments are for anyone looking to hydrate their skin from the dry mountain air.
Utah is notorious for being a dry place, especially in the winter. The cold air and wind we experience outdoors dry the skin out even more, especially if we exercise outdoors or participate in outdoor winter sports. And if you've been taking any of my suggestions to get outside and enjoy our winter wonderland, your skin might be feeling a little parched. I visited the spa at Hotel Park City to try a couple of their treatments that would not only be relaxing but also hydrating. I scheduled three treatments that would complement each other: a Hydrating Body Wrap, the Awaken Scalp Treatment, and a 25-minute massage.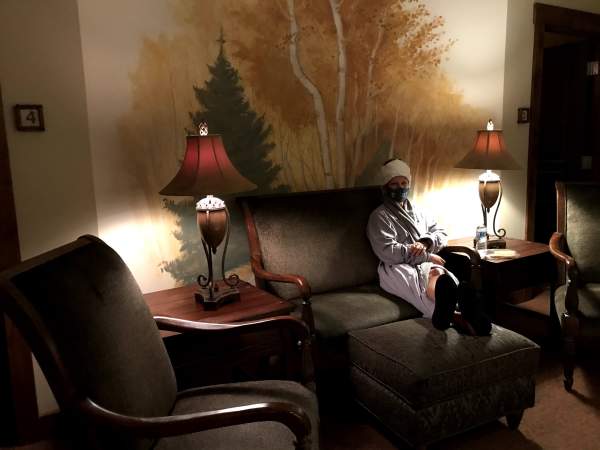 When you walk into the spa at Hotel Park City a sense of calm and peace washes over you. I enjoyed the ambiance of the lounge areas with the relaxing sound of trickling water from their zen fountains. My therapist Sara escorted me to one of their many private and quiet treatment rooms and got me settled. Sara has been with the spa here for 11 years and had a very comforting demeanor, so I knew I was about to get hooked up with an exceptional experience. She explained the process of the treatments and how she would administer them. We began with the hydrating body wrap. This luxurious treatment commenced with a light body brushing to gently exfoliate, which I had never experienced before, and was delighted to be able to try (BONUS: I was able to keep the brush to continue to dry brush at home). This prepared my skin for the deeply moisturizing treatment that would nourish and soothe my Utah dehydrated skin. During the moisturizing, she interweaved the massage with the thirst-quenching cream and body oil. Once I was coated in all the good stuff,  Sara wrapped me like a burrito in a hydration sealing blanket that would help coax the lotion into my skin. While I lay there in my happy little cocoon, Sara began on my scalp treatment, using special oils that smelled of invigorating peppermint and would not only help to moisturize a dry scalp and hair, but also stimulate hair growth, and diminish dandruff. Plus an added bonus to the treatment is a nice little head massage. After laying wrapped up for about 15 minutes it was time to be freed, feeling hydrated and refreshed.
When visiting the spa, you have access to their fitness facilities, outdoor heated pool, and hot tub, which I took advantage of. A wintertime soak in an outdoor hot tub while watching the snowfall is always a great way to end the day. 
Reconnecting with Nature
After checking in and taking a moment to collect yourself and put your feet up from your travels it's time to get outside and enjoy our cool fresh mountain air that will surely wake up your senses and the feeling of being alive.
Stopover at White Pine Touring and try your hand at Fat Tire Biking. Park City has an abundance of snow-packed, groomed trails waiting for you to explore on a bike specially-designed for winter mountain biking. White Pine rents high-performance fat bikes and has all the gear and clothing you might need to feel comfortable to enjoy a chilly winter ride while making sure that your hands, feet, head, and core stay plenty warm.
Getting up with the sun is always a rewarding experience, so why not head out on a Sunrise Snowshoe Adventure with Wasatch Adventure Guides, to greet the day in all of its majestic winter glory. There is really something spectacular about walking through the forest, snow crunching beneath your feet, and watching the light peak over the horizon, dusting our mountains with a warm glow.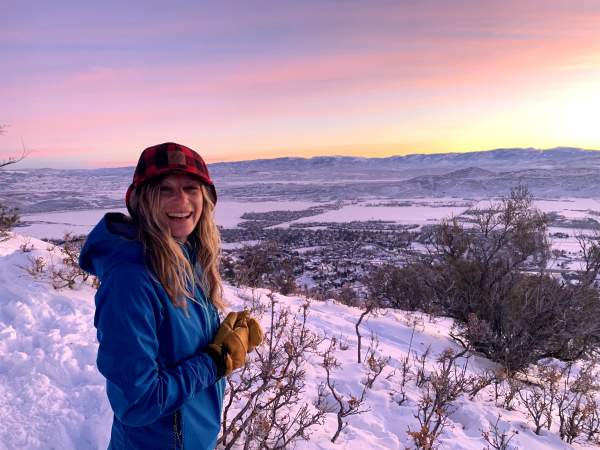 If you're looking for a truly unique winter experience that will help you to feel centered and focused on yourself spiritually, mentally, and physically join Park City Yoga Adventures for a Night Snowshoe + Yoga at the Homestead Crater. Enjoy a snowshoe trek illuminated by only the stars and the beam of your headlamp followed by an hour of paddleboard yoga in the steamy mineral water of the Homestead Crater, a geothermal spring in a 55ft limestone dome. 
On the occasion, you might be looking for some personalized attention book a custom outdoor fitness experience with your very own Stoke Coach. Rachel Friedman Elberts is a certified personal trainer, an outdoor fitness guide, activity partner, and adventure concierge who can create a personalized wellness program that will help you re-envision what a healthy lifestyle might look like by reconnecting you with the joy of movement while getting you out in nature. She boosts her clients' confidence through fitness experiences that encourage feelings of strength and capability in their bodies. She can meet you at a park for a fun fitness session, a trailhead for a reimagined hike or snowshoe, your vacation rental, or a hotel for a personalized private workout to help you feel ready to shred the slopes. When you are STOKED you are completely and intensely enthusiastic, exhilarated, or excited about something, and there is no limit to what you can do.
Rejuvenate and Sweat
Find joy through physical exertion and move your body to get into a flow state. Enjoy a warm peaceful yoga session, a core strengthening pilates class with the healing properties of salt, or meet some fitness buddies at a sweaty high-intensity workout class to get that heart pumping.
If you're looking to reawaken your yoga practice look no further than Tadasana Yoga. The classes at Tadasana are based on vinyasa yoga, a form of hatha yoga that flows with the breath. Their studio is warm (not sauna-hot) to loosen your muscles and cleanse your body. Every Tadasana. Yoga class follows the arc of the Five Pillars: intention, motion, athleticism, grit, and focus. They are known for their athletic practice that will challenge you physically and mentally. And If you want to amp it up aerobically, take one of their yoga-fitness classes that offer HIIT, weights, and aerobics, along with yoga.
Maybe pilates is more your jam, if so drop into the Salt Method, one of the most beautiful pilates studios I've ever been to, offering reformer classes amongst the relaxing glow and healing properties of Himalayan salt blocks. You'll find another level of relaxation as you move your body in this space, with the glowing salt walls, fireplace, and fairy lights, the calming and centering atmosphere will lull you into a heart-centered type of peace.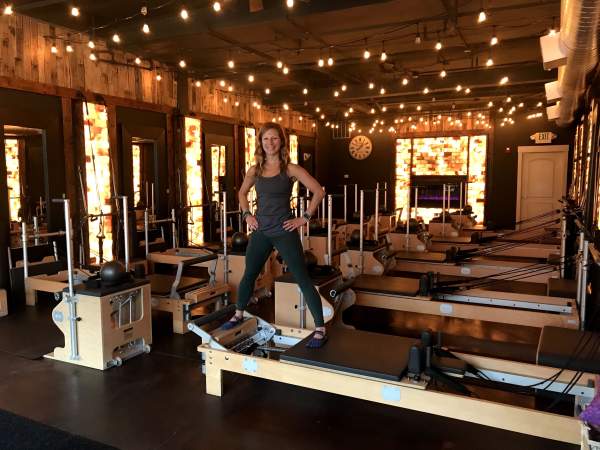 And if you are looking to get a little rowdier, the ladies at the Beau Collective would be happy to get you sweating! Classes are essentially 45-minute fitness parties of HIIT style training in a team-based atmosphere full of upbeat people, loud, fun music, and inspirational whimsy with the perpetual mindset to work hard so that you can play even stronger amongst Park City's extraordinary outdoor playground. Community is at the core of the Beau Collective, so if you are looking for a place where people elevate each other to craft the best version of themselves, this is going to be your spot!
When you've completed your endorphins pumping workout head over to SYNC Float Center for some float therapy. Sink into your private float tank containing ten inches of water and Epsom salt that allows the body to effortlessly float on the water's surface—relieving joint pressure, allowing the spine and muscles to relax and lengthen, and bringing blood flow to injured areas. Your time floating will minimize all external inputs—light, sound, temperature gradient, and in a sense, even gravity. In this moment you'll be able to relax and focus on the here and now rather than focusing on the overstimulating world around you, creating energy for your body to physically heal and for mental relaxation. What a great way to end a fitness-inspired day!
Rest
Lay your head and reset at one of these hotels that will help you unwind. Take in the views of the mountains and know that you've arrived and are ready for a glorious weekend of not a care in the world.
Blue Sky 
Reconnect with nature at The Lodge at Blue Sky, a true Western getaway to a private 3500-acre ranch in Utah. Leave your cares of the modern world behind and powerfully reconnect with the outdoors, from wildlife-viewing hikes and mountaintop yoga to heli-skiing adventure. You'll feel right at home with their relaxed mountain lifestyle.
Stein Eriksen Lodge
Nestled amid the alpine serenity of Deer Valley, the Stein Eriksen Lodge is an authentic European lodge offering an elegant blend of contemporary sophistication and nostalgic grace. Adorned with oversized leather chairs, crackling fireplaces, and a welcoming ambiance, the Lodge provides guests the ultimate in comfort and location.
Montage Deer Valley 
Head to the Montage for an elevated alpine escape. Create your authentic yet elegant mountain getaway, at the Montage Deer Valley with unrivaled ski-in / ski-out access to one of America's premier ski resorts. Your chosen retreat is home to a 35,000-square-foot spa sanctuary that will help soothe tired muscles and induce a state of calm.
Waldorf Astoria Park City 
Relax at Waldorf Astoria Park City and discover a thrilling all-season, adventure vacation, or tranquil alpine retreat. Enjoy fresh mountain air within the pristine surrounds of the Wasatch Mountains, and admire breathtaking views.
Hotel Park City 
Discover paradise in the mountains at Hotel Park City, an intimate spa retreat where luxury goes hand-in-hand with the alpine warmth and charm of an old-world ski lodge. Experience the perfect escape by getting cozy in front of your in-room fireplace and soaking in the gorgeous views of the mountains. The full-service spa, outdoor heated pool, and sauna make Hotel Park City a great place to unwind after a day of exploring or skiing.
Westgate Park City Resort & Spa
Escape to the Westgate Park City Resort & Spa where you'll find everything you need for the perfect luxury vacation. Pamper yourself at the renowned Serenity Spa and get away from the hustle and bustle of everyday life at this unforgettable mountain resort where you can reconnect with the outdoors.
Replenish
Now that you've recreated in our great outdoors, rejuvenated your body through a heart-pumping workout, and renewed at the spa, it's now time to replenish your mind, body, and soul with our extensive array of delicious dining options that will continue to make you feel like you're not only caring for your body from the outside but also nourishing it from the inside with delectable meals to feel energized, empowered, and full of life!
This extensive list of Park City dining options has delightful and healthy dishes to help further boost those feelings of well being that you've cultivated all weekend.
Just being in the mountains surrounded by cool fresh air does a body good, but with the extensive amount of services that cater to nourish one's well being, Park City is an ideal location for a winter wellness weekend.