Road trips have quickly become the best way to travel, but you don't have to wait for long summer days to have an amazing road trip. In fact, winter is a great time to hit the road with fewer drivers out and with a blanket of snow, even familiar landscapes look brand new and magical. If you're looking for a winter road trip destination with lots of adventure, great lodging options, and plenty of apres-ski fun, look no farther than Park City. Park City is within a day's drive of most of the western US, so it's the perfect quick winter road trip. 
How Easy is Park City to Access in The Winter?
Ski towns are notoriously hard to access. Many are in remote mountains where the only access is on small winding roads. Park City is NOT one of those towns. In fact, Park City is one of the easiest resort towns to get to in the winter, since it's conveniently located between an Interstate and a major highway. That means even in snowy weather you won't have problems accessing the town (the snowplows in Utah do a fantastic job during a storm). Park City has a terrific combination of a resort town that feels totally isolated but is less than 30 minutes from a major city.
Plenty of Snow
If you're planning a winter road trip to Park City, be prepared for snow and lots of it. The truth is, the huge amounts of snow are one of the things that make Park City so amazing. Park City often gets between 300-400 inches of snow each winter, so come prepared to enjoy the winter wonderland that the town becomes. As soon as you arrive, you'll see that the locals absolutely embrace the snow as you see sledding hills built on school playgrounds, snowmen decorating lawns, and neighbors out exercising all bundled up together. Park City is a place for people who love winter, and there's no shortage of things to do.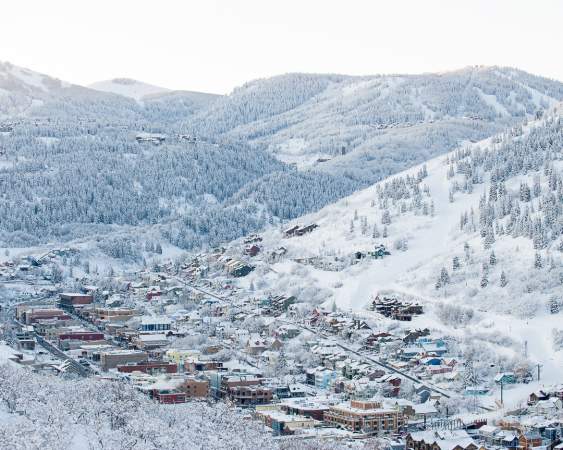 What to Pack for a Winter Road Trip to Park City
Planning a winter road trip to Park City is a bit different than during the other three seasons. You'll need to make sure that your car is ready for the drive, and also that you bring along all the gear you'll need for your adventures.
Car Essentials for a Winter Road Trip
When you take a winter road trip, having a 4wd or AWD car is nice, but not absolutely essential, especially if you have experience driving in the snow. All cars should have snow tires or carry chains with them (winter laws often require this for the canyons getting into Park City). Make sure to also carry extra water and jumper cables with you in your car. When you're on a winter road trip, make sure that everyone has snow clothing with them (in case you need to get out of the car if there's a problem) and we also recommend having an extra blanket in the car for emergencies. 
What Gear to Pack For a Park City Winter Road Trip + What to Leave at Home
If you have a giant car and only a couple of people, feel free to load that car up to your heart's delight. However, if you have a bigger group, you may have to be a bit more sparing with what you bring, since winter clothing and gear can take up a good amount of space. 
Things to bring with you from home:
Sled: Opt for a flat sled that can go on the bottom of your trunk under the rest of your gear.
Ski Helmets: Bulky, but a necessity for snowsports, and it's much nicer to have your own, but there are plenty of great shops to rent from.
Winter Clothing & Footwear
Ski Boots: If you have a good-fitting pair of ski boots, bring those with you. Otherwise, consider demoing different pairs on your visit so you know the best boots to buy for the future.
Insulated Jug or Thermos: We love to take an insulated jug of hot cocoa or soup with us on our winter adventures. This is a great thing to bring from home so that you always have something warm on a cold winter day.
Some of The Best Things to Do in Park City in Winter:
SKI, SKI, SKI (and Snowboard too)
Whether you're a veteran skier, or a first-timer, hitting the slopes in Park City is a must-do! Between Park City Mountain, Deer Valley Resort, and Woodward Park City, there are plenty of options for skiing and snowboarding right in town. We recommend skiing no more than 2 out of 3 days unless you're in amazing shape.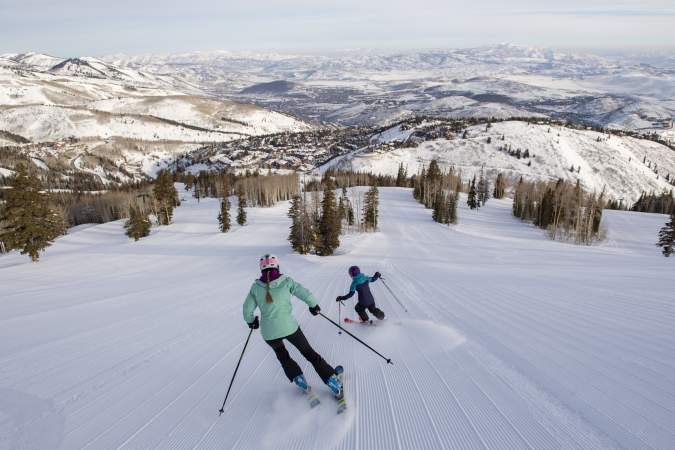 What to Do in Park City Besides Skiing...
Go Dog Sledding
I tell everyone that I talk to that dog sledding should be at the top of your list for winter activities in Park City is dog sledding, especially if you have kids. Lunas Lobos is an incredible family-run dog sledding operation that teaches you all about sled dogs and mushing and then takes you on a trail ride. It's one of the most unique things you can do in Park City during the winter, so add it to your itinerary.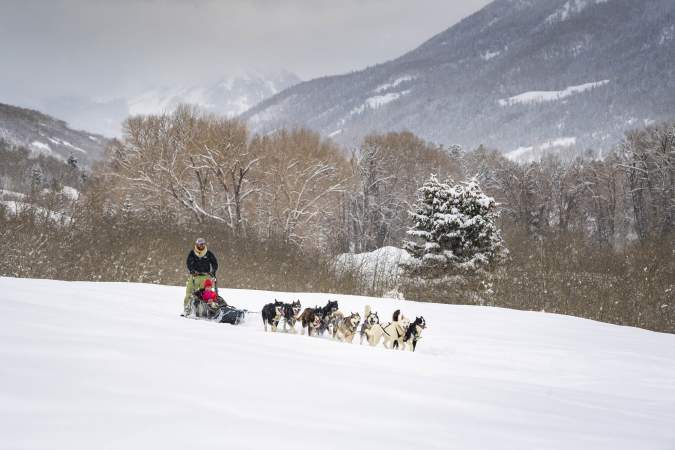 Cross Country Skiing
Whether downhill skiing isn't your style or you like to switch it up and nordic ski sometimes, Park City has so many excellent places to cross country ski. In fact, you'll find over 70 km of trails designed for cross country skiing in Park City. If you're new to the sport, stop by White Pine Touring for a quick lesson where they can teach you the basics before you head off on your own.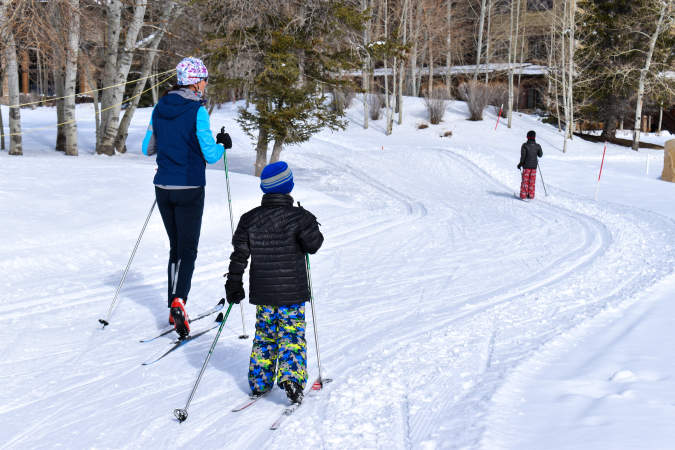 Fat Tire Snow Biking
If you love to bike in the warmer months, you absolutely need to try fat tire snow biking in Park City. Fat biking is one of the newest winter sports and is quickly gaining popularity. Many local outdoor shops offer fat bike rentals and some even offer tours.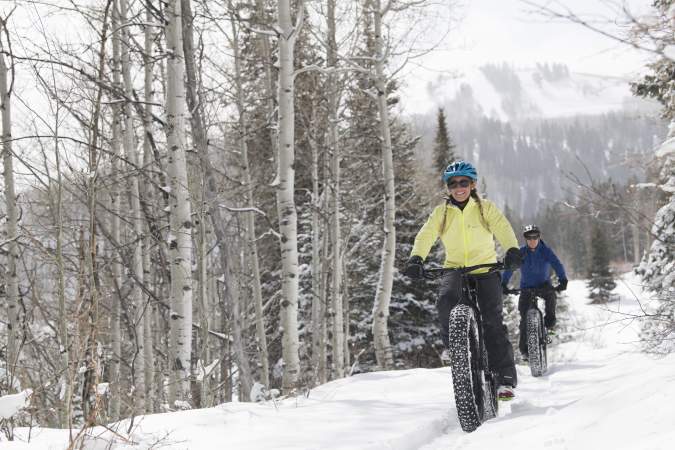 Tubing + Extreme Sports at Woodward Park City
Tubing is one of the best family activities in Park City since it's fantastic for all ages. Woodward Park City has a great setup for tubing so that you can take the surface lift to the top of the hill and the only work you need to do is holding on tight as you race down the mountain. While you're at Woodward, make sure to head inside and check out their classes and camps for kids. You can sign kids up for everything from learning ski terrain park tricks, parkour, skateboarding, and even trampoline skills. If you have a kid who loves extreme sports, they'll be in heaven here.
Snowshoeing
If you want to get away from the crowds and really immerse yourself in nature, then make sure to plan some time for snowshoeing in Park City. Snowshoeing is an easy winter sport that most people can figure out without special instruction. Most easy hiking trails in Park City are suitable for snowshoeing, but if you want a more wilderness experience, head east to the Uintah National Forest.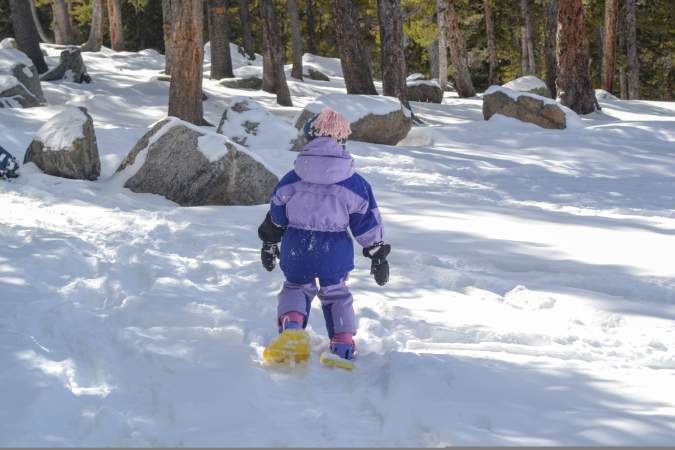 Sledding
If you think that sledding is just for kids, you're absolutely wrong. Park City has lots of great sledding hills that will have everyone from toddlers, to college co-eds to grandparents laughing with joy. Make sure to pack a sled on your Park City road trip so you can embrace your inner child whenever the moment feels right!
Once you're prepared for a winter visit to Park City, all you have to do is choose your favorite winter activities, to make your winter vacation extra magical. Whether you're ready to hit the slopes, or just stroll through downtown, there's something special about winter in Park City that you can't find anywhere else.
Are you looking to plan a road trip to Park City?
It's closer than you think!
Salt Lake City to Park City
30 Miles
35 Minutes of Drive Time
Denver to Park City
475 Miles
8 Hours of Drive Time
Stops to see on the way to Park City: Rifle Falls (Rifle, CO), Hanging Lake (Glenwood Springs), Dinosaur National Monument (Vernal, UT).
Sacramento to Park City
675 Miles
10 Hours 30 Minutes of Drive Time
Stops to see on the way to Park City: Lake Tahoe, Bonneville Salt Flats (Utah).
Phoenix to Park City
665 Miles
10 Hours 45 Minutes of Drive Time
Stops to see on the way to Park City: Sedona, Glen Canyon Dam (Paige, AZ), Cedar Breaks National Monument (UT).