The second annual Park City Song Summit, September 7 -9 at the Canyons Village, will once again rock conceptions about musical events. An all-star line-up of revered and celebrated songwriters, artists, and storytellers grace the Summit stages to share more than their music. The inclusive occasion cultivates one-of-a-kind moments by creating a safe space for artists to be vulnerable.
The melding of wellness activities combined with Summit Labs, where artists and interviewers share raw conversations with a captivated audience and live performances culminate in an unforgettable experience. This format, focusing first on wellness and providing a platform for vulnerable storytelling, makes the Park City Song Summit a rare glittering jewel for music lovers and makers.
Details
Where: Canyons Village, 4000 Resort Drive
When:
Thursday, September 7, noon – 12:30 am
Friday, September 8, noon – 12:30 am
Saturday, September 9, 10 am – 9 pm
Access
For the 2023 Park City Song Summit, all-access ticket prices have dropped, and there are more options for mixing, matching, and building customized schedules. Ticket packages and prices vary; for the most detailed information visit parkcitysongsummit.com.
Ticket options include:
3-Day Summit Pass – Unlimited access to Thursday, Friday, and Saturday wellness activities, Labs, Songwriter Stage, and live shows. Plus parking at Pendry, seating in the premiere section for performances at Canyons Village Amphitheater, and Summit Lounge for all three days at the Umbrella Bar ($875).
Single Day Pass for Thursday, Friday, or Saturday – Unlimited access to wellness activities, Labs, Songwriter Stage, and live shows ($250). Premiere Single Day Pass includes seating in the premiere section for performances at Canyons Village Amphitheater ($380). 
Song Writers Pass for Thursday, Friday, or Saturday – Unlimited access to Songwriter Stage, which includes Songwriter Workshops, Songwriter Labs, Hall of Fame Songwriter Tributes, and Songwriter Rounds ($45).
Single ticket for Canyons Village Amphitheater shows for Thursday, Friday, or Saturday ($65 - $225).
Single ticket for Thursday and Friday Late Night Shows at OP Rockwell and The Cabin (Starting at $45).
The Kickoff Event on Wednesday, September 6 – A dinner and party featuring culinary delights and libations with an exclusive performance by Lukas Nelson (Add to 3-Day Summit Pass or Single Day Passes for $500).
Biscuits and Jam, Saturday, September 9 – Music, food, and good ol' Southern fun (Add to any ticket for $35).
Local musician performances at the Forum Stage are free!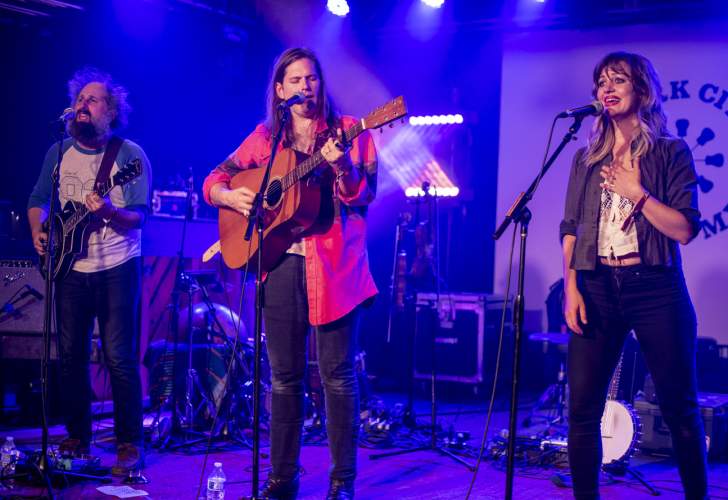 What is the Park City Song Summit
Ben Anderson began dreaming up the Park City Song Summit long before officially moving to Park City. The idea of creating an immersive musical event was initially hatched by his wife, Paige, who told Ben, "Of all the great mountain towns that exist, Park City is a really special one, but a lot of mountain towns have more music... When we move there, if there's no music event, we should start one."
Those fateful words ignited a fire that disrupted the music industry. When COVID hit, and the music world experienced devastating losses due to mental health and substance abuse, Ben felt heightened ambition to redefine multi-day music gatherings. "There's this wellness component that we felt was being missed, nationwide, or in the music industry. And not just for the artists in the spotlight. There's a whole lot of the unsung heroes that are all supporting that artist or those artists in a band to be on that stage," he explains.
The inaugural Park City Song Summit in 2022 more than exceeded his expectations and hopes to create a restorative space for creatives and their support team. The second annual Summit will embody the 2022 success and build upon the foundation. Each day starts with morning wellness activities. The afternoon is all about getting to know the musicians, songwriters, and artists during intimate Labs, where the moderator and creative delve into conversations that expose the heart of music. The evenings are a mosaic of live performances and songwriter rounds where festival goers will hear and feel the music in a new light after getting to know the artist during Lab conversations.
"You are really coming to be to move and be moved. You're coming to learn about the creative process, learn about people's stories, and in some way, be changed. You'll leave a different person than you came in a very positive way," Ben states.
The Venues
Canyons Village
Park City Song Summit Labs, Songwriter Stage, and evening shows are at the Canyons Village. A space suited to the growing event and a transition Ben feels will enhance the experience for artists and attendees. "We knew that we needed a larger physical space and more outdoor fun as well as indoor fun," he says. Canyons Village creates a campus-like feeling and offers a genuine taste of mountain town living. "The goal is to have this sense of being in the mountains… To put your toes in the grass and dance after a day of connection, inspiration, and learning."
Canyons Village campus includes:
Four stages – Amphitheater (nightly performances), Songwriter Stage, Forum Tent, Forum Stage (local musicians, free)
Three Lab spaces – Pendry Room, Forum Tent, Songwriter Stage
Additionally, Canyons Village is ripe with dining and libation options and an abundance of lodging opportunities for out-of-towners.
Late Night Performances
Night owls can head to Main Street on Thursday and Friday to enjoy live, unique collaboration performances at OP Rockwell and The Cabin, including a Stevie Wonder Tribute and performances by Black Opry and legendary songwriters.
Wellness Activities
Every day starts with an opportunity to care for the mind and body with Wellness Activities from 9 – 11 am for artists, artist camps, and Summit attendees.
"Wellness Activities in the morning are a great chance for reset, recharge, and self-care to get ready for the day," Ben explains. "People can start their day up on the mountain doing yoga, meditation, or meeting up with other people that are in recovery, or supporting people in recovery."
Summit Labs
The Labs build upon the foundation of wellness. Conversations between artists reveal new ways to perceive the creative process. They are an opportunity to understand entertainers personally, demolishing the stigma around celebrity and fame by creating heart to heart connection between the interviewer, interviewee, and attendees.
"Speaking truth to power in music and doing it through conversation are so complimentary. For one, it's being able to talk about those things. And two, it's about being able to play that thing. And to connect on both levels and understand that person's journey. We can learn something of ourselves," Ben explains.
The 2023 Summit features 24 Labs. The diverse Lab topics intend to cultivate space for life-altering conversation. "The anticipation of knowing that there's great energy in the room, you don't know what's going to happen, and the band doesn't either. The live Labs are creating the same thing as a live music experience. You don't know what's going to come out of that. You just know it's going to be good. You know, it's going to be meaningful in some way. And it's going to touch you in some way. It creates the potential for those magic moments," Ben states.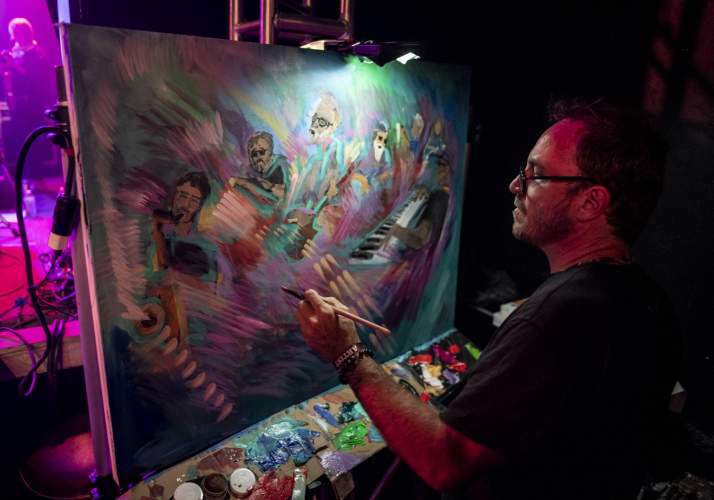 Live Shows
No musical experience is complete without live music. The Song Summit compliments the wellness activities and thought-provoking Lab conversations with a stellar show line-up including household names like Bobby Weir (Grateful Dead), Matisyahu, and hip-hop legends Darryl "DMC" McDaniels and Chuck D. There are also Songwriter Rounds with prolific writers like Earl Bud Lee ("Friends in Low Places"), Steve Poltz ("You Were Meant for Me"), and Parkite Wyatt Pike. Plus, free performances from local artists throughout the day at the Forum stage.
Audience members who attend musician's Labs will experience the live shows from a fresh lens. Ben relates attendee feedback from the inaugural event. "In the evening, people went to hear the artists that they'd heard in the Labs that day, and experience them, understand them, relate to them, and connect to them in a different way than had they just shown up at a festival."
Community Give Back
More Than Music Foundation
Ben launched the More Than Music Foundation alongside Park City Song Summit. "Park City Song Summit has a for-profit side to it. We wanted to utilize that platform, to create a foundation," Ben states. More Than Music uses the power of music to reach artists, aspiring artists, and young people who want to be involved in music. The foundation aims to create inclusivity around mental health and substance recovery and provides opportunities for communities of color and LGBTQIA+ communities.
The Park City Song Summit 2023 goal is to raise $250,000 for the More Than Music Foundation. John Bukaty, the artist in residence, will collaborate with musicians to create unique pieces of art for the Art Auction on Saturday at 3 pm. 100% of the proceeds go towards More Than Music Foundation programming.
More Than Music Foundation will sponsor three Labs at the Summit:
(Sept 7, noon – 1 pm) SongwritingWith:Soldiers is a non-profit organization that uses collaborative songwriting to create a positive change for veterans and their families. In the past decade or so SongwritingWith:Soldiers has held more than 70 weekend retreats where soldiers collaborate with musicians to create professionally recorded tracks. In this Lab, Joe Pug (Moderator) will interview the Music Director of the organization, Jay Clementi, and songwriter Danny Myrick.  
(Sept 7, 5:30-6:30 pm) Power Women in the Industry Lab is a discussion about advocating for emotional and mental well-being and self-care in the music industry. Author and journalist Marissa R. Moss (Moderator) will interview Lenore Kinder, the Senior VP of Wasserman Music, and Emily Lichter, the manager of Public Enemy.
(Sept 8, 4:30 – 5:30 pm) During the Havana Funk Experience: Passing the Torch on to the Next Generation of Jazz and Funk Artists Lab, the manager of Cimafunk and an expert in American-Cuban relationships, Collin Laverty (Moderator), will interview students from the Havana-based Trombone Shorty Foundation, plus Bill Taylor the Foundation Executive Director of the Trombone Shorty Foundation. "We're bringing kids from the Trombone Shorty Foundation to perform and to talk about work that's going on between New Orleans and Havana, Cuba," Ben explains. The live performance is on Sept 9 at the Canyons Village Amphitheater
An Insiders Scoop
Visit the website to get acquainted with the venue map, decide which Labs and shows to attend beforehand, and create a personalized schedule. Most of all, come with an open mind, ready to learn, be moved, and understand music in a new way.
"We set out to say, 'It will change the way you experience music.' That was an aspiration that became a reality," Ben says.