Photo credit: (L to R) Wasatch Brewery, Squatters Brewery, Red Rock Brewing Company

'Tis the season to imbibe a few of Park City's locally crafted seasonal brews - after all, they only come around once a year!  Seasonal brews are perfect for any occasion, including après-ski, holiday parties, Sunday afternoons while cheering for your favorite football team at a local bar (or in your living room), or at the Park City restaurant of your choice! We threw together a seasonal six pack that includes an array of flavors for every taste to get you ready for the winter holiday season!

SQUATTERS VIENNA STYLE MÄRZEN LAGER, 4% ABV
One of Squatter's "session" beers, the Vienna Märzen is "a crisp malty, amber colored lager. Brewed with Vienna, Munich & Pilsner malts, 100% Noble hops and German lager yeast.  A wunderbar Oktoberfest Lager Bier - lightly hopped and brewed with slightly sweet caramel malt. Pairs perfectly with lederhosen." Vienna Style Lager is one of Squatter's "Session" beers, and is available on draft around Park City, for purchase in the grocery stores and at the Squatters and Wasatch brew pubs.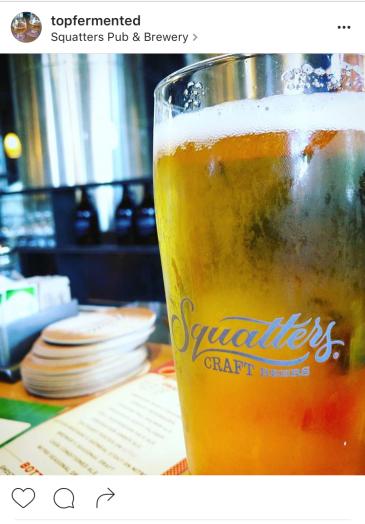 Photo credit: Instagram user @topfermented 

WASATCH FIRST ONE DOWN WINTER WARMER ALE, 7.1% ABV
Its full flavor and strength make Wasatch's First One Down a winter favorite. Crafted in the spirit and style of Sierra Nevada's Celebration, "Wasatch Winterfest is a rich amber ale with caramel malt flavors and a large hop presence. Brewed with the finest Northwestern pale and caramel malts then generously hopped with Columbus and Amarillo hops. Inspiration? This new seasonal was brewed to warm you through the cold winter months! Winterfest Ale makes a wonderful compliment to an epic day on the mountain, and the perfect companion around the fire. It's our toast to Utah." This ale can be found by the bottle at Park City restaurants and bars, or at a Utah liquor store.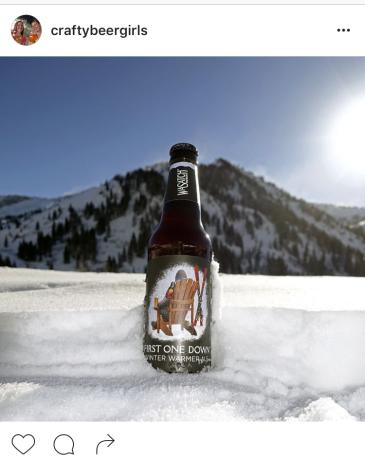 Photo credit: Instagram user @craftybeergirls

SQUATTERS TAKEOUT RYE IPA, 6.25% ABV
"Takeout is a spicy, hop-forward winter India Pale Ale made with rye. '... Takeout IPA is a match made in beer heaven,' expresses Peter Cole, Squatters founder. 'It has a lovely malt, hop balance and the spicy, almost peppery aromatics give my tonsils the most delightful thrashing as it makes its way toward its final resting place.'" A delicious take on an IPA, perfect for the colder months! Named after the sport of curling, Squatter's Takeout Rye IPA is sold by the bottle at area liquor stores, Park City bars and restaurants, and can be seen, of course, in the hands of many curling enthusiasts!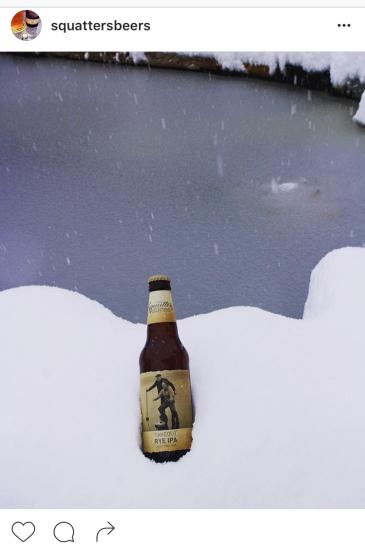 Photo credit: Squatters Beers 

RED ROCK GRISWALD'S BIG HOLIDAY ALE, 8.5% ABV
A favorite Red Rock holiday tradition, Griswald's Big Holiday claims to provide a "sleigh-load" of holiday cheer for your next winter celebration. "Like its little brother, Red Rock Brewing Holiday Ale, Griswald's Big Holiday is brewed with cinnamon, coriander, ginger, orange peel and cloves. A mild, spiced holiday ale for the Christmas season. Filtered and light golden in color with very little hop presence. It's holidayish and celebratastic!" This bottle, punched with holiday flavors, may be purchased at area liquor stores, Red Rock Brewery and brew pub locations, and at select area restaurants and bars.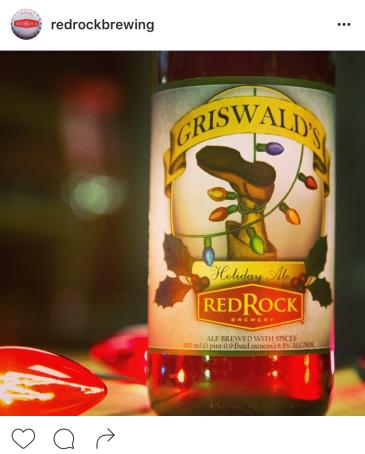 Photo credit: Red Rock Brewing 

RED ROCK HOLIDAY ALE, 4% ABV
"If you've ever enjoyed the Griswald's Holiday Ale on draft at one of our brewpubs, you'll recognize its taste immediately. Red Rock Holiday Ale is the same delicious recipe. The name has been changed to cooperate with UDABC to ensure that you don't confuse it with its big brother. Red Rock Holiday Ale is a mild, spiced ale brewed with cinnamon, coriander, ginger, orange peel and clove spices. It's golden in color with very little hop presence. It's not overly sweet and is always a favorite during the Holidays..." Available in Park City only at Red Rock Brewing's location in Kimball Junction, this Holiday Ale is the product of Red Rock's commitment to "genuine, local, craft beer."


Photo credit: Red Rock Brewing

WASATCH BOBSLED NUT BROWN ALE, 4% ABV
This beer has become a Utah wintertime staple, especially for those who enjoy a smooth brown ale.  "Bobsleds travel at close to 100 mph, deep within a twisted gauntlet of ice. To honor these renegades, we brew Bobsled Nut Brown Ale - a lightly hopped beer that goes down really fast!" Wasatch's Bobsled Nut Brown Ale is a part of their "Session" beer line, and is offered on tap at area restaurants and bars, or can be found at the grocery store.


Photo credit: Instagram user @gliesik