Park City has proven time and again that it is not only an in-demand destination for skiing and snowboarding but also for arts and culture. There are a multitude of opportunities to experience the arts right here in the midst of the Wasatch Mountains, and the Park City Institute is one of our very valuable organizations that bring world-class programming to our community. The Park City Institute was created to enrich the community by providing innovative experiences that entertain, educate, and illuminate.
How It Got Started and What They Do
The Park City Performing Arts Foundation and the Park City Institute (PCI) are a 501c3 non-profit organization dedicated to bringing world-class performances and innovative ideas to the Park City community. Founded in 1998 through a groundswell of public desire to experience exceptional performing arts in the mountains, it was thought to be a great idea that people could come skiing and then enjoy a broadway caliber show. In collaboration with the Park City School District, PCI raised funds publicly to create a state-of-the-art performing arts venue to bring Broadway shoes and other great performances to our community. So not only does the community of Park City have a spectacular venue for the public to see shows, but also the school district has a state-of-the-art auditorium to promote the arts amongst its students. PCI introduces emerging artists, welcomes celebrated musicians, produces award-winning theater, and creates intimate opportunities for Park City to experience and engage with the world's most creative, inspiring, thoughtful, and provocative minds. And, another bonus of having this venue right in our backyard is that visitors do not have to travel to Salt Lake City to experience big-ticket acts like the ballet or a great concert. You can park for free, eat at and support local restaurants and easily bring the family for an evening of arts and culture
PCI relies on the continued support of sponsors, donors, members, and patrons, and through their generosity and a shared belief that arts and culture are the backbone of any strong community, PCI is able to ensure equitable access to all its programming by way of free tickets for Park City's underserved. PCI champions education by creating experiential classroom learning opportunities through which Park City School District students directly engage, collaborate, and create with the speakers, musicians, and performers they host.
Programming Highlights
The Park City Institute produces five performance series each year - Main Stage at the George S. and Dolores Doré Eccles Center for the Performing Art, The Big Stars, Bright Nights Summer Concerts, the Locals Live Online Streaming Series, Professor of Rock Live! and Chamber Music at the Eccles Center.
The Main Stage is where PCI brings an extensive list of entertainers in dance, theater, and music along with thought leaders to their stage. Through these performances, PCI engages the community through provocative stories and nurtures a love for classically trained dancers, slam poets, and music that spreads new ideas and inspires. Some past performances have opened the audience's eyes through National Geographic Storytelling, and have made audiences laugh without having to travel to Chicago for a Second City comedy show. The Main Stage also brings opportunities for students to work with talent for more than half of PCI's shows, like a master class with a prominent Jazz Band for the High School Jazz Band and then a special concert with those students for their parents. Additionally, PCI has dance groups come through like the Dance Theater of Harlem who will also hold dance classes for Park City High School students to give them the opportunity to learn about dance and the allied arts.
The Big Stars, Bright Nights concerts series has been entertaining residents and guests for 15 years by bringing all genres of music to the stage - from classical artists like Lucia Micarelli to legends Don Felder of the Eagles to more emerging performers. Through Big Stars, Bright Nights, the Park City Institute introduced Aloe Black, John Batiste, and six-time Grammy nominee Sarah Bareilles to Utah audiences. They have also brought country classics, including Willie Nelson and Dierks Bentley, along with legendary performers from BB King to Etta James.
Primarily featured during the Main Stage concert series, the Park City Institute delivers captivating stories, performances, and ideas that shine a light on the elusive ideal of social equity. Be it the stories of pervasive poverty, inequities of racism, breaking down social perceptions, or dedicated LatinX performances — these compelling programs will help all of us think about equity both in our community and in our world.
The goal is to go beyond community awareness and diverse voices on the Eccles Center Stage but to provide programming that is welcoming to the LatinX community. On May 21, 2022, PCI will be hosting Groupo Fantasma, a Grammy Award-winning Latin funk orchestra from Austin, Texas. Groupo Fantasma is best known for their exuberant live concerts and they will be bringing their funky sounds to the Eccles Center for an evening exclusively in Spanish. Tickets will be $20 to create a welcoming atmosphere for this dedicated LatinX programming.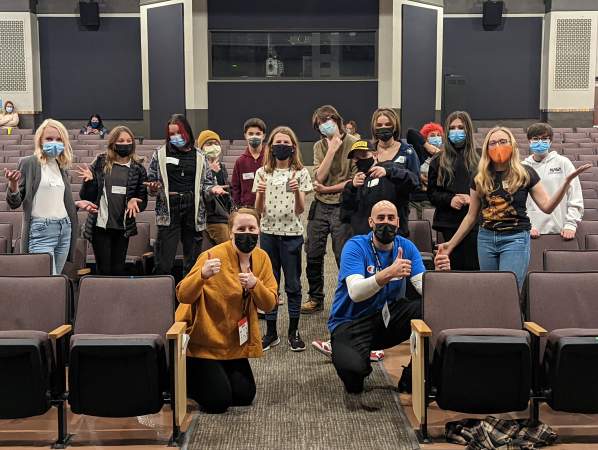 During the past two years, the Park City Institute has also expanded its programming. In 2020 PCI started Locals Live, a weekly live streaming series that provided performance opportunities for local artists during COVID. The popular series, which streamed to over 3,000 people, featured some of the region's best local artists, some who appeared on the PCI stage and some who were introduced to their patrons for the first time. As with their live performances, viewers have enjoyed a wide variety of curated genres including Pop, Jazz, Fusion, Chamber, and Ethnic performances. The performances were streamed to various social media platforms and archived for viewing anytime on the Park City Institute's YouTube channel. And since Locals Live was such a hit, PCI will not only be streaming the performances again but also will host an intimate live production for around 50 people. A great way to continue to support our local community.
In 2021, The Park City Institute started partnering with the Park City Chamber Music Society to bring chamber music back to the George S. & Dolores Dore Eccles Center for the Performing Arts. The first four shows provided a glimpse into the type of diverse, compelling, and accessible programming patrons can expect from the series.
Programming They Are Excited About
Park City Institute is excited to introduce a new music series called The Professor of Rock LIVE that will feature the definitive stories behind the greatest and most iconic rock songs straight from the artists and writers who created them. Professor of Rock LIVE is set to deliver a unique experience that goes beyond a touring concert to provide the audience with an intimate conversation and personal one-of-a-kind performance experience. Starting this past February, there will be five shows in 2022, that will include Kenny Loggins, Kevin Cronin of REO Speedwagon, Russell Hitchcock, and Graham Russell of Air Supply. Each show will feature a conversation and a live performance by the artist, and these shows will be recorded for future broadcasts. Stay posted for expanded Professor of Rock LIVE programming with ten shows in 2023, and sixteen in 2024.
The Eccles Center is Park City's premier music venue with excellent acoustics, comfortable seats, and a large stage. Artists and patrons both praise the Eccles Center as it provides the perfect environment for a direct connection between the artist and the audience. All shows are general admission with tickets starting at $35. Love of the arts can last a lifetime if you build the muscle of appreciation early on and that's why PCI offers all Summit County students $5 tickets to allow for young folks to witness and enjoy these live performances … often. Free tickets are also available to military families, First Responders, clients of the Peace House women's shelter, and other underserved populations in our community.
Park City is more than just a ski town - we are the art and soul of the Wasatch Mountains, and the Park City Institute provides so many opportunities for our community to be enriched by valuable experiences that help us all grow together.