This year Park City Gardens celebrates its 40th birthday. Over the decades, it has become an invaluable institution for gardeners, growers, and plant lovers. Owner Sophy Kohler shares her zest for plants, vision for the space, and high-altitude growing know-how.  
Kohler, who grew up in a family of journalists, lived across the county. And in fourth grade, when she landed in Colorado, she felt destined to be a Western girl. Utah wasn't specifically on her radar until she met her husband on a ski trip. As a Utah native, he introduced her to the region's majesty. Eventually, their long-distance relationship became something more when Kohler moved from New York City to Utah 13 years ago. 
Kohler's constant throughout milestones, moves, and changes is and has always been plants. "People find the things that make them happy and balanced with the rest of their life," she says. "For me, I can completely relax with my free time gardening… It's always been an outlet."
Upon arriving in Utah, Park City Gardens (then Park City Nursery) was an immediate place of solace and joy for Kohler. "I just was obsessed with it as a little nook in Utah that was a special sanctuary spot for me," she remembers. "I had this magnetic pole to the place - I wanted to come often. You know when we have these places that we go for therapy, for our wellbeing, they make you feel better, they fill your cup? Park City nursery was that for me before I was the owner."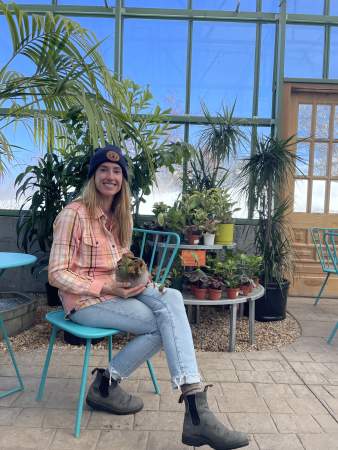 Initially, Kohler didn't dream about buying the business. She worked a robust career in finance that kept her on the road. However, she re-evaluated her life after having two sons and building a home in Park City. "I had to refocus. How am I going to enjoy this place, this amazing place that we live in? What can I do here that will be fulfilling and provide for my family?" she asked herself.  
"It was a long shot epiphany, and then it all shook out in the end," she explains of her idea to buy Park City Gardens. Her dream manifested into reality during Christmas of 2016 when she became the official owner.  
As a self-taught plant enthusiast, Kohler was thrilled to inherit a wealth of plant knowledge from the employees and former owners. "The old owners were exceptional at high altitude gardening and planting. That was their expertise," she says. "I was taking over a very well-oiled machine from the nursery perspective. The planting and the relationships and the trust in the community and the amazing employees were all there." 
So, during the first year of ownership, Kohler plunged into learning, relishing the valuable knowledge of long-term employees. After months of absorbing information, she began unrolling the next phase of her dream. 
Because the nursery component of Park City Gardens was well established and respected upon purchase, Kohler could focus on expanding and restoring the property. "One thing that was obvious to me as a new owner was that we had all these amazing historical buildings on the property that were not being utilized," she explains. "All we did was clean them up and open them to the public." 
The buildings date back about 150 years. The Garden Boutique is in the original Snyder family homestead home, the Garden Café once upon a time was a general store, and the Flower Barn is in a former stable. The only building Kohler built from scratch is the greenhouse.  
"We had a greenhouse structure on the property before we built this one. It was no longer structurally sound," she explains. "We got the opportunity to replace it with this beautiful glass greenhouse. Custom made to try to tie into some of the old Victorian architecture of the past."  
This is Park City Gardens' seventh summer season under Kohler's ownership. Her concept of refurbishing the original buildings and creating more plant-oriented delights for all-season enjoyment (e.g., the greenhouse, gift shop, café, and flower barn) adds vitality to the space. However, the heart of Park City Gardens remains the nursery.  
When the nursery opens each spring, it offers countless options for planning and filling outdoor spaces with plant life. It's a place where folks can vision, purchase plants to fulfill their concept and experience the satisfaction of working with the earth.  
Because Kohler finds fulfillment in physical gardening work, she longs to share that happiness with her customers. "Sadly, people, in general, are moving away from doing things themselves. We just buy stuff. It's so gratifying to get your hands in the dirt. I just want everyone to try it!" she says. 
That is why Park City Gardens is an educational resource for gardeners, landscapers, and anyone who wants to experience the joy of cultivating, caring for, and growing plants.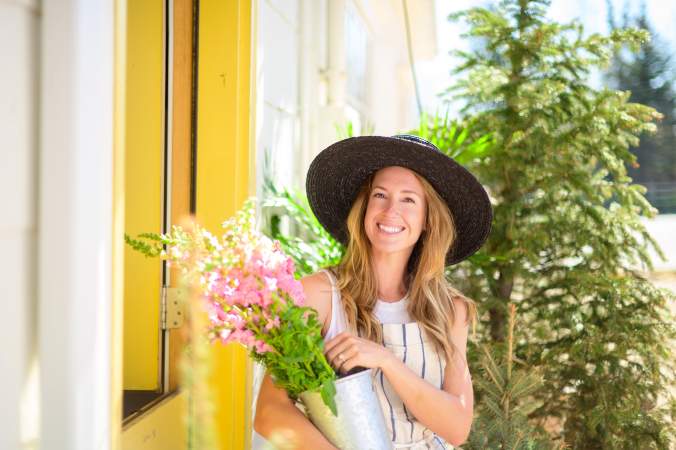 Kohler's expert gardening advice: 
Soil:   
The building block for healthy plants; is the dirt!  
"Absolutely, we have to amend that soil…. Our soil is pretty junky here," Kohler states.  
Soil how-to: Trees, shrubs, flowers, and outdoor plants need at least 1/3 micronutrient-rich soil or compost. Park City Gardens sells an all-natural planting soil busting with nutrients necessary for the region.  
For lawn soil health, Kohler recommends using Gypsum – a mineral that breaks down clay. When the soil is still moist, spreading Gypsum on the ground in spring will help grass absorb water more efficiently throughout the growing season.  
When to plant:  
The time to plant in Park City staggers with the many micro-climates. Folks in the more sun-exposed Park Meadows area will likely be ready to plant earlier than neighbors in shady Summit Park. However, despite the location, it's time once the snow melts and dirt is visible. 
"As soon as you can dig a hole, you can start planting," Kohler explains.  
What to plant:  
The primary gardener's question and the what depends entirely on the where. Kohler is adamant that successful growing in and around Park City depends on locational microclimates and sun exposure. "The first question that almost any customer should be asked by one of our employees when they come here looking to garden is, where do you live?" she explains.  
Expert gardeners at Park City Gardens use information about location (pictures are encouraged) to point growers to the best plants for their space. No matter the site, Kohler and her team dedicate themselves to cultivating water-wise and native plants.  
Trees, shrubs, flowers, and bulbs 
"You'd be surprised how many plants fit into that native and water-wise bucket," Kohler exclaims. Park City Gardens created a list of drought-tolerant plants that thrive in high mountains. Some of her favorites include:  
Trees and shrubs: Canada red cherry, sagebrush, serviceberry, chokecherry, snowberry, and Apache plumb  
Flowers and groundcover: peony, rose, lilac, daylily, and echinacea 
Bulbs: Allium, crocus, daffodil, and tulips 
Edible plants 
When it comes to growing food at high altitudes, it takes more effort than at lower elevations. "If you want to grow your own food, you've got to put a little bit more work into it," Kohler explains. However, harvesting garden-grown food is possible with healthy soil and adequate attention."  
Kohler's recommendations for high-altitude produce include plants that grow fast, like herbs and lettuces. Hardy root veggies do great; even the smallest varieties of tomatoes and peppers can thrive.    
Wildlife 
Mountain living means mountainous animals will inevitably enjoy the bounty of home gardens. While planting for the benefit of pollinators is important, another consideration is plants that aren't favorite treats for ungulates and smaller mammals.  
Pollinators 
"It's super important to give pollinators a good atmosphere, and pollinators do best when gardens are planted in clumps, so they're not having to work too hard to eat," Kohler states.  
Mammals 
Sharing a yard with moose, elk, and deer is mostly majestic, except when a favorite plant becomes their favorite food. Central questions about planting with herbivore guests include: What is deer resistant? What is porcupine resistant? What is moose resistant?  
Kohler describes, "We have recommended plants that are tried and true after 40 years that the animals will stay away from," adding that an animal will try any food once. 
Abundance after a snowy winter 
This year, all the winter precipitation means an exciting appearance of rare plants and unique opportunities for planting.  
"If you have been wanting to do wildflower seeds, make this your year to do wildflower seeds. Because the earth is so wet, they're going to do very well," she explains the planting process. 
For summer blooms, when the snow melts in the spring, and the ground turns frozen to tacky, toss the seeds and step on them. 
"And I'm excited about this summer," Kohler exclaims, "We're going to see things that we haven't seen in years because of all this snowfall. It's going to be really different!" 
Kohler anticipates the nursery filling with carefully selected trees, shrubs, and flowers in April or May. So, for spring planting, bring your big or little plans to Park City Gardens for expert advice and healthy plants. Then begin a gratifying journey of dirty hands and a full heart.