"Chasing Ice" intro: Executive Director Katy Wang introduces a film (photo credit to Jill Orschel)
Chances are, you've heard of Sundance Film Festival, the world-renowned film festival that takes over our ski town every winter. But you may not know that you can actually catch critically acclaimed flicks all year round long, thanks to the local nonprofit Park City Film.
Founded in 1995 by the Park City Public Arts Council, Park City Film is an art-house cinema that originally began as a way to present Sundance films to the public outside of the festival. This was back when there were no commercial theaters in Park City, says Katherine Wang, executive director of Park City Film.
Today, the nonprofit offers a fantastic year-round cultural activity in an outdoors-centric town. "It's a hidden gem — people don't necessarily expect to see a world-class independent film in a small ski town," Wang says. She notes that Park City Film's programming rivals that of independent theaters in bigger cities, from New York to San Francisco.  
Yet the cinema that Wang curates for Park City Film also has a definite local flavor. "We know what people in the community want to see, so we have eclectic programming that appeals to both the cultural as well as the outdoorsy side of the community," Wang says. For example, recent showings included Arctic and Free Solo to appeal to the adventurous side, while award-winning films If Beale Street Could Talk, Vice, and Green Book have also been shown lately.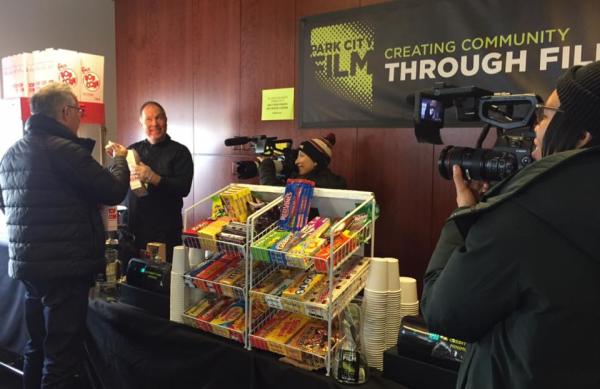 Concessions stand: Sundance Film Festival Director John Cooper gets popcorn at the Jim Santy Auditorium venue while being filmed by the Sundance Film Festival crew for their daily reel.
Details
What: Park City Film, a nonprofit art-house cinema
Where: Jim Santy Auditorium, located at 1255 Park Ave on the third floor (inside the Park City Library building). Free parking is available. If you would like to take public transportation, a public bus stop is located on Park Ave in front of our building and there is also a Summit Bike Share E-Bike station.
When: Check the Park City Film website to find a full list of showtimes and buy tickets online.
Who: All ages, depending on the rating of the film. The Jim Santy Auditorium is wheelchair accessible with elevator access, and Park City Film offers Assisted Listening devices for all films. 
Experience
In an age when more and more people are watching movies from the comfort of their couch, Park City Film provides a more personalized, higher quality theatrical experience, Wang notes. The Jim Santy Auditorium at the Park City Library is a Sundance venue, so the projection and sound quality are technically flawless, ensuring an especially memorable viewing.
Each film is introduced by a staff member, usually Wang, who welcomes the audience to Park City. Sometimes, additional programming, such as a Q&A with the director or a panel discussion with subject matter experts, also accompany the film. Each screening at the library also includes a raffle featuring prizes from local small businesses, so you never know what you might walk away with.
Another fun touch is the concession stand. "We're known for serving some of the best popcorn in town with real butter, along with many different toppings," Wang says. You'll also find a variety of treats from local vendors for sale, such as Auntie Em's cookies.
Best of all? The prices are extremely reasonable — no outrageously priced tickets here. Tickets are $8 for general admission, $7 for students and seniors (age 62-plus), with some occasional exceptions.
Additionally, Park City Film implements technology to make their experience more accessible. Offering Assisted Listening devices for all of our films and will transmit Closed Captions and Audio Descriptions for films whenever they are available.
A few series are free, including the Reel Community series, in which Park City Film partners with local nonprofits to present films on topics of interest to the community, as well as the Foreign Cinema for Kids series, which are shown in Spanish or French with English subtitles.
Finally, if you're in town this August, don't miss a very special outdoors experience on August 10, Park City Film will host a drive-in movie experience with a live band before the film.