The Iver's Tunnel.
A new addition to Fox School of Wine's educational programs, Mines & Wines offers a fun and unique take on Park City's mining history – an important piece of the town's heritage.  The tour features six stops at historic mining relics, including the Daly West Mine, Ontario Mine, Iver's and Spiro Tunnels, and the Miner's Hospital.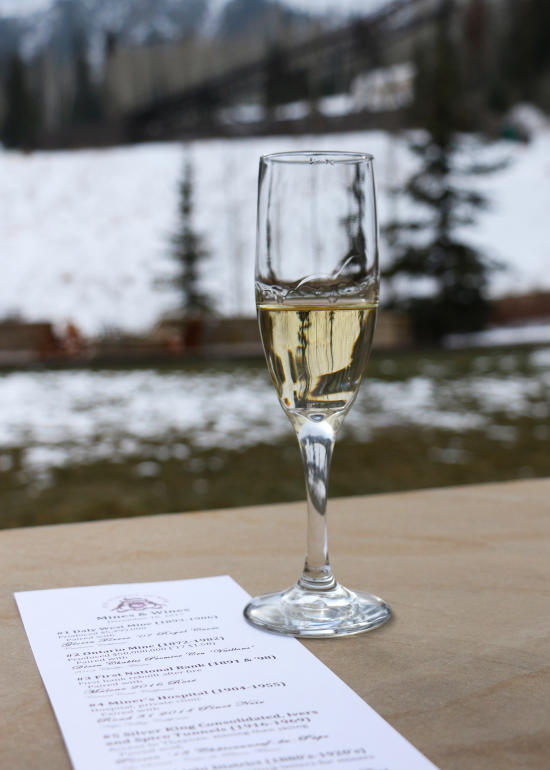 A champagne toast on the Montage Deer Valley patio overlooking Daly West Mine.
The three-hour tour begins at Montage Deer Valley with an introduction to the program, and a stop at Daly West Mine, located just outside the hotel's back patio, with a celebratory champagne toast. Guests then hop aboard a luxury mini bus to explore additional relics in Park City's Historic Main Street area, the Silver Star village, and Deer Valley Drive, which during the mining era was known as the Red Light District. Miss Fox keeps the tour light, fun, and entertaining with her humor and whimsical costumes.  She adds a personal touch to the tour, as well, integrating her own family's history in the mining industry with her passion and expertise for wine education.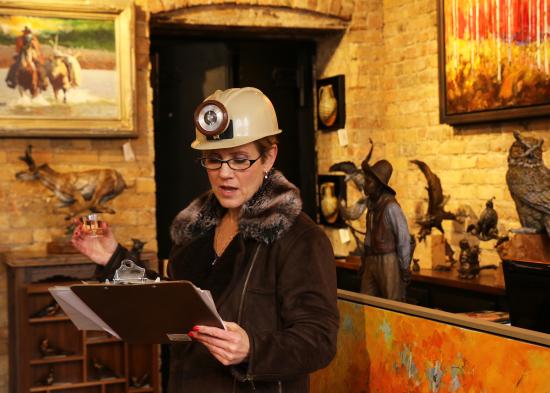 Miss Fox at the Mountain Trails Gallery (historically a bank).
Each stop is paired with a delicious wine, hand-picked by headmistress and executive sommelier, Kirsten Fox. She explains that the wine poured at each location was selected in an effort to tie it back to the history of the specific relic. For example, at the Miner's Hospital she pours a Pinot Noir because it is the healthiest wine to drink due its high levels of antioxidants. While the tour is focused mostly on the area's mining history, Miss Fox provides knowledge about each wine's origin and history as well. The blending of interesting stories pertaining to Park City's mining history with fine wines makes for a truly delightful afternoon.
Light snacks, paired strategically with each wine, and water are provided on the bus, which returns participants to the Montage at the tour's conclusion.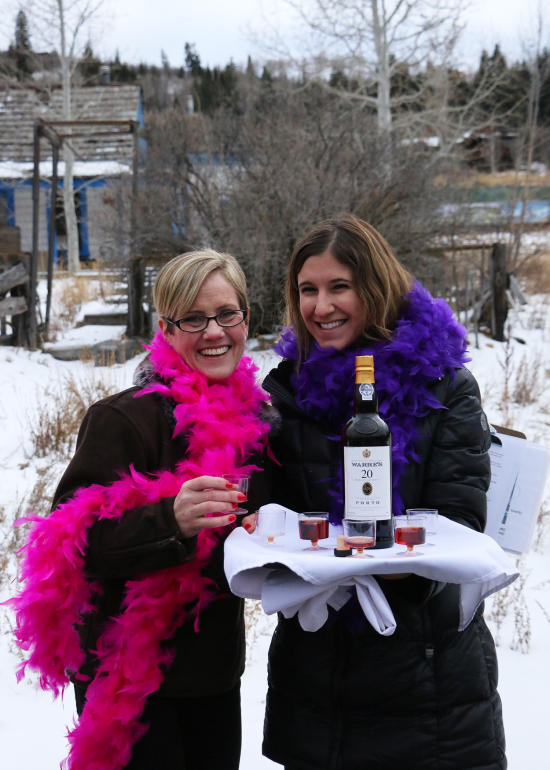 Miss Fox and Hannah standing in what was once the Red Light District.
Mines & Wines is offered every Saturday from 1:00-4:00 PM through March 31, 2018 and costs $187 per person. Participants must be over the age of 21 with valid identification. Since the majority of the tour takes place outside, it is advised to dress warmly and wear proper footwear for walking and standing in cold temperatures.  Valet parking is offered at Montage Deer Valley (tips are encouraged), which makes getting to the starting point of the tour a breeze.
Learn more about Fox School of Wine and the variety of programs they offer on their website.