The seventh annual Latino Arts Festival is a three-day celebration of Latin American and Hispanic heritage and traditions. The Arts Council of Park City & Summit Country presents this year's event on June 16 – 18 at the Canyons Village. Festival goers can anticipate a rich cultural experience with live music, folklore performances, poetry, cuisine, plus visual arts and crafts. Participants represent a wide range of Hispanic and Latin American countries, including Argentina, Bolivia, Brazil, Chile, Columbia, Ecuador, Guatemala, Mexico, Peru, Puerto Rico, and more.
Details
Where: Canyons Village, 4000 Canyons Resort Drive.
When:
Friday, June 16,  4 pm - 9 pm.
Saturday, June 17, 10 am - 9 pm.
Sunday, June 18,  10 am - 5 pm.
Attendance is entirely free! All the music, performances, and entertainment are complimentary for attendees. Additionally, there is food for purchase and various visual arts and crafts for sale.
Bring a water bottle, picnic blanket or low lawn chairs, layers, sun protection and prepare for a colorful and joy-filled day outdoors.
The Latino Arts Festival is a tradition started in 2016 by Max Ventura in collaboration with the Christian Center Park City. Max's vision to share the beauty of Latino cultures still thrives. And the Christian Center handed over full responsibility for the event to The Arts Council for the 2023 festivities. Hosting the Festival bolsters the Arts Council's mission to serve the arts and culture community by driving creative programming, cultivating connections, and providing valuable resources.
"The Festival aims to connect the community through arts and culture, providing platforms for Latino, Latina, and Latinx artists and makers to share their art and cultural traditions," explains Arts Council Executive Director, Jocelyn Scudder. "Summit County is greatly influenced and enriched by our Latino residents—the Latino Arts Festival is for those residents first and foremost. We envision a community where Latino cultural traditions and stories are celebrated, where Latino creative entrepreneurs and small businesses are acknowledged and supported, and where equitable, diverse, accessible and inclusive programming is prioritized to help create a whole, cohesive community."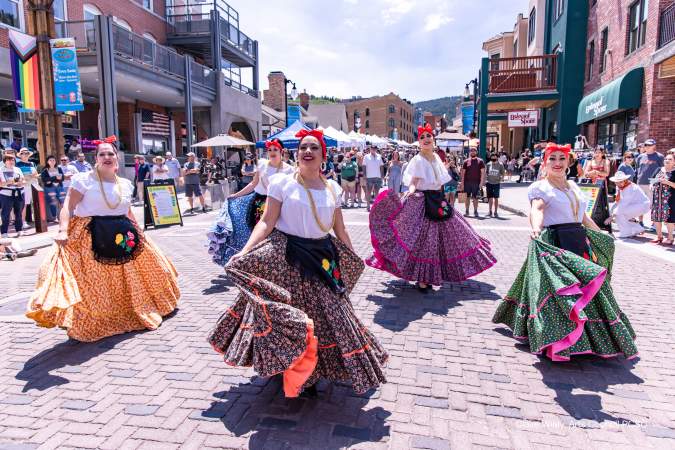 With the direction of the Arts Council, the Latino Arts Festival is celebrating a fresh vision and leadership for the 2023 event. In 2022, the council hired Andrea Zavala as the community inclusion and engagement coordinator, including the lead programmer position for the Latino Arts Festival. She oversees the preparation, coordination, and execution of the event.
Zavala, who is from Ecuador and married to a Brazilian, is thrilled about her position and sees it as an endless opportunity. "I feel like I'm doing something for our community, my family. It is something that contributes to society," she says.
Under Zavala's direction, the 2023 event is adopting a new format. Due to COVID, the festivities were dispersed throughout the town in the two previous years at locations like Park Silly Market and the library to promote social distancing and provide a variety of spaces for people to gather safely. Based on the 2022 experience and format, this year's programming is almost exclusively at the Canyons Village. "One thing that came back after we did our survey with the artists and everybody, in general, was that they lacked the sense of camaraderie between them," Zavala explains. "There was not a chance for us all to be in one place, meet each other, and share ideas… That's why this year we are going back to a traditional Festival format over three days. We are very grateful for the support of CVMA and Canyons Village at Park City Mountain—their host sponsorship is going to elevate this Festival to new levels."
When choosing a venue for this year's Festival, the room for growth and infrastructure at Canyons Village made it the best contestant. "Canyons has all the amenities a festival needs," says Zavala. "All we have to do is bring our festival and program, offer food and entertainment, and have the artists there."
Diversity is the focus when selecting artists, musicians, poets, and food vendors. Zavala describes her main goal as having as many cultures and countries represented as possible. "We've been really successful. I think we've got to have a good variety," she states.
What to Expect
For folks attending for the first time or wondering what to expect this year, first and foremost, fun! "My vision is to have fun because that's what we do!" Zavala exclaims. "We are different, but the main thing that characterizes us in this community is that we're fun people that like to celebrate, like to dance, like to eat. That brings us together in this community."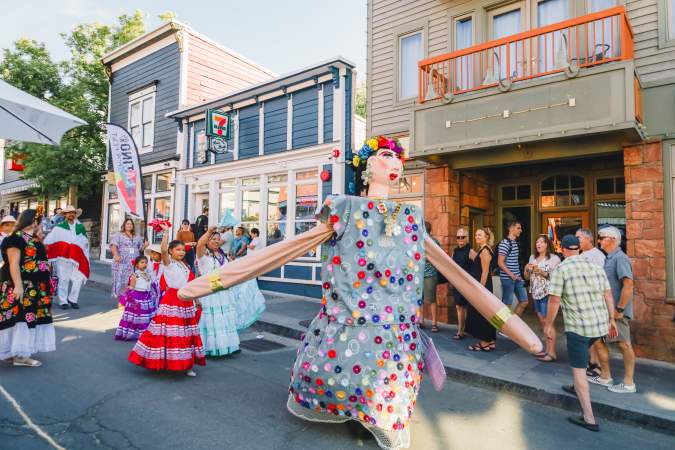 Food
"We have a variety of food vendors representing a wide range of Latino culinary offerings each day of the Festival," Zavala explains, which allows festival attendees to try diverse cuisines while promoting a healthy flow of customers and revenue for each restaurant.
Vendors include:
Park City-based Tina's Bakery serves up Argentinian delights and their famous empanadas.
Salt Lake's award-winning Sobe Eats offers a unique perspective on Mexican cuisine.
Nana's Sonoran Hotdogs is an innovative northern Mexican twist on hotdogs.
Utah's own Arempa's Venezuelan Cuisine offers fresh ingredient-Venezuelan specialties.
Jared's BBQ, an authentic Brazilian grill experience, served churrasco style.
Brabo Pizza creates freshly baked Brazilian pizzas.
Paleta Bar Provo brings gourmet artisanal popsicles.
Entertainment
The Festival is chocked full of musical performances programmed throughout every hour. In collaboration with the Festival's programming partner and local expert in all things music, Mountain Town Music. In addition to musical performances, folklore dancers from various countries will color the stages with performances throughout Saturday.
Some of the musicians and performers include:
Danza's Chile 
Los Hermanos de Los Andes 
Mariachi Zavala 
Ballet Las Americas 
Oaxaca en Utah 
Hakan Ecuador 
Esencia de Mexico 
Sensao Latin Rock 
Rumba Libre
Brazuca Band 
Sambo Fogo 
Tom & JO
Visual Arts and Crafts
Creating a platform for artists and attendees to cultivate relationships is essential to the Latino Arts Festival. Plus, with the larger venue at the Canyons Village, there is space for 30 to 40 artists and makers at this year's event. Zavala is thrilled to welcome back artists from previous years like Walter Cifuentes, Roberto Salmon, Alejandro Mendoza, and Veronica & Gabriel Sandoval, plus many new artists.
"Alejandro Mendoza is an artist that works with the loom… We will have workshops where people can see Alejandro working throughout the day," she explains.
Choosing artists is a thoughtful process that reflects the calculated effort put into this year's Festival. People who purchase art or goods from a vendor can know that each seller displays authentic pieces. Chosen artists and vendors must meet the selection criteria. The goods must be genuine, meaning the collection represents the seller's individual culture(s). The artist or the vendor showcases a strong representation of Latino and Hispanic cultures' multicultural and artistic diversity. The cohesive collection shows artistic excellence, creativity and originality.
The Latino Arts Festival is a significant occasion for the participating artists and vendors to generate revenue and broaden the scope of their work. "This is an opportunity for the artists and makers to have a wider audience check out their art," Zavala says.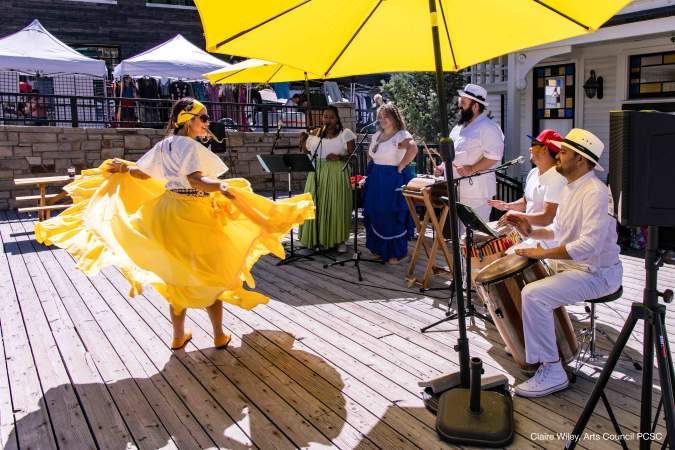 Happenings
Beyond the robust food, entertainment, and art scene – several activities in partnership with programming partners enhance the festival schedule.
"We have local nonprofit partner booths and sponsor booths who will be activating in fun ways to engage festival goers," Zavala explains.
Kimball Art Center is going to be offering FREE kids' crafts/activities.
"Kimball Arts Center is doing activations with the kids. Artes de Mexico is doing poetry in their tent," Zavala says. "We are also thrilled to welcome local artist Clara Amezcua, who will be making an onsite collaborative Allebrije sculpture. Throughout the event, she will provide opportunities for people to paint with her, and enjoy the shared creative experience of making the sculpture."
Outside the Festival
Yes, this year's event focuses on three days of community building. However, several meaningful experiences are happening outside the Canyons Village.
The programming partner, Summit Community Gardens, continues the Cena en el Jardin tradition on June 15. This $25 experience is a family-friendly night in the garden featuring food, music and poetry readings.
Sundance Institute is partnering with Mountain Town Music to offer an outdoor film experience after the Noches De Verano concert on Tuesday, June 13. The Noches de Verano en el Parque de la Ciudad - Music & Film Night will feature live music with Eligio Garcia Magic Harp from 7-8:30 pm and an outdoor film screening of GOING VARSITY IN MARIACHI at 9:15pm, which premiered at the 2023 Sundance Film Festival in the U.S. Documentary Competition category.
In honor of legendary football (soccer) player Pele, programming partner Park City Film is playing Pele: Birth of a Legend at the Jim Santy Auditorium on Wednesday, June 14."
Additionally, throughout the summer, Mountain Town Music, in collaboration with Grand Valley Bank, presents Noches de Verano en Parque de la Ciudad with free musical performances Tuesdays at 7 pm in City Park.
Mark the calendars and prepare for a deep dive into Latino and Mexican culture at the seventh annual Latino Arts Festival.
"We've got artists, we've got food, we've got entertainment, we've got other organizations participating!" exclaims Zavala. "I'm excited to be a part of this big party. To be part of an event that will bring everyone together."