Every small town has a few shops that everyone knows and loves. In Park City, Java Cow is one of those. Located on Historic Main Street in Old Town Park City, Java Cow is a staple for locals and visitors alike. Best known for their homemade ice cream, locally baked goods, and coffee, Java Cow has a little bit of something for everyone. It's a must-visit shop if you're visiting Park City with kids, but it's also just as great to go there even if you don't have little ones in tow. 
The Java Cow Story
Java Cow has been around since 2003 and has become one of the most popular shops along Park City's Historic Main Street. For over 20 years, the Davis family has owned the ice cream shop in this location, previously a franchise named "Cows". When the Starbucks next door to them moved on in 2003, the Davis family decided to open a restaurant that was a part coffee shop and part ice cream parlor. Ken Davis was so excited about the new business that he even went to ice cream-making school so that the shop could make all of their own ice creams. Since then, all of the homemade ice creams are deliciously creamy and have unique flavor combinations. 
That same passion that Ken used to jump right into ice cream-making school has fueled Java Cow and turned it into one of the most popular stops along Historic Main Street. Now the shop specializes in their handcrafted ice cream as well as fresh baked goods and coffee. 
Hand-Picked Ingredients
Since 2003, the Davis family has been passionate about the ice cream that they make and all of the ingredients that go into their foods. Nearly everything is handpicked or locally sourced, giving Java Cow a unique menu that they claim is "Utterly Park City". The cherries come straight from Washington, the lavender comes from a hand-picked vineyard, and all of the ingredients like brownie bits are handmade by Java Cow right here in Park City. Keep an eye on their menu for seasonal specialties like fresh peach ice cream that they make for only a few weeks each year when Utah peaches are in their prime. Details like this set Java Cow apart from your typical chain store. 
Made Locally and Specializing in FUN!
While Java Cow works hard to be a local brand, the real thing that sets Java Cow apart is the shop's fun atmosphere. Whether you're taking a selfie with their giant cow, eating on a table with cow legs, or just laughing at all their funny wall signs, the overall goal is to create a shop where fun can thrive. The gift shop is packed full of fun cow-themed souvenirs where you can find everything from stickers and mugs to pajamas and stuffed animals. If you love cows or want to find a fun gift, you'll love shopping here. Overall, Java Cow works to create a unique experience that's sure to have you leaving with a huge smile on your face. 
What is the Best Food At Java Cow?
Truthfully, you really can't go wrong with any order. Everything there is delicious!  Here are some of the most popular items at Java Cow:
Baked Goods at Java Cow
Java Cow has its own bakery and is well known in Park City for its sweet treats. If you visit in the morning, be sure to grab an almond croissant hot out of the oven (also available in butter and chocolate flavors). These are incredibly popular so if you see one, buy it fast!  Also popular are the eclairs and giant French Macarons that come in 12 different flavors.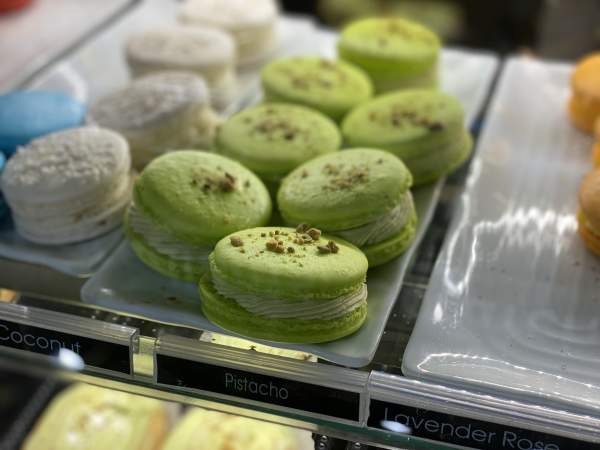 Most Popular Ice Cream At Java Cow
With around 30 ice cream flavors available daily, it's nearly impossible to narrow down the choices and choose the best ice cream. They even have a handful of dairy-free coconut milk ice cream flavors that are absolutely amazing. If you're looking to try the best ice cream flavors, here are the most popular flavors they make:  
Sami Dee's: Vanilla ice cream with Heath Bar, dark chocolate chunks, and caramel.
Chocolate Monster: Chocolate ice cream, Heath Bar, chocolate chunks, and a caramel swirl.
Purple Cow: Blackberry ice cream with white and dark chocolate chunks.
Lunch and Light Dinner Options At Java Cow
Java Cows menu goes beyond just sweets and coffee. In fact, they have a full menu that's perfect for lunch or a light dinner. One of the most popular lunch options is the crepes that come with either sweet or savory fillings. You can also find salads, sandwiches, and even mini quiches that are a perfect light meal.
Healthy Food Options at Java Cow
While Java Cow earned their famous reputation for their sweets and coffee, they also have several healthier options on the menu as well. If you're looking for a healthy treat, treat yourself to one of their amazing acai bowls topped with a variety of healthy and delicious foods. If you want to keep things more simple, they also have fruit cups and salads for good healthy food options.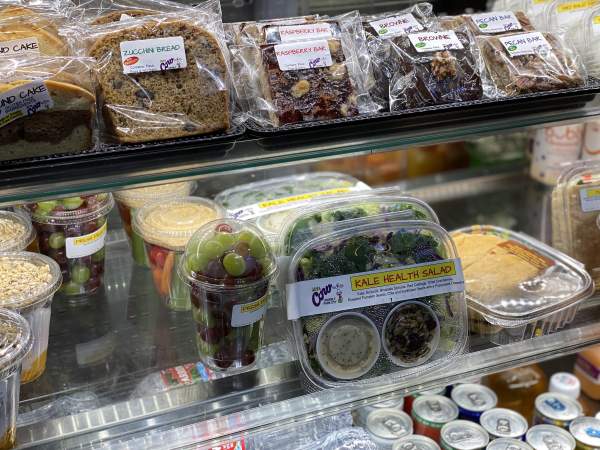 I Love Moo: Smoothies and Ice Cream by Java Cow
Thanks to the popularity of Java Cow in Old Town Park City, the family also started up another store in Kimball Junction called I Love Moo. This shop specializes in smoothies, acai bowls, and of course ice cream. If you find yourself in the Kimball Junction area, I Love Moo is a great option to get the same Java Cow ice cream.
Keep Up On The Latest From Java Cow
Want to know the latest updates from Java Cow?  Make sure to check out their Instagram page where you can learn all about any specials they are having and stay in the loop with new flavors and seasonal treats. 
Details
Java Cow is located at 402 Main Street in downtown Park City. Paid parking is available on Main Street or at the China Bridge parking garage just one block away.  I Love Moo is located at 1634 Uintah Way at Kimball Junction.