Nestled into the hills of Park City Mountain is private land owned by Red Pine Adventures. The oasis of pine trees and flowing streams have been in owner Roger Osguthorpe's family for generations, and today, Roger offers the public to tour the natural environment through his company's seasonal experiences. In the wintertime, snowmobiling and snowshoeing adventures are available through a reservation, and in the summer season, Roger's thirty-some horses take small groups on one and a half hour excursions into refreshing aspen groves and atop the sloping mountainside for truly one-with-nature experiences.
Details
WHAT: Horseback Riding with Red Pine Adventures
WHERE: 2050 W. White Pine Rd, Park City, UT
WHEN: Four daily tour times throughout the summer season, seven days a week
WHO: Ages 8+, all levels welcome. Private and public tours available.
Experience
Recently a friend and I were thinking of ways to shake up our day-to-day activities and explore new options to see the great outdoors. With both of us being novice equestrians, we decided to sign up for Red Pine Adventures' guided horseback tour, and by the end of the activity, we were in love with the experience and, dare I say, moved up in rankings from novice to amateur status.
Driving a short way past Park City Mountain's Canyons Village parking lot, the paved road turned to dirt as we continued through the forested surroundings. Around one of the first bends was a rock carved with "Red Pine Adventures" and upon turning onto the driveway, the view quickly changed to a scene straight out of a Country Western film. A small office of simple wooden architecture was on the right, straight ahead was a pickup truck next to a horse trailer and small barn, and to the left were tens of beautiful horses, each with its own markings and personality.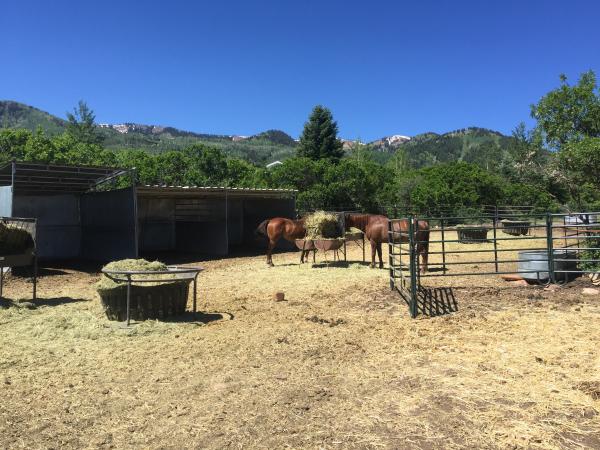 Once we checked into the office to select a helmet and sign a waiver to participate, we were outside standing among the pack waiting for Roger and his team to assign horses to each guest based on their experience level. My friend was matched with a gentle brown and white horse named Bobby, and Peaches, a beautiful cream-colored horse, was assigned to me.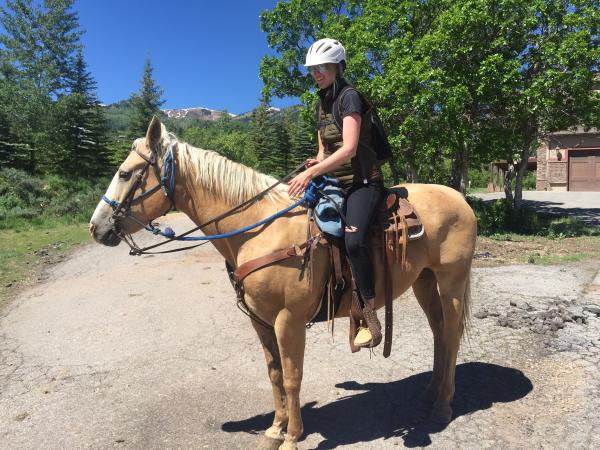 With some help from the crew, we all mounted our horses, and the tour guide began to head for the trail, acknowledging that the horses were accustomed to the experience and would line themselves up and follow. Sure enough, Peaches led me into the row and carefully followed the horse in front. The hour and a half route, approximately three to four miles in length, navigated us through tight groves of Aspen trees, through calmly flowing creeks, up and down briefly steep mountain slopes, and into colorful fields of wildflowers. Though Red Pine Adventures offers four tours per day- two in the morning and two in the afternoon- the tours are subject to weather pending high temperatures that may pose health risks for the horses. We scheduled our tour at 11:00 a.m. and lucked out with a truly spectacular day.
While Peaches seemed to take every opportunity she had to bend her neck and grab a mouthful snack of wild grasses, I had no issues – as a beginner – in gently guiding her attention back to the trail. For the uphill portions, we were advised to lean forwards for stability, and on the downhill climbs we leaned backward; simple tricks that, as a newbie, made a world of difference in my comfort in the saddle. I was towards the front of the line and throughout the journey could hear each rider build the relationship with their trusty steeds through a series of mouth clicks, laughter, mumbled phrases with 'grass' and the clicking sound of phone cameras capturing newly formed human-animal friendships.
Along the way, our guide led us into a vacant plot of land where he and Roger dismounted their horses and went around to serve each guest as a personal photographer, using our phones to snap memories of us and our accompanying friends/family with their horses. I found this to be a really lovely gesture that provided us with personalized keepsakes, as these shots were much more beautiful than any "selfie" we could have taken on our own.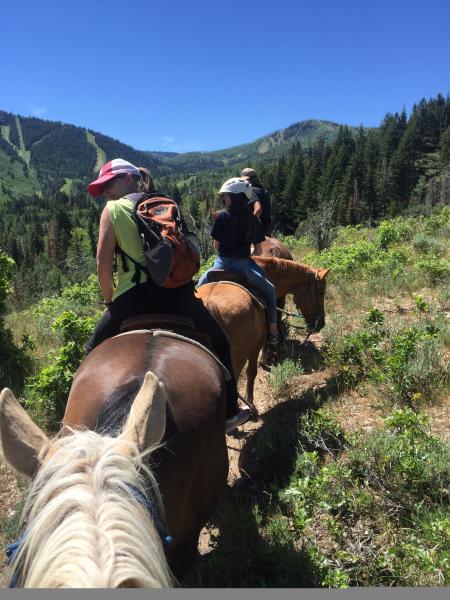 Once we lined ourselves up again, we were on the final stretch of the journey. With every step and trot throughout the entire experience, I continued to feel more and more at ease with relying on Peaches to keep us both steady and relaxed. While she enjoyed her many herbal snacks, I enjoyed the swaying rhythm of riding in the saddle and taking in the stunning mountain views. When we approached the ranch once again, the Red Pine Adventures team was great to help us dismount each horse and give us time to interact with them as desired. Afterward, we returned to the office building to pay for the experience; I opted to add a tip as well for the excellent service we received from the team throughout the entire time.
My legs and obliques were surprisingly sore that afternoon as well as the day or two that followed, which is a true testament to the athleticism that real equestrians have in order to maintain proper balance on their horses. I came away with a greater appreciation for the sport, and for the work that the Red Pine Adventures team does to properly manage their beautiful horses and maintain the lengthy trail system they've built for the benefit of guests like myself. It was an unforgettable time outdoors, and an experience I will surely do again.
For more information on tours, please visit Red Pine Adventure's website.