When you're feeling overwhelmed or stressed out, I'd bet that the last thing you want to do is sit quietly in a room for 45 minutes. But according to Cindy Hallows, that might just be the very best thing for your well-being, both mental and physical.
Hallows is the co-founder, owner, and lead instructor at Haum Meditation (pronounced "home"), a new meditation and yoga studio located off Kearns Boulevard. The studio offers a variety of mindfulness-based classes, including guided meditations, yin yoga, vinyasa yoga, qigong, sound and sensory baths, strength classes, and more. (Check out descriptions of all their classes here.)
While you've probably taken a yoga class (or at least have heard of it), the idea of attending a class to meditate may not sound as familiar. Yes, it's essentially sitting in silence, but with Cindy as your guide, you'll learn there's actually a lot more to meditation than just "sitting there" -- and a lot more benefits for your mind and body than you'd think!
One of the biggest benefits of meditation is stress relief, Cindy says. Meditation is scientifically proven to lower cortisol, the stress hormone; decrease tension in the body; and boost mental focus and concentration. (And who couldn't use more of that in this age of constant digital distractions?)
Research has also shown that people who practice meditation tend to feel more positive, are more kind, and are less likely to be depressed. Plus, it's been shown to help you sleep better, lower blood pressure, and even treat chronic pain.
Long story short, the benefits of meditation are basically endless -- and anything but "woo-woo." With all this in mind, I decided to head "Haum" to try it out for myself.
Details
What: Haum Meditation, a yoga, and meditation studio
Where: 1500 Kearns Blvd. AL-100
When: Simply sign up for a class online, find them on the MindBody App, or drop-in whenever your schedule allows.
Who: All Levels of Experience
Experience
For ease of entry, park behind the Park Meadows Plaza complex. Haum Meditation is located at the end of the building, on the opposite side of Adolph's.
When I walked into the studio, Cindy's warm and welcoming presence immediately made me feel at ease. "You're welcome to come early or stay late just to hang out, read a book from our library, journal, or practice on your own when classes aren't going on," she told me.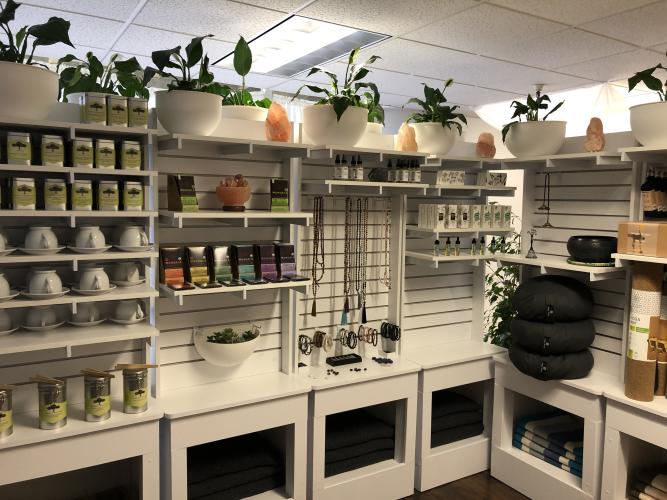 The studio itself is cozy and welcoming, too. In the entryway, you'll find a boutique offering various yoga and meditation props, from blocks and mats to essential oils and mala beads, that you can use to enhance your at-home practice. There's also free tea from Tea Zaanti for clients to enjoy -- which is we highly suggest getting there early to have time to relax before your session begins.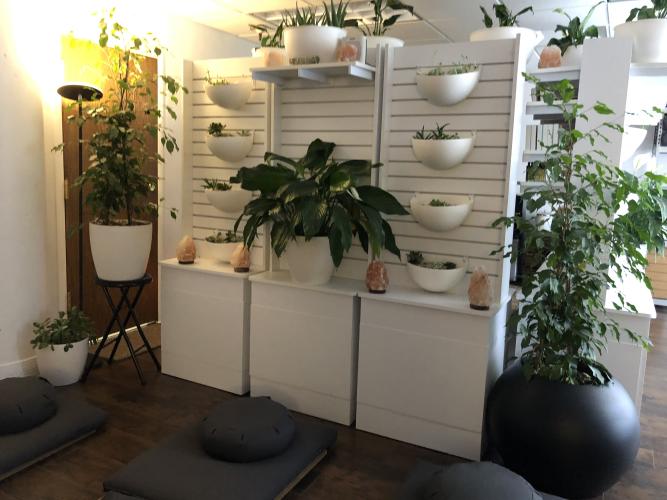 The meditation studio is tucked behind the boutique in a bright, comfortable room, filled with pillows, props, candles, and lots of plants. Simply being in the room made me take a deep breath, and I felt more relaxed almost instantly.
Our guided meditation practice began by Cindy telling us a little about what to expect, introducing herself, and inviting the students to introduce ourselves as well. She told us to get comfortable -- whether that meant sitting cross-legged, stretching out, or even lying down.
The practice involved a couple of different mindfulness exercises, which will differ in each session. To start, Cindy invited us to set an intention for whatever we're trying to cultivate in our life -- whether it's more energy, grounding, or strength. Then she guided us through a "fire gazing" exercise, which involved lighting a candle, focusing on the flame, and then recreating that "fire" within ourselves.
We then added breathwork. "The way we breathe impacts our central nervous system, helping us calm down and feel less anxious," Cindy explained. If we made our exhales slightly longer than our inhales, it'd be more relaxing; if we made the inhales and exhales of equal length, it'd be more energizing, she told us.
Finally, our session concluded with an invitation to create an affirmation that we'd carry with us into our day. It could be anything -- "I am deserving," "I am strong," or "I can handle this" (my personal affirmation!).
In the end, I felt much calmer and centered than I felt coming in. Normally, I wouldn't have even considered taking time out of a busy Monday morning to meditation practice. But while it may have been an hour out of my day, it made me exponentially more focused and productive afterward -- and it was well worth it.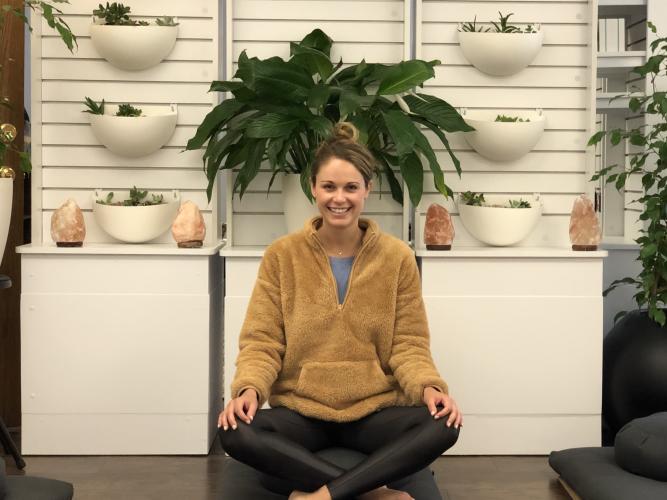 After class, I also had a chance to chat with Cindy about her background. She first became certified as a yoga teacher in 2008 and has been providing yoga as therapy and offering coping skills in mindfulness and meditation to the mental health community in Salt Lake and Park City since 2012. She's also knowledgeable in all major traditions of meditation, yoga, and Qigong through several different meditation workshops and retreats. She has big plans for Haum Meditation, including expanding the class schedule, offering outdoor programs, and more -- stay tuned!