Near Main Street on Swede Alley, Handle is reinventing Mountain West cuisine with a focus on seasonal vegetables. In this episode, I venture into the kitchen with chef-owner Briar Handly to chat about his unique approach to and to try some of their small plates — including their famous General Tso cauliflower.
Handle's interior appears unassuming at first, but it's spacious and elegant, with mid-century aesthetic, cozy booths, and a beautiful marble bar. Pro tip: Locals know that the bar is the best place to be on Wednesday nights for food and drink specials. 
As you may notice, the name of the restaurant (Handle) is similar to the chef's own (Handly). While that's no accident, the name also refers to the handcrafted nature of Handle's dishes, and how the culinary team handles the ingredients with care and passion, without manipulation. "We really let the ingredients shine," Handly tells us. "The menu is vegetally driven, and we cook according to the season and what our farmers, ranchers, and artisans are bringing through the door." 
Although the menu changes almost daily according to what's available, there's one item that's a must-try: the General Tso's cauliflower. When Handle opened, they had a buffalo cauliflower dish — a play on buffalo chicken wings. Later, that was replaced by the General Tso's version from Handle's sister restaurant in Salt Lake City, HSL. Here, the cauliflower florets are dredged in cornstarch, coconut milk, and General Tso's sauce and are topped with sriracha vinaigrette.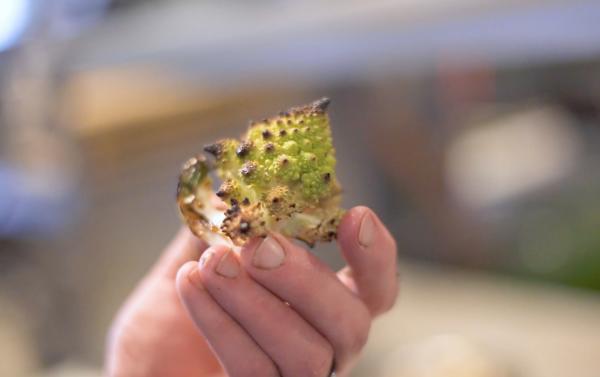 For this episode, Handly prepared a couple of seasonally inspired salads for us. First, we taste a light and refreshing spring salad with asparagus, sugar snap peas, citrus, and a nettle emulsion made with stinging nettles sourced from right outside his backdoor. He also makes the romanesco salad from the current menu, a sweet and savory melding of chicories, grilled romanesco, as well as a Marcona almond puree, Medjool dates, and a sherry vinaigrette.  
When you stop by, don't forget to try one of the thoughtfully designed, hand-crafted cocktails, which greatly add to the overall dining experience.