The Park City Food Tour is a progressive dinner and guided walking tour throughout old town Park City, stopping at one of a kind restaurants, monuments, and historic buildings.
Details
What: Park City Food Tour Along the tour, you make several stops and will sit down at a minimum of 3 – 4 restaurants.
When: The tour is offered once or twice a week depending on the time of year, each tour starts around 4 PM and goes till 7 PM.
Who: Groups usually range from 4 – 12 people.
Where: Historic Main Street in Old Town Park City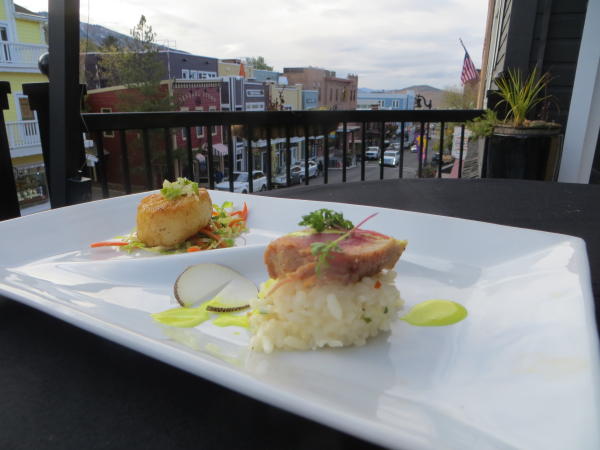 The Experience
We started at 4 PM on Main Street where we were greeted by our tour guide Shirin. After a brief introduction and warm welcome, we were asked to introduce ourselves. I attended as an individual, along with a couple who were visiting from Long Island. Since we had a small group, I appreciated the opportunity to say hello, and get to know a little bit about each other. 
The tour begins with Park City's origin story of silver mining and what the town was like during the late 1800s. Accompanied by historic photographs, Shirin was able to describe the living and working conditions of the time. Additionally, it was nice to be able to ask her questions and get more information than just what we could see in the photographs.
As the tour continued, we were able to learn more about Park City's rich history and evolution from Silver Mining to Ski Destination. Along with the attractions associated with Park City's famous Arts and Entertainment scene.
The Food
As the tour goes on, we made our way down Main Street and were able to stop and sit down at some of the best one of a kind restaurants that Park City has to offer. Not only did our tour guide Shirin provide interesting background information about each place, but she was also very knowledgeable about food as well.
1st Course – Served coconut covered shrimp with a sweet mango sauce with a bit of a Tabasco kick, they served it with refreshing jicama and watermelon salad.

2nd Course - Pork belly, the fat was rendered down, so that is was crispy and delicious, over a savory confit garlic polenta, with a bright molasses steak sauce, seasoned lime, and crispy sweet potato chips for a bit of a crunch. Warmed the soul as well as the body.

3rd Course - Crispy fried chicken in which they brined the chicken for 24 hours, which breaks down the proteins. They then put the chicken in buttermilk which soaks it up. The effect is a juicy chicken breast with a crispy crust. To accompany the fried chicken was crispy leek ends flavored with salt, chili, and other flavorful spices. Finally, one of the most exciting tastes of the night, the turnip bacon. A strip of turnip that the Chefs smoke and baste with maple butter. It's so unusual it looks like bacon, tastes like bacon but has the texture of parsnip. Weird but so tasty.

4th Course - We started with a Tokyo nacho which is a gyoza chip opened up, and a spread of tuna tartar then topped with avocado, funky sauce, and tobiko. Crunchy and flavorful, not to be missed. Chef then prepared a roll loaded with coconut shrimp, tuna and avocado with a house-made sweet jam sauce. Sweet and savory, soft and crunchy a beautiful roll. 

5th Course - Finally, a local bakery provided two beautiful truffles, one dark chocolate filled with dark chocolate and the other white chocolate truffle filled with a pumpkin pie filling. They also make a salted brownie that when you bite into it, the sea salt enhances the flavor of the chocolate.
Highlights
First, I would have to say that one of my favorite parts of the experience was the warm welcome our group received as we walked into each restaurant, we were seated right away and had fantastic service. Even though we stayed at each place for a limited time, it was a great introduction to each restaurant, and I look forward to going back to my favorites.
Secondly, being able to experience the tour as part of a group was a blast, although I attended by myself, by the time we sat down for our third course, our group was getting along like old friends.
Last, but certainly not least, was our host Shirin, she made the tour fun and entertaining, my first two highlights wouldn't have been possible without her great reputation among the restaurants and fun and casual vibe throughout the tour.
Next Time
Before the tour was over, I was already thinking about another visit. Since each tour is dependent on the time of year and availability of restaurants, I look forward to making a return visit and getting the opportunity to experience other restaurants and learn a few more fun facts about Park City.
I would recommend the Park City Food Tour to anyone looking for a fun, interesting, and delicious night out in Park City, Utah.