In the past couple of years, Park City has become extremely popular, not just for our snowy slopes, but also for our many, many multi-use trails. With our burgeoning population and visitor numbers growing, the use of Park City's trails and trailheads has become very busy. By no means do we want to stop people from recreating outdoors as it's such an excellent way for our society and community to gain physical and mental health benefits by spending more time enjoying the great outdoors. Ultimately we want to help people recreate responsibly and be part of the solution to curb overcrowding at trailheads to create a more enjoyable experience for all because once you do leave the parking areas you have a lot of room to spread out with over 400 miles of trails to explore.
Before you get in a car to drive to a trailhead consider the following:
Can you bike, run or walk to a trail or trailhead?

Can you carpool with friends to a trailhead instead of meeting them there?

Can you use trails close to your home? Especially during busy times of the year/day?

Can you take public transit?
Below we've rounded up some of our favorite trails that you can reach by our fantastic free public transportation system.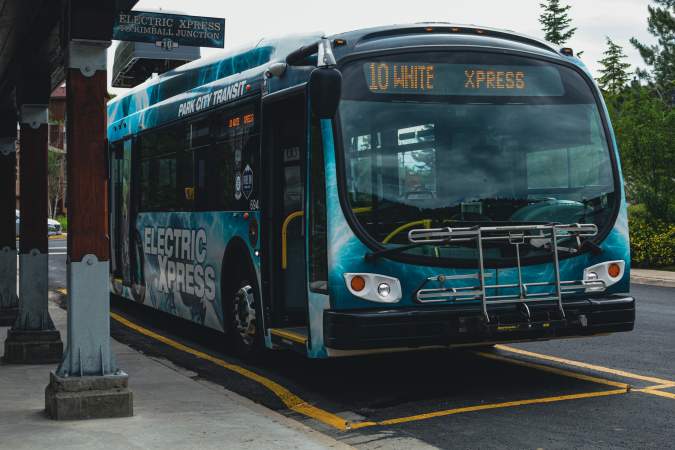 High Valley Transit Routes
Spring Creek Trailhead - You can access the Glenwild Loop from The Spring Creek Trail Head. This area is popular amongst hikers, mountain bikers, and trail runners. This loop is part of a network of trails that is about 25 miles in total. Pick up the Bitner Shuttle from the Kimball Junction Transit Center and get off at the Canyon Creeks Condos Stop, you'll then walk less than a mile to the trailhead!
Park City Transit Routes
Silver Lake Area of Deer Valley - Deer Valley Resort's Silver Lake Trail is a moderate hiking trail designated as a foot-traffic only. This trail is perfect during the summer when wildflowers bloom and fall when the aspens begin to turn their golden hue. The path is a gorgeous hike that is well marked and starts at the bottom of the Deer Valley Silver Lake Chairlift and ends at the top of Bald Mountain. If you are heading from Kimball Junction take the Spiro 101 to the Old Town Transit Center, and then transfer and pick up the 4 Orange to head to the Silver Lake Base Area.

Snow Park Lodge Deer Valley and Park City Mountain - There are a plethora of hiking trails accessible at both the base areas of Deer Valley and Park City. Jenni's and Armstrong are two great trails for both hiking and mountain biking at Park City mountain, where you'll get to peep some amazing fall foliage, and over at Deer Valley, the Deer Crest trail is a favorite. The 101 Spiro will get you to PCMR and Deer Valley if you are coming from Kimball, and the Red, Green, and Yellow bus lines will get you the mountain resorts within Park City limits.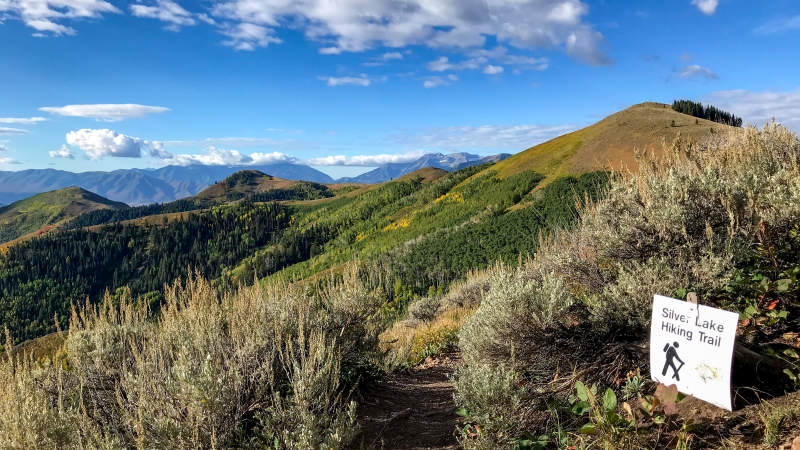 Lost Prospector Trails - The Lost Prospector trail is a well maintained trail, with few rocks and roots along the way, offering mostly smooth surfaces and a gentle grade. You'll dip in and out of forests and take in expansive views of Old Town, Park City Mountain, and Deer Valley. During the autumn months the scenery becomes particularly splendid with the coloroful leaves of quaking aspen, Gambel oak, and Rocky Mountain exploding in technicolor. You can hike or ride Lost Prospector as an out-and-back trail, but you can also create a variety of loops with connecting trails, including Freemason, Gambel Oak, and Masonic. If you're within Park City limits the Red and Yellow lines will take you to the Prospector in Prospector Square. If you are coming from Kimball Junction take the Spiro Line to the Old Town Transit Center and transfer to the Red or Yellow.

Round Valley Quinn's Junction Trailhead - Quinn's Junction Trailhead is a great jumping off point to explore Round Valley's 700 acres of mountain biking and hiking trails that encompass a great mix of difficulty levels. If you are looking to get over to this area the 102 Black line is where it's at. You can pick up the Black line at either the Old Town Transit Center or Park Ave Condos/Fresh Market Stop, where also the Spiro Line from Kimball will be dropping off for transfer.

PC Hill Trailhead - PC Hill is a quick and steady climb leading to expansive views of the northeastern side of Park City and ridgeline of Park City Mountain. The view from the top is one of the best panoramic views of Park City. To get to the area take the Yellow, Red or Black lines and get off at the High School. You'll then walk about a mile to the trailhead.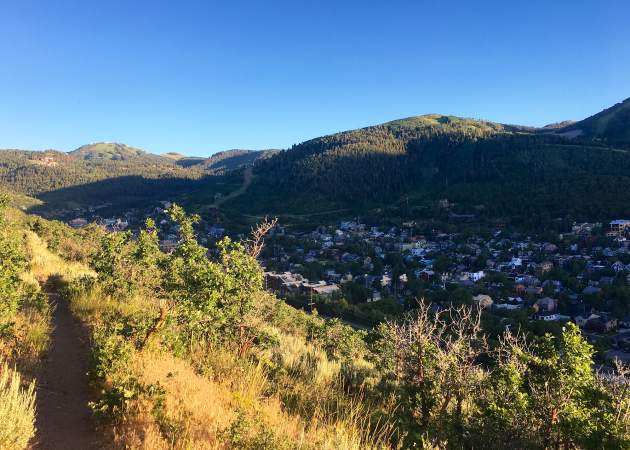 Another great public transit option is Park City's Transit to Trails program (https://mountaintrails.org/transit-to-trails-2/) that will last through October. The free service allows hikers and bikers (Note: 6 bikes MAX per trip) to catch a ride from the Bonanza district to three trailheads: Mid-Mountain, Bonanza Flat, and Bloods Lake. Parking and pick-up are located at 1376 Munchkin Road. This is a great alternative to driving for people who want to spend time in nature and help with congestion in these very popular areas. It's advised that you be at the pick-up location 5-10 minutes prior to departure, and to make sure to inform the driver whether or not you will require a return trip. If your plans unexpectedly change, contact Utah Mountain Shuttle dispatch at 801-808-1367. Service will be capped when capacity is met. Unscheduled or walk-up riders will be accepted based on availability. Dogs are welcome. The program is a collaboration between Park City Municipal, Utah Open Lands, and Utah Mountain Shuttle with funding provided by the Central Wasatch Commission.
Reservations are strongly encouraged — email umsparkcity@gmail.com with the following in this exact format:
Subject line: T2T Bonanza
Name
Phone
Number of riders
Number of bikes
Day
Pick-up time
Schedule:
Thursdays & Fridays
September: 4 p.m. 5 p.m., 6 p.m.
October: 3:30 p.m., 4:30 p.m., 5:30 p.m.
Saturdays & Sundays
8 a.m., 9 a.m., 10:30 a.m., 12 p.m.