Park City abounds with lots of great outdoor opportunities for families and the fly fishing is fantastic. If you want to introduce your kids to fly fishing and share the sport with them, a fly fishing trip in Park City is the perfect outing.
My 9-year-old son wants nothing more in this life than to fish. He reads books about it, watches fishing movies, and always asks for more fishing gear for birthdays. Sadly, both my husband and I are horrible at fishing, so when he wanted to learn to fly fish, we knew that we needed to enlist the help of a professional.
If there's one thing that there's no shortage of in Park City, it's expert fishing guides. After doing a little bit of research, we decided to hire Park City Outfitters, since they've been around for a long time and get great reviews.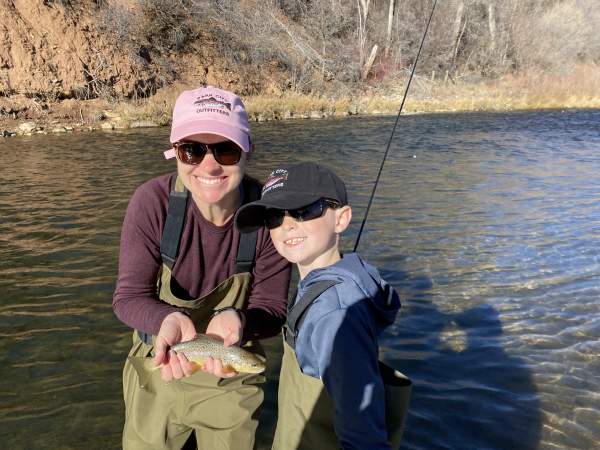 Our Family Experience Fly Fishing
Prior to this fishing trip, we had done a lot of lake fishing, but not much exposure to fly fishing, so we had a lot to learn. Our guide met us at our meeting spot and discussed our experience level and what we wanted to learn. After learning a little about where we were coming from, he picked a great nearby fishing area on the Provo River.
When we arrived, he had several sets of waders and boots for us to try on, and he helped us understand our gear before we went down to the river. Before we even started fishing, we learned how to stand in the water and what to do to move around on slippery rocks.
Next, we went to several different sections of the river so that our guide could show us examples of where the fish would usually congregate. This helped us know what to look for in a fishing spot when we got to our main fishing hole.
Finally, we got to the area where we would be fishing and we got some casting demonstrations.
Honestly, it was much harder than it looked, and it took us each at least an hour before we were casting well at all. Luckily, the fish didn't seem to care and we caught a couple, despite our lack of skill. Thankfully, our guide knew some really great fishing spots where we had a high chance of success even with our poor skills.
Finally, we got into a rhythm and before we knew it, we had caught 4 fish, and my son swears that he had at least a dozen more on his line that got away...
How to Choose The Best Guide For Fly Fishing With Kids
Not all fly fishing guides are the same, and while they may be great at fishing, they're not all great at helping kids with fly fishing. We learned that there is specific terminology that kids need to hear that's very different from what will resonate with an adult. Before you book your fly fishing trip with kids, call several companies and talk to them about their fishing guides and their experience with kids. Not every company has a fishing guide that's great for kids that's available to suit your schedule. Plan on having some flexibility or scheduling far in advance to make sure that you get a great guide.
Fly fishing can be frustrating and difficult for kids to learn, so I highly recommend that you get a guide that's great with kids so that the experience will be better for everyone involved.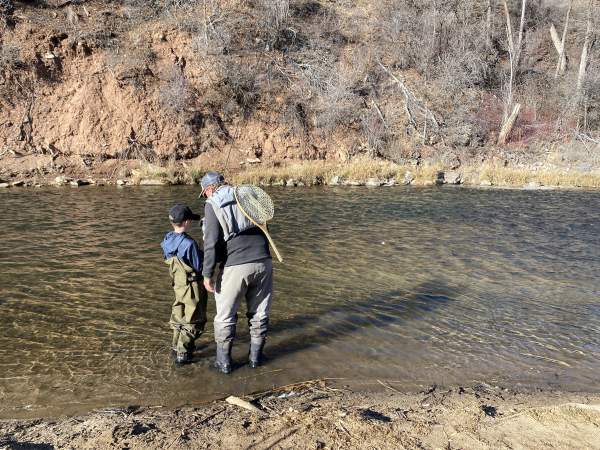 What To Wear Fishing With Kids
There are a few things that will be really important to wear when fishing with kids. The most important is warm wool socks. Even during the summer months, the water can be shockingly cold. Our guide said that year-round, the most common complaint they have from guests is that their feet are cold. Be prepared with warm socks.
The other thing that's really important to wear are sunglasses and a hat. While both of these things do provide protection from the sun, the more important thing is protection from stray hooks that might hit you in the eye or back of the head. We had several poor casts where someone was hit with a hook and we were so grateful to have sunglasses and hats to protect our heads. If you're in the market for new sunglasses, polarized glasses make it easier to see fish!
Most guides will provide you with waders, fishing gear, and boots, though it's always a good idea to confirm that in advance.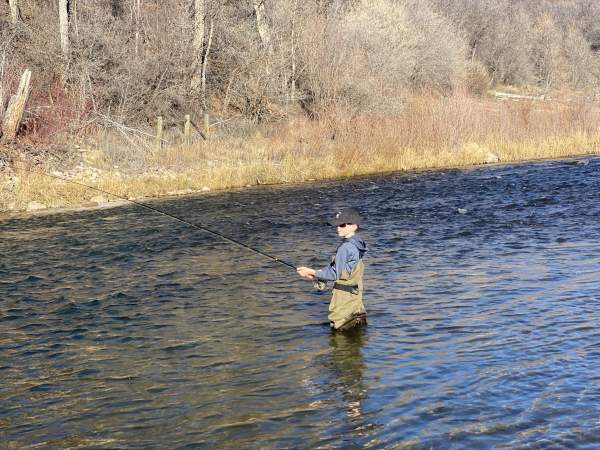 Where To Fly Fish Around Park City
Most of the best fly fishing in the area is actually about 20-30 minutes outside of Park City. The most popular fly fishing areas are the Provo River and Weber River. Both of these rivers have lots of access points so it's easy for fishermen to spread out more.
In the last few years, the sport of fly fishing has become more and more popular in Utah, bringing ever-increasing crowds. Even on a slow weekday in November, we saw at least a dozen other fishermen. If you want to avoid the biggest crowds, try and fish during the week, since weekend crowds can reduce your chance of catching fish.
Best Age to Start Kids Fly Fishing
While many guides say that they take kids as young as 6-years-old, our guide recommended 9-10 as a good starting point. At that age, they can concentrate better, have better fine motor skills, and have a bit more patience, which is critical in fly fishing.
Taking younger kids fly fishing can be more difficult since they often don't have the focus for longer fishing trips and would much rather throw rocks and catch frogs. For younger kids, lake fishing is usually a better fit. We recommend taking younger kids fishing at Wasatch Mountain State Park where they have a stocked fishing pond and you can rent fishing gear for the day at a really affordable price.
At the end of the day, we had caught four fish, and my son left with a greater love of fishing and both of us made some massive improvements in our skills. After taking our guided fly-fishing trip, I know more ways to help him as a parent and he also has better skills to be more independent on the river. While I know that we won't always go on guided fishing trips, going on a trip to learn from an expert was a great investment in this hobby that my son adores, since it helped us both to have a great overall experience and love fishing together better!