Growing up in New Orleans, Kathryn Blanken always loved to be around flowers, plants, and nature. Even as a child, she knew she wanted to work in the floral industry someday.
Today, Kathryn and her husband, Doug, own Flowers By You, a floral bar and flower arranging studio in Prospector Square. But realizing her lifelong dream to own a flower shop hasn't been a walk in the park.
In 2012, they quit their jobs in medical sales, sold everything they owned, and moved to Park City to manage two homes here. In that role, Kathryn enhanced her floral design skills by regularly filling the homes with fresh flowers and attending the Los Angeles School of Floral Design.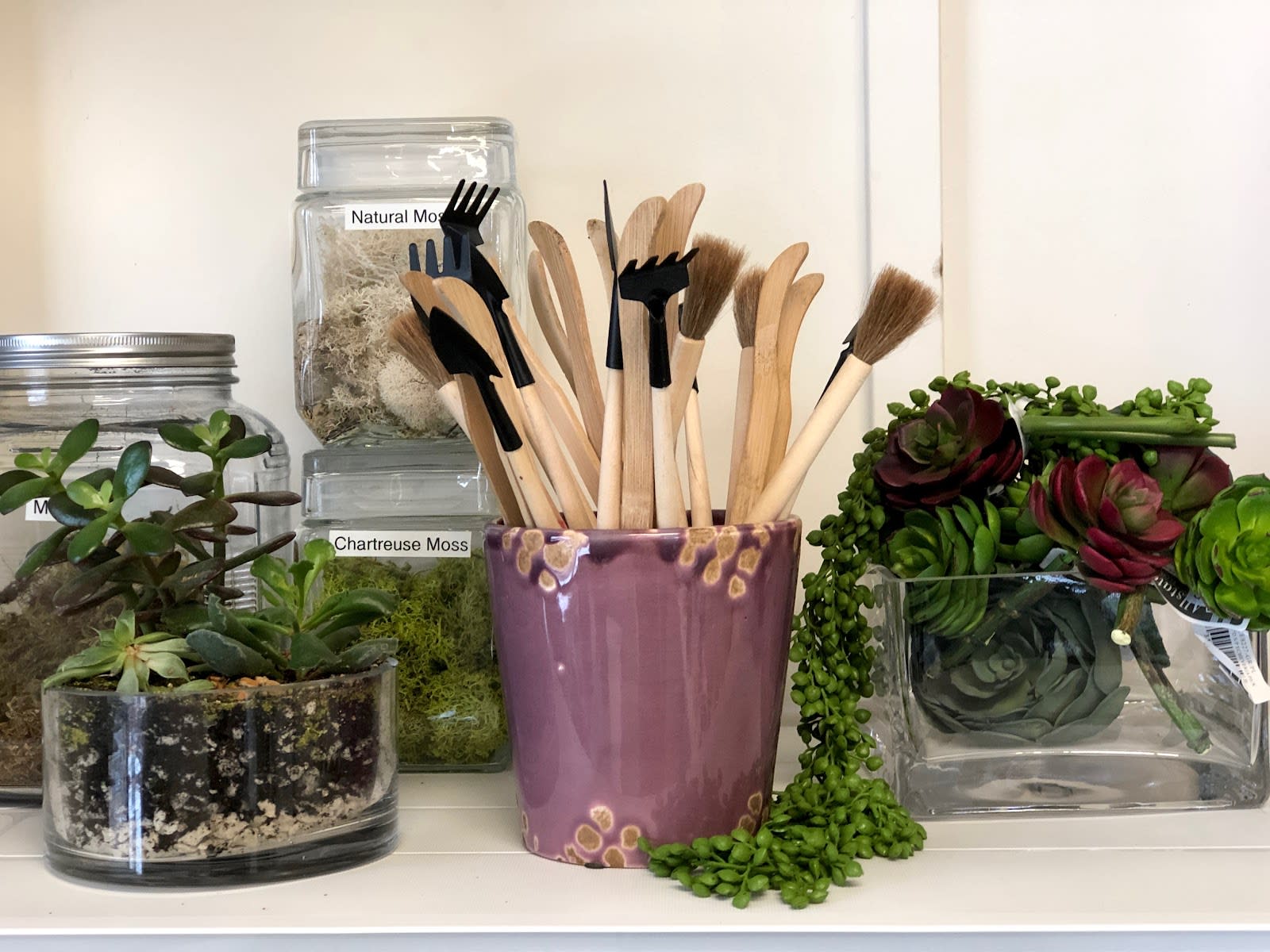 Flowers by You offers unique services besides flower arrangements, including corporate workshops, terrarium classes, and more.  
In 2018, an unfortunate series of events inspired Kathryn and Doug to change the direction of their careers again — as well as their lives. Tragically, her father, Doug's father, and her brother all passed away within months.
It served as a wake-up call. "We decided life was too short to spend it working for someone else," Kathryn says. They gave nine months' notice and prepared to open their own property management company.
Then, the universe sent Kathryn another sign. As she was printing business cards, she noticed a "for rent" sign in the building next door. She jumped on signing a lease, which gave her three years in the space.
Luckily, the bright corner location turned out to be a perfect place for a floral shop. She and Doug worked hard for months to make the necessary improvements and officially opened their doors to the public in August 2018. Flowers by You, has become a true family business, as her mother and Doug's mother frequently help out in the shop.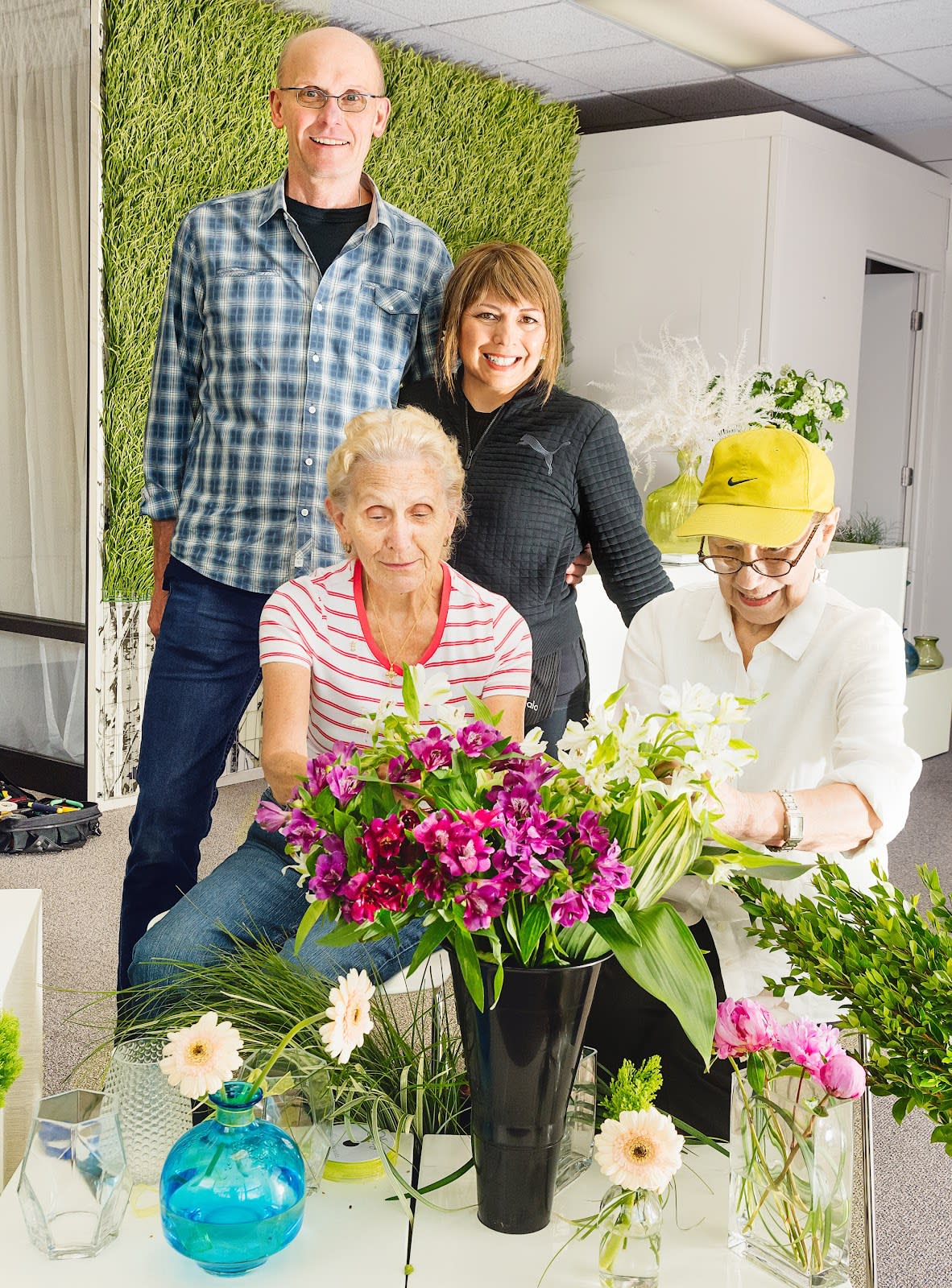 Flowers by You owners Doug and Kathryn Blanken, along with their respective mothers, who help out in the shop. Photo credit: Bia Photography.  
The Details
What: Flowers by You Floral Bar
Where: 1729 Sidewinder Drive, Unit 2, Park City, UT, 84060 — look for the floral-decorated bicycle!
Who: All ages
How: Call 435.640.8968 or email info@flowersbyyou.net to make an appointment or order an arrangement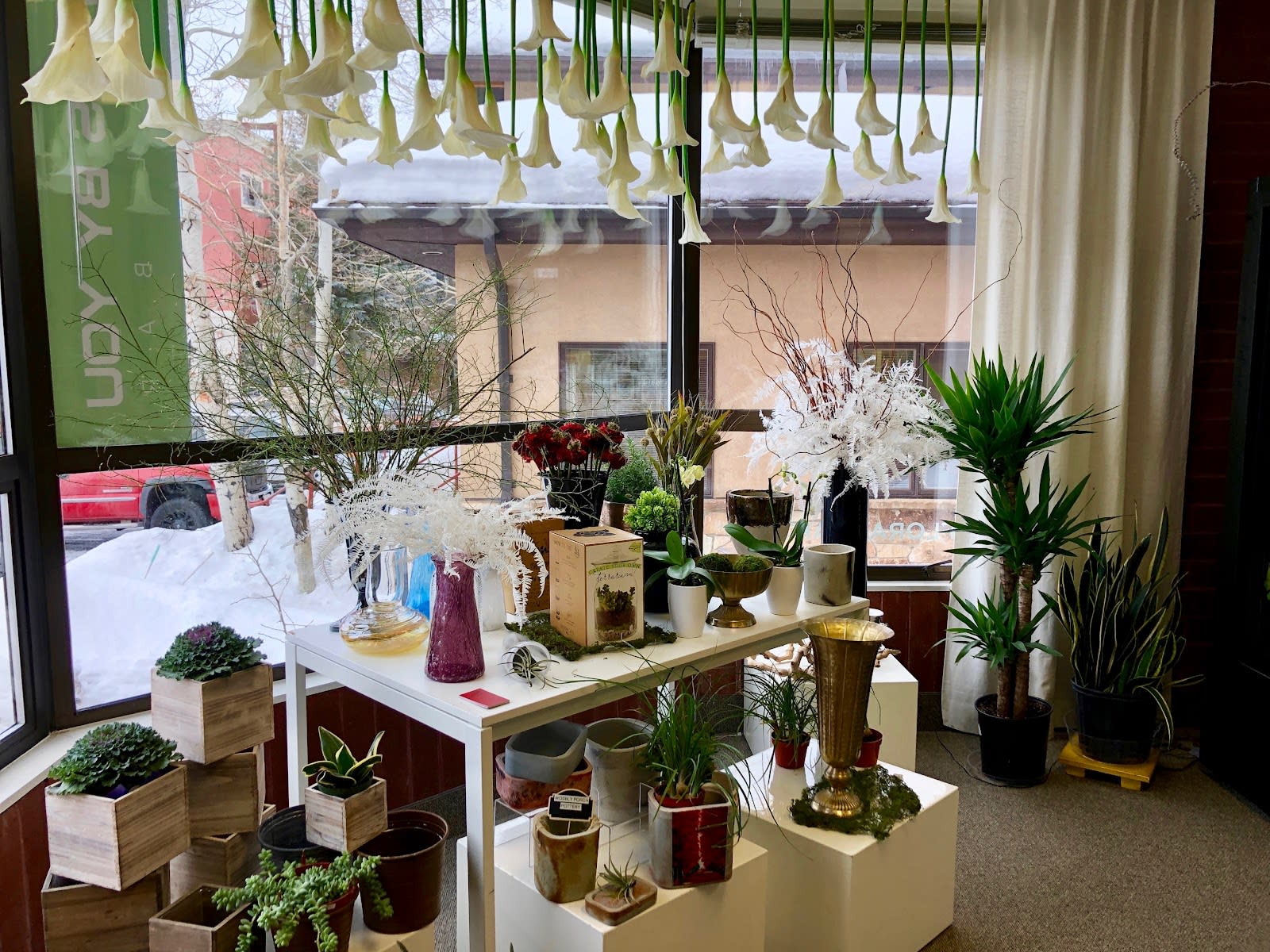 Flowers by You sells many products from local businesses, such as Wobbly Porch Pottery, Red Flower Studios, and Ritual Chocolate.  
The Experience
When you walk in the shop, the first thing you'll notice is the gorgeous grass wall gracing the entrance, which Kathryn and Doug created by hand. Other nice touches include hanging calla lilies and a wide variety of vases, pottery, and containers, many of which come from local small businesses, Wobbly Porch Pottery, and Red Flower Studios.
And of course, you can't help but admire at the vibrant flowers and fresh plants that fill the shop. Kathryn sources the flora from Holland, shipping them overnight to ensure freshness. The plants, orchids, succulents come from local greenhouses in Salt Lake City. Other nods to the local community include the Ritual Chocolate for sale and the handmade greeting cards by Smooches by Eveleen.
Flowers by You's services range from the usual, such as floral arrangements for any occasion, to the unexpected. They offer classes on floral arranging, DIY terrarium workshops, and even fresh floral jewelry and "tattoos."
Tattoos, you ask? Think of them as single-use temporary tattoos made out of fresh flowers, greens, and succulents. "I custom-make them to wear at proms, weddings, festivals, and special occasions, and they're a lot of fun to wear," Kathryn tell us.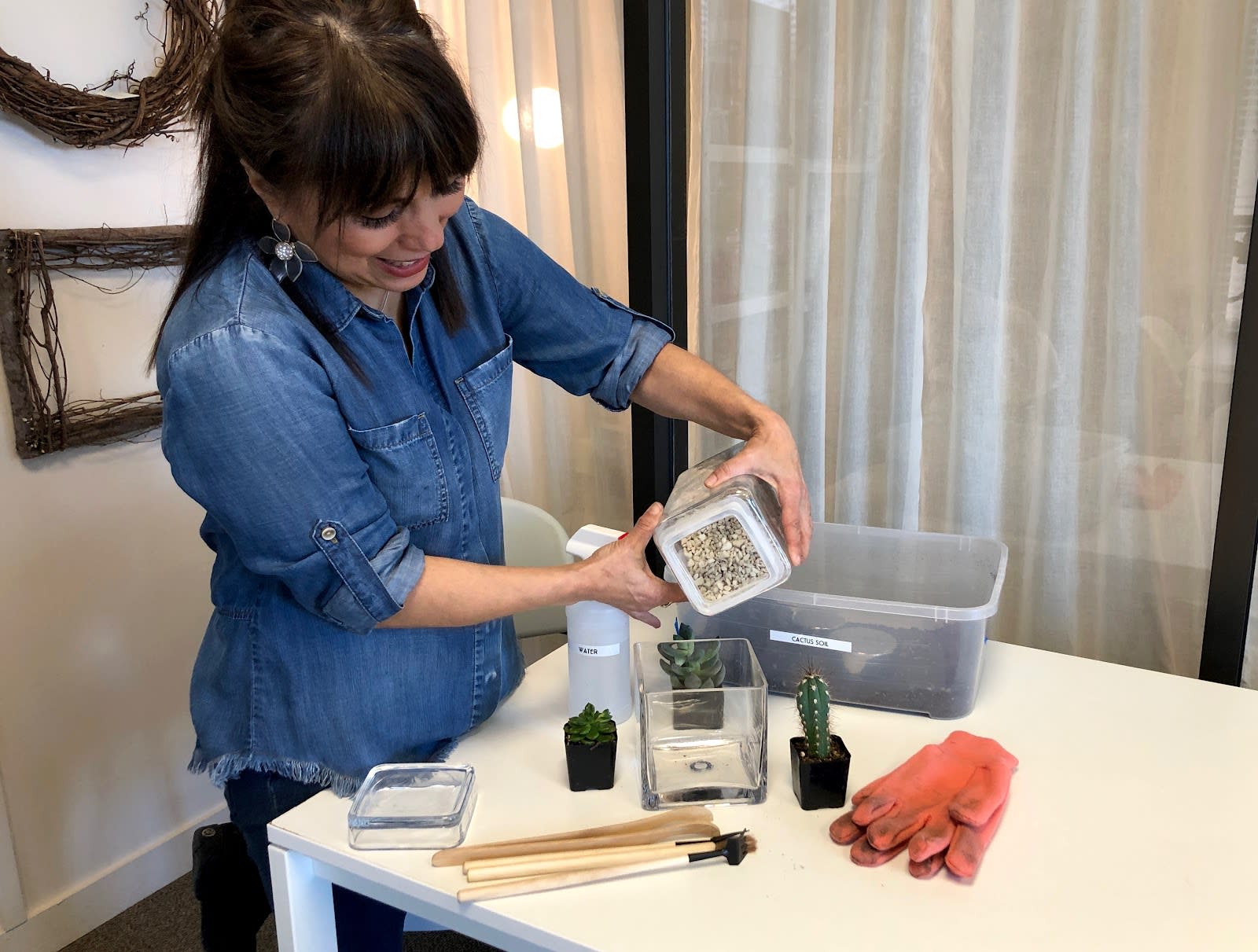 Kathryn will walk you through the steps to make your own special terrarium.  
Kathryn also provides team-building workshops to corporations. She'll bring all the necessary supplies to the location of your choice and teach your employees how to design their own terrariums, which they can take home. "I love educating and teaching people, and it's a great bonding experience," she says.
On a recent visit to the shop, I decided to try my hand at creating my own terrarium. Kathryn kindly walked me through the process, providing helpful tips and design ideas along the way.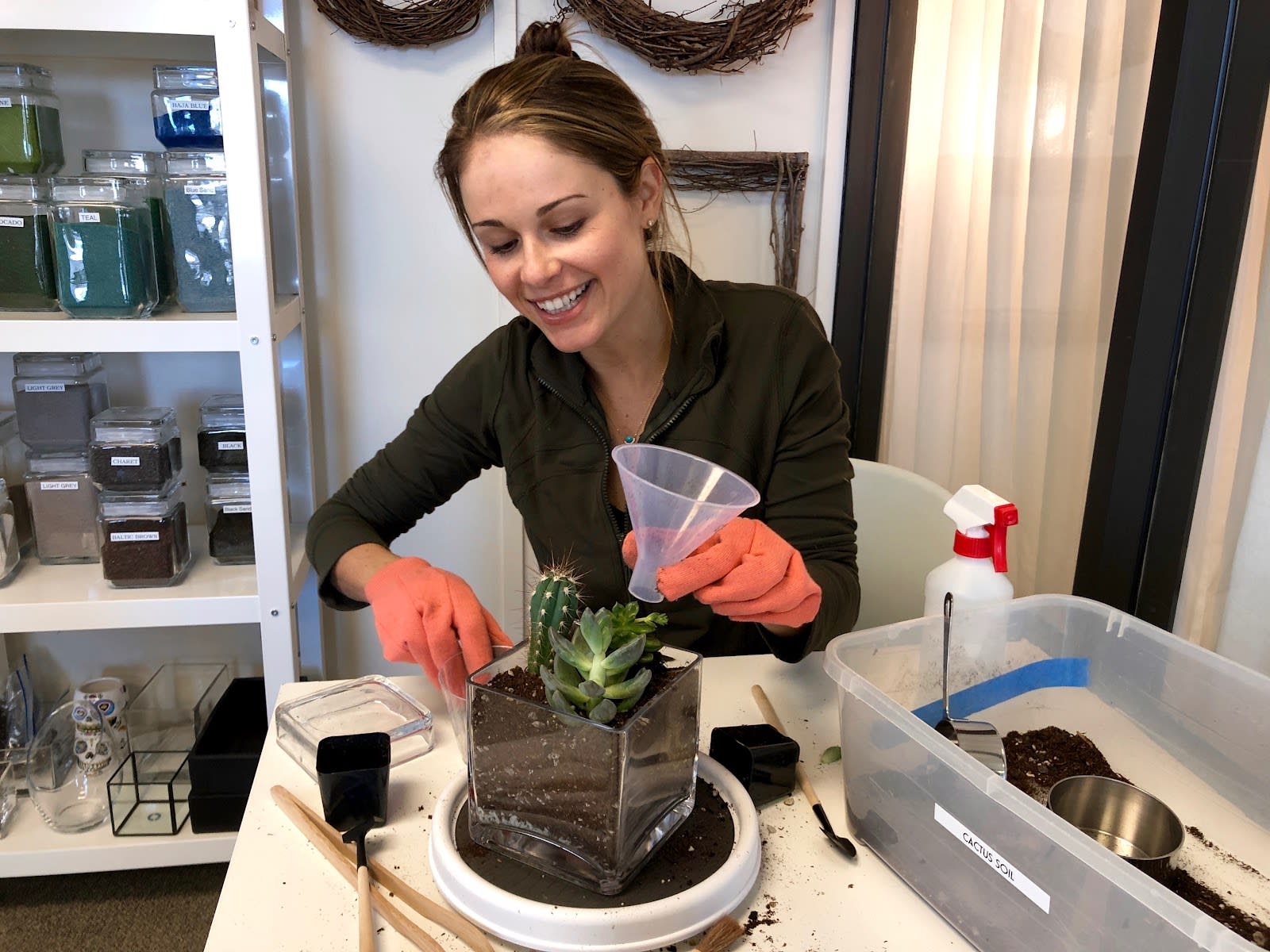 I got my hands dirty designing my own terrarium on a recent visit to Flowers By You.  
First, choose your container, starting at $12. Then you'll select which plants to include, such as a cactus or succulents, which cost around $3 or $4 each. Everything else you need — soil, rocks, and other decorations, such as moss, colored sand, or seashells — is included.
I went with two succulents and a cactus, and added in some colorful moss and seashells. It now adds a unique — and low-maintenance — element of greenery and color in my apartment over the winter.
Not only would I trust Kathryn with all my flower arrangement needs, but I would definitely come back with friends for a birthday party or "girls' night out." Visiting the shop would also be a great kid-friendly activity for winter days spent off the slopes or any rainy summer afternoon.