Whether you are in need of recovery from a day of outdoor recreation, or just a moment to relax and rejuvenate your mind and body, taking an hour to "float" may be the perfect addition to your vacation. If you are a seasoned pro, or completely new to the concept, Sync Float Center has everything you may need. 
Floating, what is it?
Floating takes place in a private tank or pod that helps limit all external light and sound. The pod is filled with 10 inches of warm (body temperature) water with enough salt to allow your body to float effortlessly, giving the sensation of zero gravity. The water is warm to match your skin temperature and allows you to float peacefully with minimal distractions.
Why Float?
For the body
Relieve Back Pain
Recover from Workouts and injuries
Soothe Joint Pain
Improve Coordination
Rehydrate Tissues
For the Mind
Heighten Focus and Memory
Increase Confidence
Reduce Stress
Alleviate Anxiety
Enhance Creativity
What to expect?
I recently had the opportunity to visit Sync Float Center and was able to try their floatation pods.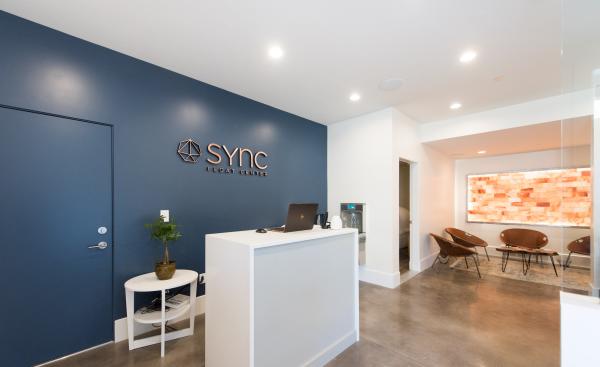 Pre-Float
Upon my arrival, I was greeted by a knowledgeable staff member who welcomed me into the lobby and checked me in. (Plan to arrive 15 minutes before your appointment)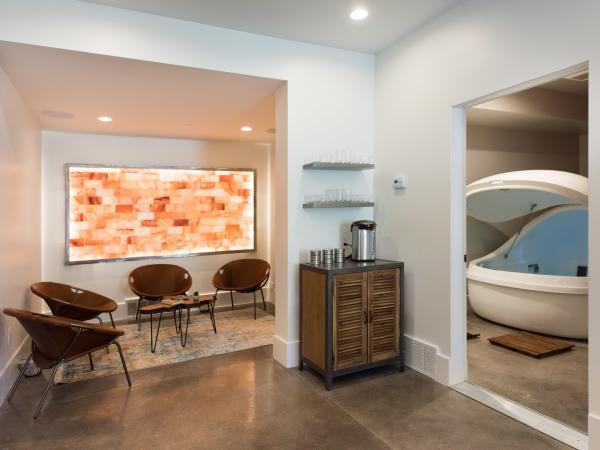 After a quick orientation and opportunity to ask questions, I was left in a private room to begin my session. Everyone is required to shower before entering the pod, and Sync Float provides all necessary shower items you may need. (Including earplugs)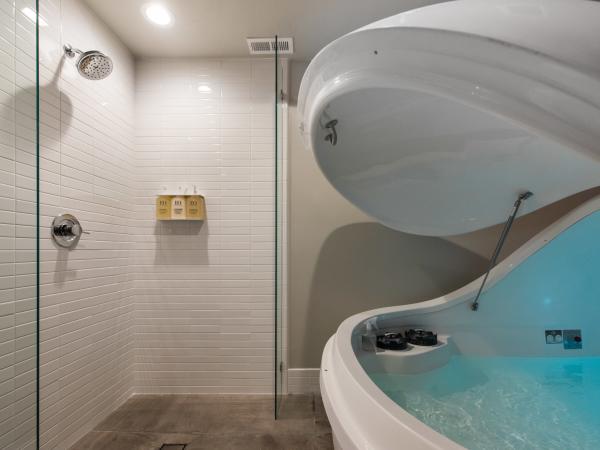 After a shower, I entered the pod and pulled down the door to start my session.
It's important to know that during your session you are in complete control of your environment, each pod comes equipped with a light switch, option for music, and an intercom to communicate with the front desk.
The Experience
Floating is an incredibly personal experience that allows people to clear their minds and take a relaxing break from the chaos of everyday life. At first, one may find the experience weird or even boring, however, eventually your thoughts slow down, and you begin to relax. Some people may use this time to exercise meditation and breathing practices.
From my personal experience, after entering the pod and turning off the lights, I noticed that my mind was racing with random thoughts. I decided to count and pay attention to my breathing to help focus on something other than my constant thinking. After a few rounds of counting, I started to feel more relaxed and I started thinking without interruption. I lost track of time and decided to turn on the music (which I really enjoyed). However, suddenly the pod's jets turned on and a light came on, informing me that my one-hour session had ended.
Post Float
After exiting the pod, I took another shower, got dressed, and exited the room. (I came straight from work and was wearing business attire, it would have been nice to have more comfortable clothes after the session.)
Afterward, I was greeted with a hot tea (that I selected during my orientation) and took a seat in the lobby. Here I had the opportunity to talk with the staff member and ask questions. I decided to sit and enjoy my tea and just reflect on the experience a little bit more before leaving.
Once again, floating is a personal experience and can have a wide range of effects for people. For me, walking out of the building, I could tell that I felt much better than I did before entering the building. I didn't have an injury or anything specific that I was thinking about, but afterward, I felt a sense of comfort and calmness that I didn't have walking in. Honestly, it felt like I had just unloaded a lot off my mind.
Next Time
I do plan to return and am excited about my next experience. Next time, I think I'll start with music and then end with silence. Additionally, I will leave my phone in the car, as the time afterward is still peaceful and I know my phone could potentially interrupt that moment. For those looking for something new, or an alternative to the traditional spa experience, I would encourage you to give floating a try.
Still curious? Make sure to check out Sync Float Center's frequently asked questions page.