Our family love of skiing runs deep. My husband and I met on a chairlift and most of our kids started skiing shortly after they could walk. Thankfully, our kids are all as obsessed with downhill skiing as their parents are. However, when I suggested that we try cross country skiing this winter, no one was on board. In my kids minds, cross country skiing was boring, slow, and a waste of time. 
Boy were they wrong!
Knowing that I wasn't equipped to teach my kids cross country skiing with my limited skills, we signed up for a lesson with the pros at White Pine Touring. Currently, they are only offering private lessons, which works perfectly for families since discounts are added for additional participants. 
When we signed up for our lessons, I chatted with the staff, letting them know that our group would include myself and my 6 and 8-year-old sons who were really hesitant about trying cross country skiing. I was thrilled when we showed up and met our instructor, Liz, who grew up skiing here and now teaches a lot of the local youth programs. She had the exact skills that we needed to get the boys not only having fun cross country skiing, but begging me to buy them skis and let them stay longer at the end of the day. 
Her goal was to get the kids playing and having fun so that they didn't even know that they were learning new skills. They had competitions to climb hills, races through the tracks, and she even let the kids put their balance to the test on some jumps. Along the way, she also explained to me what we were doing as well as her goals so that I could revisit those when I was skiing with the kids on my own. It was the perfect combination for both adults and kids. I honestly can't recommend their lessons enough!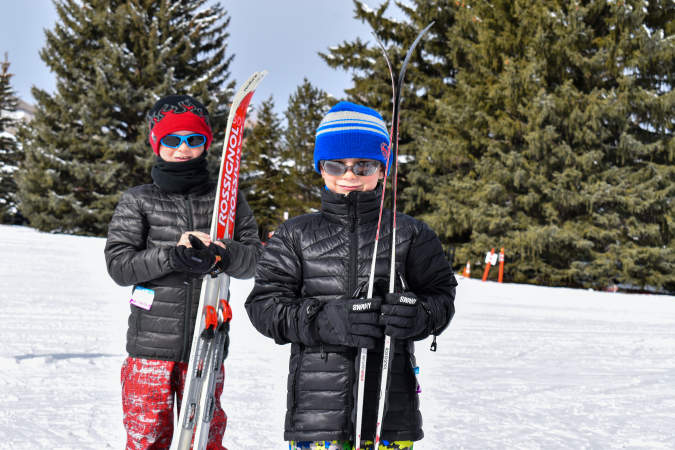 What to Wear Cross Country Skiing With Kids
Cross country skiing is an aerobic sport and you're going to work up a SWEAT. We came dressed in layers, and quickly started shedding our outer clothing. The most important thing to wear is a good pair of base layers that will both wick sweat away from your body as well as insulate you from the cold. We're huge fans of merino wool, but synthetics like polypropylene work well too. 
Insulating layers of down or fleece are great to wear on top of your base layers since they'll keep you warm, but are lightweight enough that shedding them isn't much of a problem. 
If you're new to cross country skiing, like we are, you're going to want waterproof snow pants as well. Learning to cross country ski, means that you're probably going to end up falling quite a bit, so come prepared!  Snow pants will be a lifesaver and will likely be the difference between skiing for 1 hour and leaving with a soaked backside, or skiing 3 hours and heading home dry. As you get better at cross country skiing and falling less, you'll be fine with just wind resistant pants.
Waterproof gloves are also essential when cross country skiing with kids. During our lessons, my kids each fell dozens of times. Having waterproof gloves not only kept their hands dry, but it also kept them warmer and happy to ski longer.
Merino wool socks are also great for kids to wear cross country skiing. While you don't need a thick ski sock, merino will help keep your feet warm and prevent you from having damp feet that come from wearing cotton socks. Opt for socks that are calf length or higher.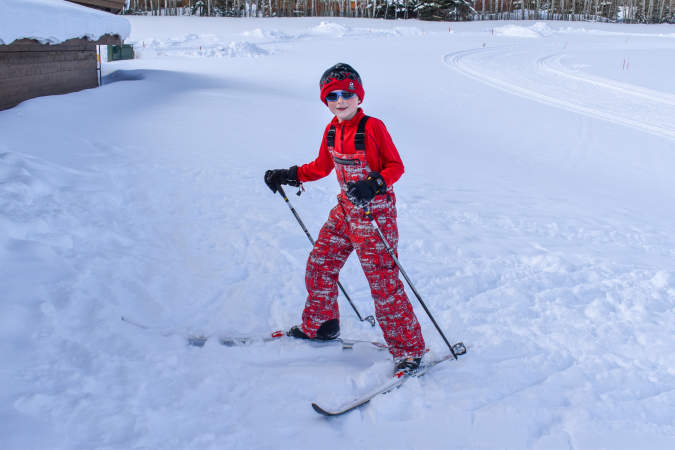 What Age Can Kids Start Cross Country Skiing?
Kids can start cross country skiing soon after they can walk. In fact, cross country skiing is easier for kids to learn than downhill skiing, since the free heel closely mimics a walking motion. For toddlers, there are many ski sets that you can purchase that simply strap onto their snow boots, making it easy to introduce kids to cross country skiing in your own backyard. When kids are about 3, they can start heading out on the trail and covering more mileage.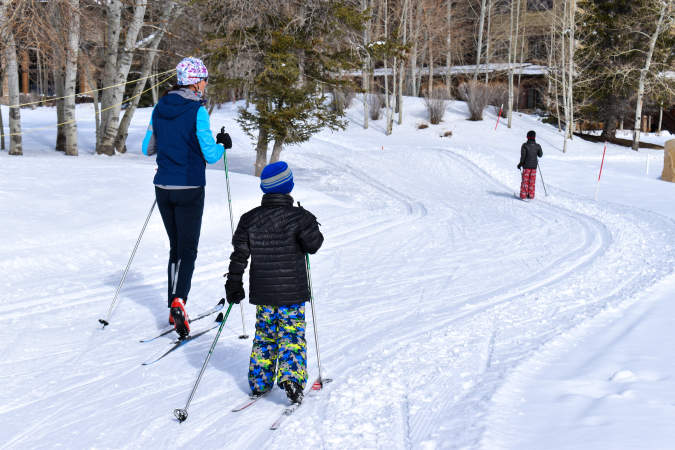 What Trails Are Best For Kids To Learn Cross Country Skiing On?
If kids are learning to cross country ski, plan on heading to an area with groomed trails that have classic ski tracks set. These tracks make it easier for kids to glide on their skis and help them cover more ground faster. Wait until kids are more advanced skiers to head off onto a trail with fresh powder!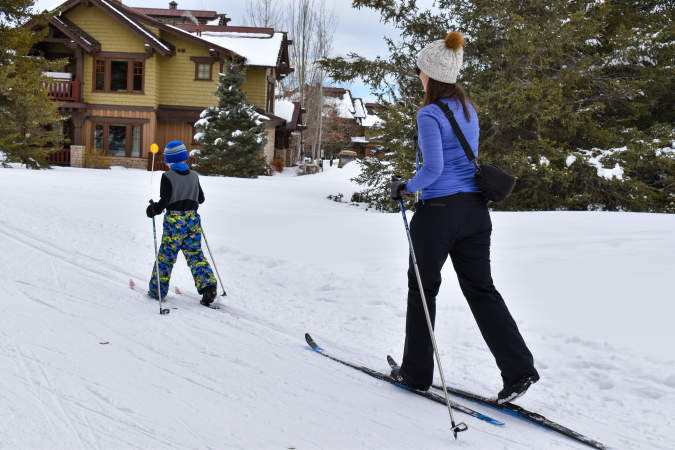 Where Are The Best Beginner Trails For Cross Country Skiing In Park City 
Park City has over 70 km of groomed cross country ski trails, so there really is something for everyone. 
For easy access, the trails right outside the White Pine Touring Nordic Center can't be beat. You can rent your gear in the shop and there is a trail system right outside. There is a 3 km beginner track, a 5 km intermediate track, and the terrain connects to an additional 10 km of trails in the valley. To use the trails at the Nordic Center, you'll need to purchase a trail pass.
If you're looking for a bit more variety, check out some of the free trails that Basin Recreation maintains, or if you're feeling ready to tackle some hills, head over to Round Valley. Read our full list of the best cross country ski trails in Park City. 
Cross Country Ski Costs
Cross country skiing can be surprisingly affordable, especially when compared to downhill skiing. White Pine Touring is an expert in cross country skiing and you can get all your ski needs taken care of there. If you're new to the sport, a private lesson is only a little bit more money than the rentals and track pass alone, and the instruction is excellent quality.
Private Lessons, 1 Hour, includes ski rentals and an all day track pass
$80 for the first person
$60 for each subsequent person
Daily Track Pass, White Pine Touring Nordic Center
$24 - Adults
$12 - Kids 6-12
Free - Kids 5 and under
Ski Rentals (Classic skis, boots and poles)
Adults - $25
Kids under 100 lbs - $15
Kids ski trailer $15