Falafel is only the beginning.
Chefs Jason and Katie Greenberg found their niche in Utah satisfying people's craving for flavorful and delightful Middle Eastern food. So if you are looking for a quick bite or meal, look no further than NOSH a modern Mediterranean & Middle Eastern restaurant focusing on Israeli cuisine that encourages its patrons to eat food enthusiastically. Jason and Katie, husband and wife and co-owners of NOSH have been in the restaurant industry for more than 20 years. They are passionate about sharing their unique cuisine with visitors and residents of the Park City area. Taking inspiration from family, experience, and the vast NY food scene from whence they hail, NOSH's diverse menu includes both traditional and modern dishes, including many gluten-free, vegetarian, and vegan options. Offering both eat-in and take-out for lunch and dinner, Jason and Katie hope that everyone will be as enthusiastic about eating their food as they are about creating and cooking it.
What Do You Do And How Did You Get Started?
Justin and Katie Greenberg are from New York and when you're from New York you know that on every corner of the City, there's either a deli, a pizza joint, or falafel spot, and I personally understand this because I too am from New York City.
Justin and Katie are both chefs and have a passion for food, especially quality, authentic ethnic food. They met working in other people's kitchens and eventually decided one day they wanted to do their own thing, but New York was super expensive, and as I mentioned before super oversaturated with delis, joints, and spots everywhere. They both had family who had moved West and specifically, Justin had family in Park City so they decided to migrate to the Wasatch Mountains. When they got here they noticed the lack of diversity in the dining options, and that there was a real need for something ethnic and niche, a need that they could fill. In New York, they were used to getting ethnically diverse food at the right price and they realized that Park City was missing a little bit of that middle-ground dining option where the food was chef-driven but still affordable.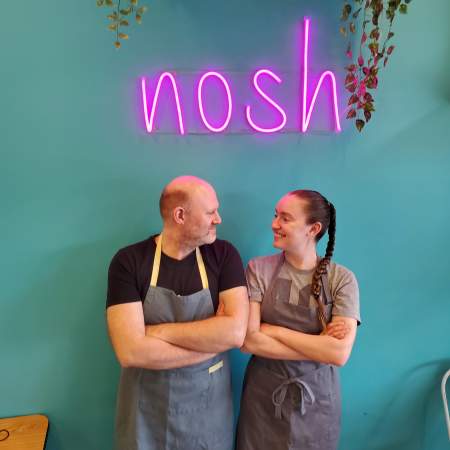 So upon moving to Utah in 2014, Jason began working at the St. Regis at Deer Valley, and Katie as Head Chef at High West. They decided to open a food stall at the Park Silly Market to feel out the communities interest in Middle Eastern food and to share their falafel, hummus, and pita creations. A couple of years after finding success with their food stall they happened upon a full-time spot for NOSH in the Prospector neighborhood and opened on February 3, 2020, but unfortunately had to close down a month later for COVID. Katie and Jason were rightfully nervous after opening a new business just as COVID hit, but it worked out well because people were stuck at home and were looking for different take-out options. Their new patrons were excited about a new-to-Park City type of cuisine that was fresh, vibrant, and flavorful. It's been 3 years since opening and NOSH is still going strong continuing with their takeout family meals, catering, and in-house dining.
Highlights
Two of Jason and Katie's biggest accomplishments at NOSH have been the falafel and hummus. They've had people from Israel and New York tell them that the falafel is the best they've ever had, and that is saying a lot. With the hummus, they tried many different recipes until they got it right, and it's currently working for them! It's creamy, flavorful, and delicious!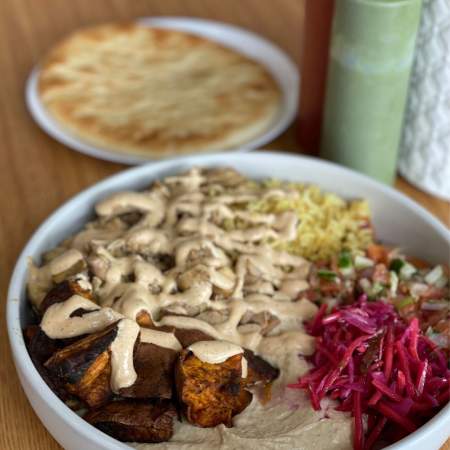 As far as the dishes themselves go, the NOSH Platter is their showcase dish, which is pretty much a sampler of their delectable offerings. Jason says it's a great thing to order if you've never been to NOSH and you want to try a lot of their flavors.
A really fun dish is their Chicken Fawaffle - it's sort of their take on a Southern Fried Chicken and Waffle. Their interpretation is completely gluten-free and you would never know it! The dish is comprised of the same chicken they use for their braised shawarma chicken and then it's deep fried in chickpea flour, they then make the gluten-free waffle batter from the mix of falafel spices and some of their actual falafel mix. This is quite the savory waffle treat with the addition of Zaatar honey and harissa yogurt. You need to try this dish! It's ridiculous! As you can see, NOSH is all about showcasing bright, vibrant food in a new and different way.
What Are You Looking Forward To?
Jason and Katie are looking forward to expanding the NOSH brand sometime in the near future. The current NOSH space is pretty small, with about 20 seats, so they are looking to grow and do more, wanting to take NOSH as far as they can. They currently do not have a larger space that they are expanding to but they are constantly looking at where they want to go next, maybe it's Salt Lake, maybe it's Provo, but they aren't quite sure yet. All they do know is that they want to have a bigger dining space with a larger kitchen and do some smaller quick-service style eateries. And once they expand they can play around with the food more, make the menu bigger, and have a lot of fun creating unique Middle Eastern dishes that they know people will love
Also worth mentioning Jason and Katie recently opened Stacked Sandwich Co in the same shopping center as NOSH (in the old Einstein Bagels and Bonnie and Clyde space). They are filling another void that Park City is missing - the elusive deli, as it doesn't exist in the iteration that they were used to in New York. There are a couple of sandwich places in the area, but they really wanted to bring the deli culture they grew up with in New York to Park City. Stacked is closed on the same days as NOSH Mondays and Sundays but they do breakfast, lunch, early dinner, and of course catering!
Visit NOSH at 1890 Bonanza Dr. Suite 112 Tuesday - Saturday 12-8 PM or call them (435) 800-2086 for take-out.