I've been a big fan of Pilates for a long time, so when I found The Salt Method in Kimball Junction, I was beyond excited to continue my love affair with this type of exercise. Much to my delight, I learned the studio is female-owned and operated.  The pilates classes take place amongst the relaxing glow and healing properties of Himalayan salt blocks. If you are new to the mind-body practice of Pilates, with consistency, it improves flexibility, builds strength and develops control and endurance in the entire body. It puts emphasis on alignment, breathing, developing a strong core, and improving coordination and balance. But, The Salt Method doesn't just offer Pilates, they also offer yoga, halotherapy, massages, facials, and acupuncture - a one-stop-shop for self-care.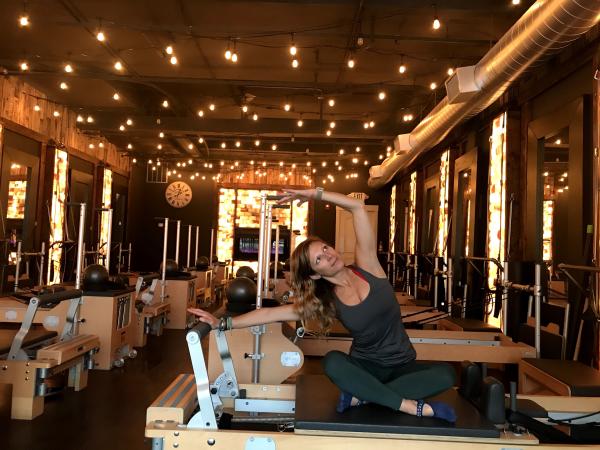 I was intrigued by their offering of Halo-Therapy, as I imagined some workout with one of those pilates rings above my head. So if you've never heard of Halo-therapy, you are not alone, neither had I, but I was excited to learn more about it and give it a try. Halo-therapy, otherwise know as "Salt Therapy," is a holistic method that recreates the microclimate of a salt cave. Dry salt aerosols are dispersed into a room where the walls and floor are covered with layers of salt, and a negative ion and antibacterial environment are created. The dry salt aerosol is a critical factor in the relief of symptoms for many health problems, including respiratory and skin conditions. So how does halotherapy work, you ask? Well, a machine called a halogenerator grinds salt to the size of 1-5 micrometers to produce this dry salt aerosol. While sitting in the room for 50 minutes, the fine salt aerosol can travel to the deepest part of the lungs in addition to other parts of the respiratory tract, which dissolves bacteria and pollutants and works to expel mucous and open constricted airways. Only the finest quality dry salts from the Dead Sea are used. The amount of sessions you should do varies widely among each individual, as the condition you'll be treating is a significant factor. Some conditions and milder symptoms will improve or dissipate within just a couple of sessions. You may have some relief after one session; however, for the best results, the ladies at Salt recommend a series of treatments. Those with chronic conditions most likely need to come twice a week for the first 6-8 weeks. Those who come for stress relief and relaxation come as often as they like. Spending time in the salt cave can also be used as a preventative measure to strengthen the immune system against colds, cough, allergies, and sinusitis.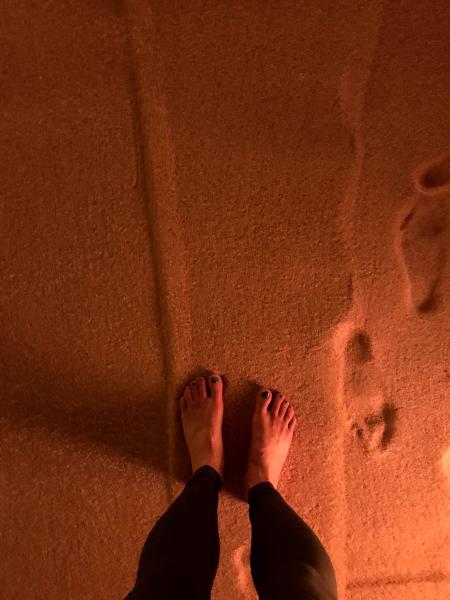 Benefits of Salt Therapy
Improve lung function
Clear pollens, pollutants, toxins and viral causing agents from lungs and nasal tracts
Provide relief from skin conditions such as dermatitis, acne, eczema, and psoriasis
Reduce symptoms of allergies, asthma, and respiratory issues
Clean nasal cavities and sinuses
Reduce bronchial inflammation
Relieve stress and naturally calm you
Decrease your likelihood of catching a cold, flu and other illness
Enhance sports performance / improve physical endurance
Reduce snoring
Details
What: Pilates, Yoga, Halotherapy, Massage, Acupuncture, Facials
Where: Salt Method 1675 Redstone Center Dr #140, Park City, UT 84098
When: Various times in the day, check their website for current class schedule
Who: Those looking for some self-care and mind-body exercises
Experience 
I headed over to The Salt Method's website, where I could easily book my sessions. Salt offers a variety of classes from beginner to advanced throughout the day, so it is relatively easy to find a class that fits with your schedule and your ability. I wanted to start my day off with an invigorating workout, so I went with a 7 AM Pilates Reformer class, followed by a Halo-Therapy session. When I walked into the Salt Method, I instantly felt more relaxed. It's one of the most beautiful studios I've ever been to. The studio is infused with Himalayan salt with ten salt walls behind ten brand new reformers/towers. The glowing Himalayan salt walls, the fireplace, and the globe fairy lights strung across the ceiling create a calming and centering atmosphere of gentle lighting that also feels cozy and welcoming.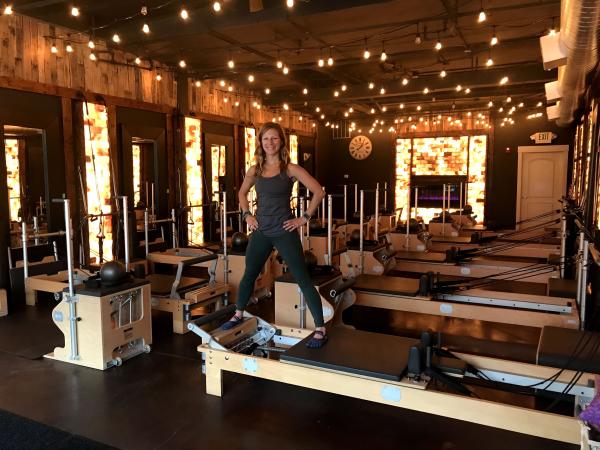 I always have a couple of butterflies going into a new studio even though I've been doing Pilates for 15 years, as every instructor has their own style of teaching, and the difficulty of each class is based on how nice they are feeling that day (JK!)
Stephanie, our instructor, was excellent. She was friendly, knowledgeable, and in command providing step-by-step guidance during the class, challenging us at our individual level of ability. I love the Pilates reformer as it gives me a challenging full-body workout using springs and body weight as resistance while performing movements targeting specific muscle groups. Stephanie guided us through a sequence of leg exercises, moving into arms, core, and back to legs for some deep stretching in the straps. She incorporated props such as the ball for an extra challenge along with modifications. I have to say her class was a total butt kicker! Stephanie's pace, difficulty, corrections she made, and the ambiance of the studio created an enjoyable experience. After class, I felt refreshed, invigorated, stronger, taller & more self-confident!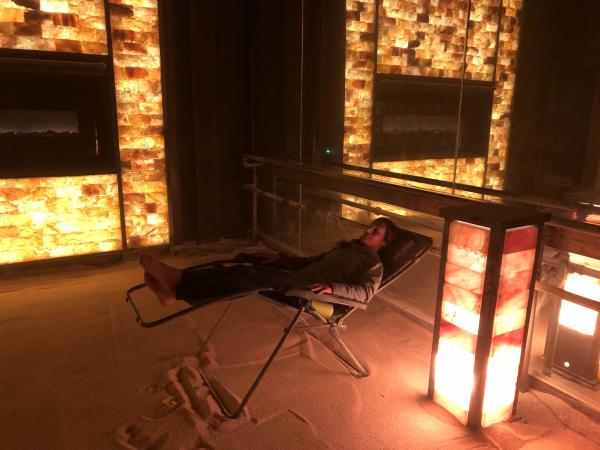 My day of self-care continued with a 50-minute Halo-Therapy session in their salt cave. I had no idea what to expect. As I was lead into the cave, I was surprised at how large it was. You would have no idea it existed if you were passing by the studio. The cave is magical. It is quite large with glowing walls of Himalayan salt blocks and fine salt like sand covering the floor corner to corner. It felt like I was walking through one of those zen gardens. I was lead to a gravity chair where I'd spend the next 50 minutes being still, listening to music, meditating, dozing in and out of sleep breathing in the salt particles. I initially didn't think I could sit still for the whole time, but I have to say that this was one of the more relaxing experiences I've ever had. The ambiance made it easy to relax, and I could feel tension continue to release the longer I sat there. As the salt continued to be pumped in the room, I felt a light layer coat my face and clothes, kind of like being at the beach. A bell was rung a couple of minutes before the end of my session to wake me from my meditative state gently. I was pleasantly surprised by how relaxing I found the Halotherapy! And I have to say after just one session, my breathing felt clear, and I'm curious what a couple more sessions would do for a continued cleansing of my nasal cavities and sinuses.
I am looking forward to trying more of their classes in the salt cave-like yoga and mat Pilates.
Advice
For Pilates
Wear athletic clothing like leggings
They have a mandatory grippy socks policy for sanitary reasons, so if you have your own bring them, or you can purchase a pair in their shop.
Bring water.
For Halotherapy
Wear loose-fitting or athletic clothing, potentially something you don't mind getting salt on
You can bring in reading materials, or you can meditate or sleep
Highly suggest bringing in some water
If you do bring an electronic device in for music or podcasts (which is not recommended), put it in a plastic baggie, so the salt doesn't coat it.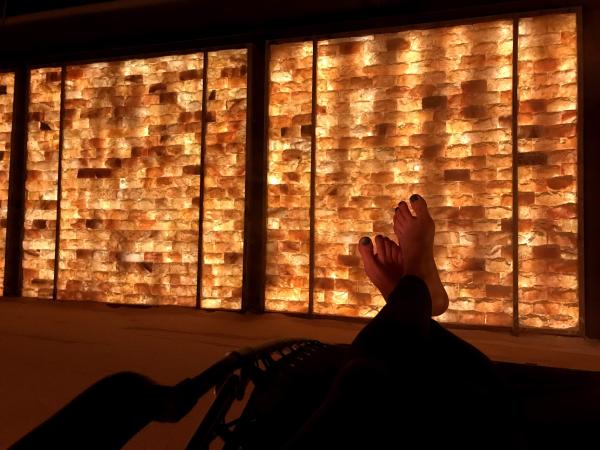 The Salt Method creates a peaceful and zen experience for a great workout and a place to wind-down and relax. A day or even an hour spent at the Salt Method is filled with mindfulness, relaxation, ambiance, and exercise. I am really looking forward to my next session!