Attempting to learn a new skill can be intimidating; however, more often than not, it is much more rewarding than anything else. Recently, I decided to try something I had never done before and signed up for a pottery class at Kimball Art Center. Without any experience or expectations, I attended a class that I thought would be a one-time experience; however, it turned out that I discovered a new hobby I hope to explore further.
Details
What: Pottery Class
Where: Kimball Art Center
When: Various times throughout the year
Who: All Ages, classes range from tots, kids, teens, and adults. 
Experience
Until recently, I had never seen a potter's wheel or attempted to make anything out of clay. The class I attended was called "Throwing Big Clay," which to be honest, isn't exactly a beginner's course. However, after confessing to the instructor that this would be my first time, she welcomed me and was excited that I was attending the class.
After receiving our clay, other experienced students got to work right away. Grabbing the tools they wanted to use, and set up their stations. Fortunately for me, everyone in my class was extremely friendly, and either volunteered to help me get set up, or was happy to answer any questions I had.
Once our stations were set up, our instructor Shasta Krueger gave a quick orientation and description of what we were going to do, then gave an incredible demonstration on the wheel with a piece of clay. I say incredible because she made it look incredibly easy, which was not the case for me.
After the demonstration, other students weighed out the amount of clay they were going to work with that day. Shasta suggested I start with one pound and make a smaller version of the pitcher that she demonstrated. She made examples of the different stages I would need to replicate in order to make the piece. This was very helpful as I could focus on each step of the process and know if I were progressing.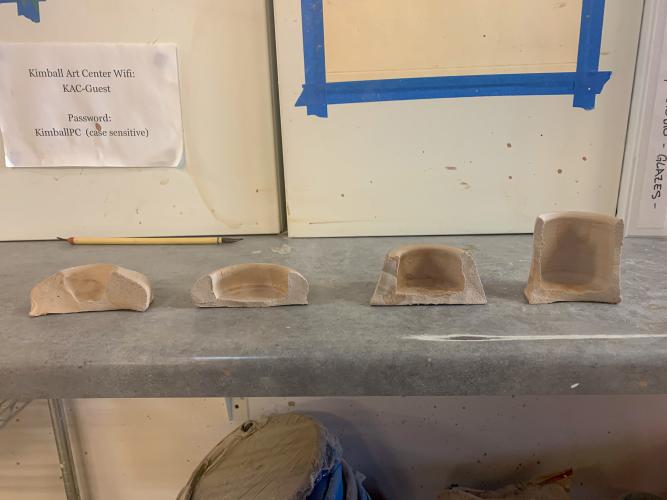 For me, the potter's wheel was the best part, and what I was most curious about before class. Putting the clay on the wheel and feeling what it was like to try and shape it into something was much more difficult than I thought, but it was a lot of fun too. I really enjoyed learning how to center the clay, figuring out which speed to have the wheel turn at, and experimenting with different hand movements and pressure. I ended up spending most of the time doing this.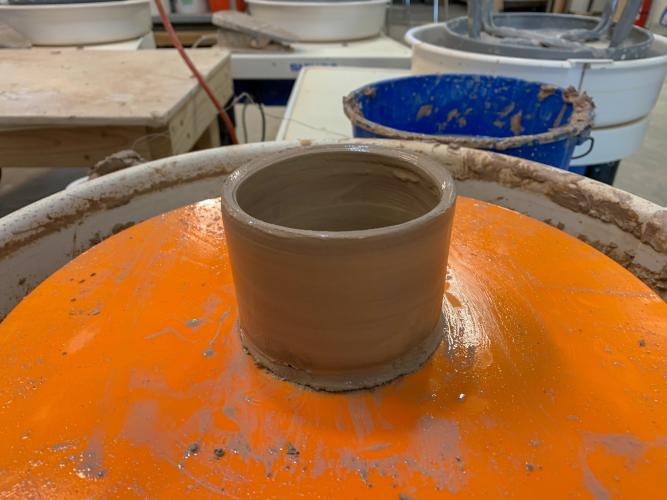 By the end of the class, I abandoned the smaller version of what the class was working on and came up with my own creation. The three-hour class flew by, and at this point, I was hooked and knew it would not be my last time on a pottery wheel.
Instructor
Shasta Krueger, originally from Washington state, spent 2 ½ years at Arrowmont School of Arts and Crafts in Tennessee, earning her Bachelors of Liberal Arts from Willamette University in Oregon before moving to Utah to research wood-fired ceramics. She received her Masters of Fine Arts at Utah State University in May of 2015. Following graduate school, she completed a residency and adjunct teaching at the Appalachian Center for Craft and most recently a residency at the Cobb Mountain and Ecology Project in California. For more info on Shasta, please visit her website: www.shastakrueger.com.
Highlights
Excellent Instruction, Shasta was great, not only did she give a great demonstration, she was very patient and accommodating.
Supportive Group Environment, I think my classmates could tell I had no idea what I was doing; everyone was helpful and encouraging.
Time flies when you are having fun. Initially, I thought a 3-hour class would be too long; however, it was a perfect amount of time for my first class.
Advice
Plan to get messy. Fortunately, aprons are provided; however, wearing old comfortable clothes is recommended. This goes for shoes as well.
Don't be shy, don't be afraid to ask your classmates a question. Chances are, they have some experience and knowledge to share.
Although I did not make a masterpiece, I did love the experience and look forward to "throwing big clay" in the future. For anyone looking to try something new, or revive a past hobby, I strongly encourage you to look into the classes at Kimball Art Center.