Where did you start your professional career as a photographer?
I attended the University of Notre Dame. I began working as a photojournalist for the campus newspaper. I took many photographs of the students and the beautiful campus and, during my senior year, was hired by a publisher to travel the country photographing other college campuses. They, in turn, sold my work in the campus bookstores.
After graduation, I served in the Air Force, and in my spare time, worked as an apprentice to a great portrait photographer. That was where I realized that my passion was the photography of people.
Do you specialize in a specific style of photography?
Our style is comfortable and collaborative. The majority of my clients are families, children, business professionals, and athletes. Over the years, I've learned that it is nearly impossible to create great images just by showing up and taking photos of a group of strangers. That is definitely not our style.
If I am photographing a family, I want to know something about the family, their interests and passions, and something about every individual in the family. On the day of the photography session, we can talk about what is important to them! If I am working for a business, I want to know what they are looking for and how the images will be used. Style is very important to branding. It's important that the photographs highlight the brand and show what makes the business or individual stand out in their field.
These days, we are developing a line of "personal branding photography". Our style is perfect for this genre. Working with a client to develop their brand is right up our alley. Photographing people is not just about showing up with a camera…it's about developing a rapport with the subject(s) so that they will relax and be comfortable in front of the camera. That is a skill I've spent years developing.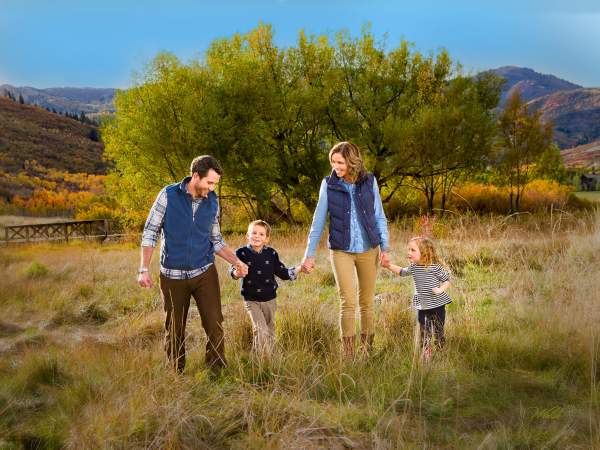 Family walking in a meadow during the Fall in Park City, Utah.
What is the best advice you ever got as a photographer?
Photography is a mix of science and art! My first mentor taught me to master the technical (science) side so that I could devote all my attention to my subjects and not to my camera. The science should never get in the way of the creative side! That's the best advice I can share.
Today, many photographers devote too much attention to the camera and not enough attention to the subject. A camera is a tool. How you relate to the subject in front of the camera will determine the quality and impact of the photograph.
Do you have a favorite style of photography as a fan?
I enjoy many styles…but I am drawn to great portraits. When I travel and go to a fabulous museum, many of the most famous pieces tell a story…a story about a time, an event, or a person.
Do you travel for photography assignments?
Yes, we do travel. Although we have a beautiful indoor & outdoor studio here in Park City, we do many of our assignments on location or in client's homes and businesses. We are well equipped to handle assignments in any location.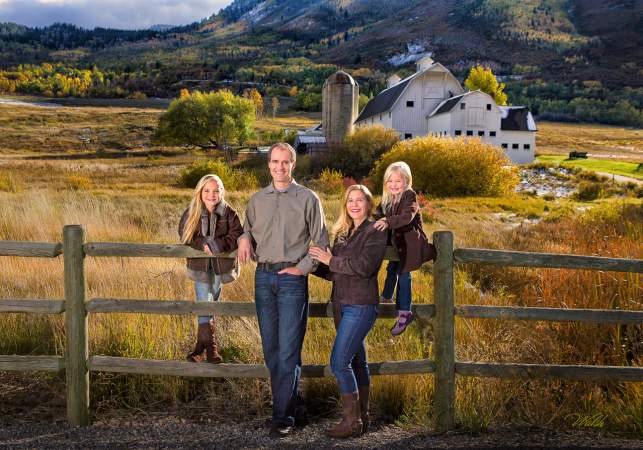 Fall family portrait at Park City's iconic McPolin Barn.
What about Park City inspires your work as a local?
Park City is a vibrant town that draws a fascinating mix of really interesting and inspiring people. So, it's not just our beautiful town, but the people who live here, that inspire me.
What is your favorite season in Park City as a photographer?
Tough question. But if I had to pick just one season, it would be right now, in the late spring and early summer. As someone who is captivated by light, it's wonderful to enjoy the longer days and brilliant colors of the season.
What do you do for fun when you're not working?
Well, I think I'm like most Parkites. I came here (in 1992) for the lifestyle. I love the outdoors, so I try to spend time my free time enjoying our town and the surrounding areas.
I love to cycle with friends. Park City, and many of the surrounding areas, are world-class cycling destinations for any type of rider. We are so lucky to have the Mountain Trails Foundation to develop and care for our trail system.
I'm also a big animal lover, so I really enjoy hiking with my dog. Our trails are great and easily accessed. I have to give a huge shout-out to both the Park City and Basin Recreation Departments for providing great places, like the Run-A-Muk dog park, for locals and visitors to recreate with their pets.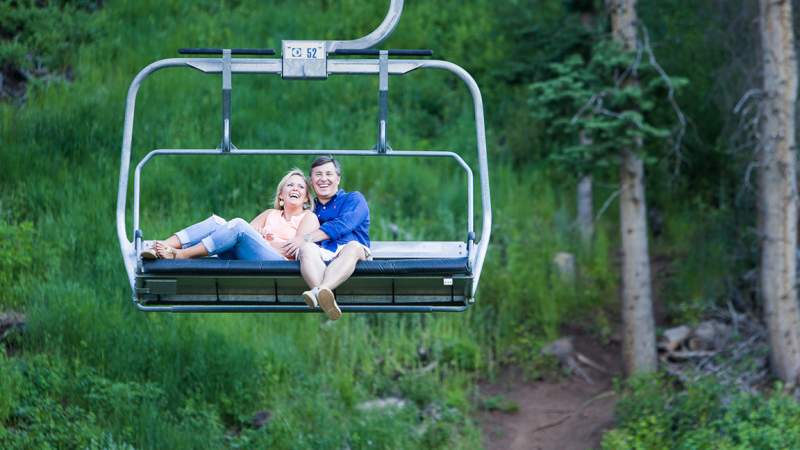 Engagement portraits. Park City Mountain Resort.
Do you have a favorite trail for photographs?
I don't have a "favorite" trail. The trails, and the light on them, change throughout the year. So, my favorites change with the seasons.
Do you have any advice on taking photographs in Park City?
Absolutely! May I offer a few suggestions?
Get out early. Park City has an amazing early morning light.
If you aren't a morning person, then go out before sunset. Because the sun goes behind the mountains, instead of the horizon, the late afternoon light can change very quickly!
Always have a camera with you. When people ask me what camera they should buy, I always say: "The best camera is the one you have with you." Modern cell phone cameras are really amazing, and they are always with you!
"Perfection is the enemy of the good". Don't wait for the perfect shot, or you may walk away with nothing. If your goal is to capture Park City with a camera, get out often and take lots of photos!
For fun we had to ask:
Where is your favorite place in town to eat or grab a drink?
Wow, there are so many great choices! We are so lucky to have an incredible array of restaurants and bars in such a small town.
If I had to choose just two it would be the Silver Star Café in Thaynes Canyon and the Boneyard & Wine Dive in Bonanza Park.
Silver Star has great food and a really comfortable environment. I love the patio after a bike ride. The Boneyard is a lively, fun sports bar. It's a fun place to watch sports and enjoy a casual meal.
How many photos have you taken of/at the McPolin Barn?
I've been a Park City photographer for over 28 years. I must admit I've been to the barn quite a few times! Many of my clients specifically request the barn and, as a Park City landmark, I understand that. As a public service, I'll spare you some of my funniest barn stories.
Given a choice, I prefer to "design" my photographs. I look for backgrounds that fit the story we are trying to tell. Since the majority of my Park City photographs are hung on the walls of my client's homes and offices, we do our best to avoid using the same location over and over. We prefer that each image we create is different than the one before.
More of Dennis Walsh's Work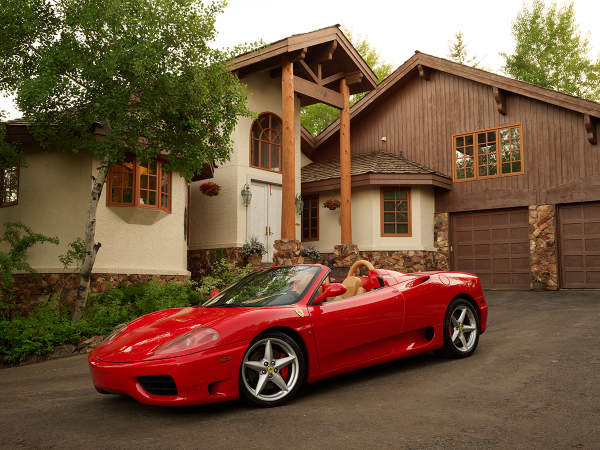 Before light painting process.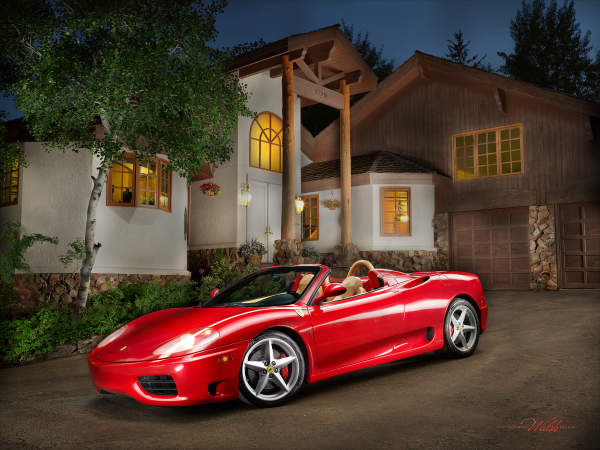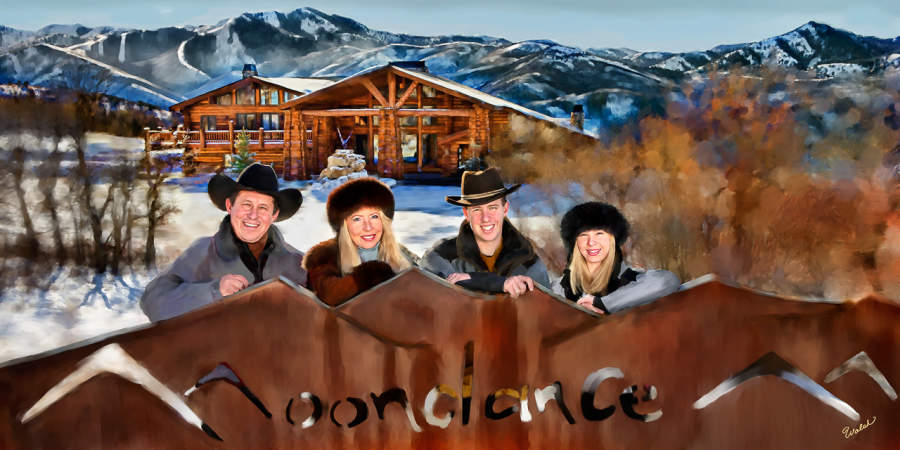 Artisan painting of family portrait at Red Hawk, Park City, Utah.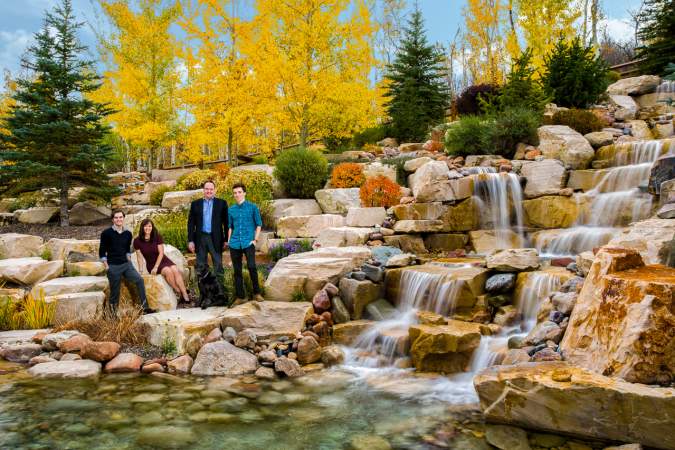 Spectacular Fall foliage family portrait in Park City, Utah.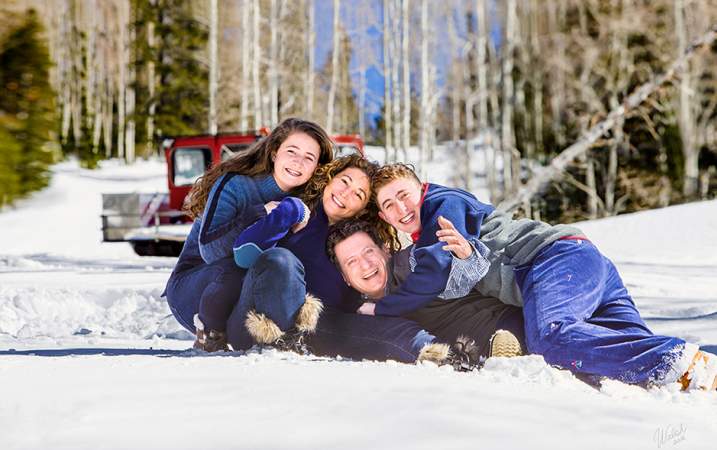 Winter family portrait at Deer Valley Resort in Park City, Utah.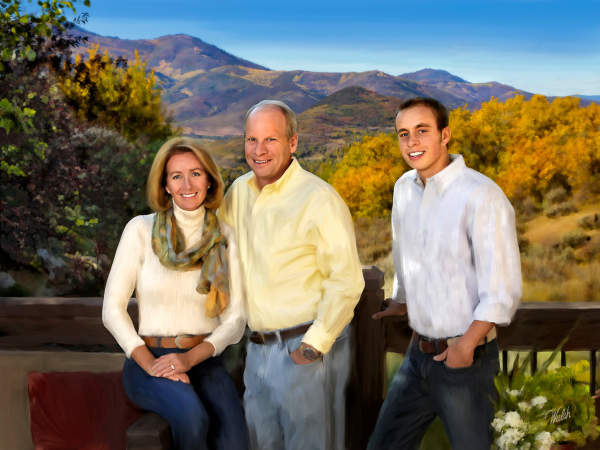 Artisan painting of family portrait near Deer Valley, Utah.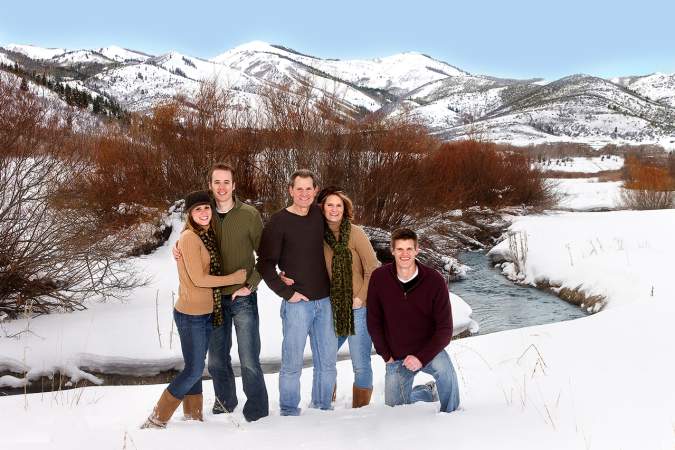 Winter family portrait in Park City, Utah.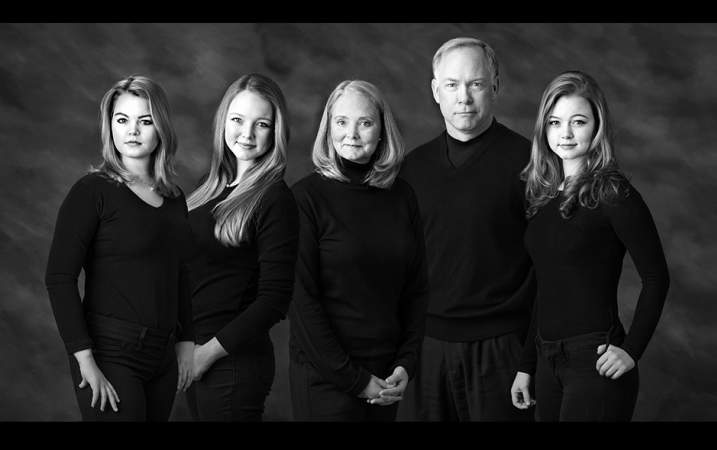 Fine art black and white studio portrait in Park City, Utah.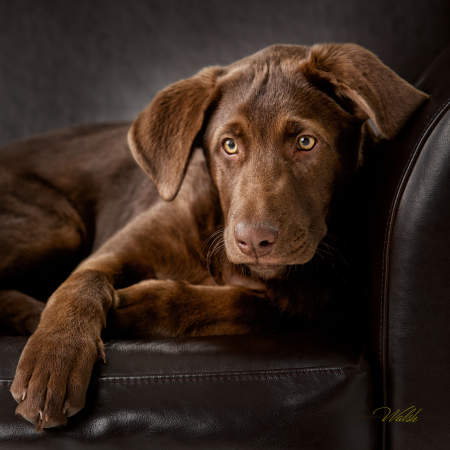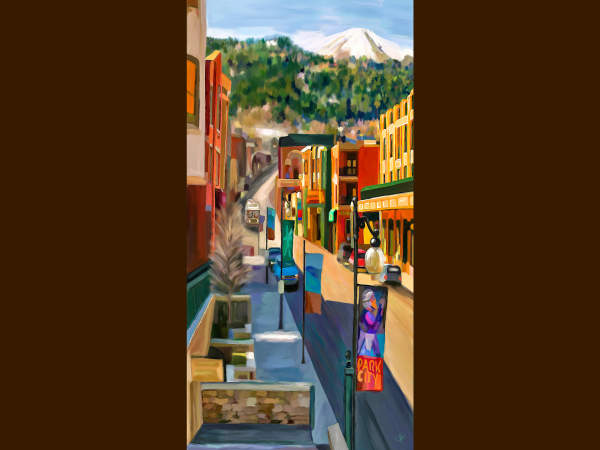 Main Street Park City - Fine art painting by Sherry Walsh.