Professional Photography
What was your first camera?
Kodak Disc 6000 (I'm so dating myself). My family is from Rochester, NY, and most of my relatives worked for Kodak. Cameras and film are kind of in my DNA.
When did you start your professional career as a photographer?
My professional career started as a television news reporter. I filmed a number of my own news packages.
Do you specialize in a specific style of photography?
I love documentary style filming and photography, and prefer shooting candids. I also enjoy photographing events.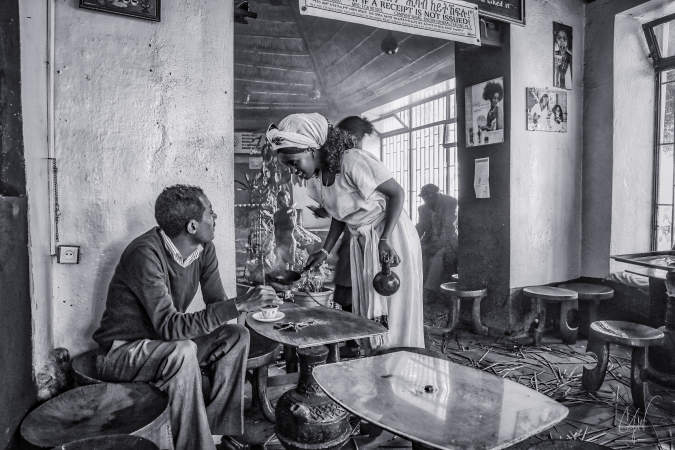 The Ethiopian coffee ceremony is an important and ornate ritual passed on for generations. It is customary to bring the roasted beans around to allow ceremony participants to smell the aromatic smoke. This moment was captured inside a Mekelle coffee house as the beans were being circled around the room.
Do you have a favorite style of photography as a fan?
My dad was a college professor and taught a photography course. I became smitten with black and white photography as a youngster. I still love the look of black and white film.
Do you offer travel services?
I always say - "Have camera, will travel."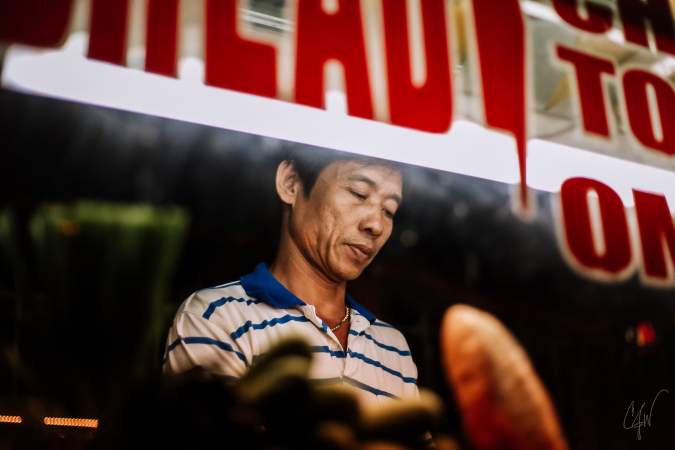 Each night in Ho Chi Minh City the streets are lined with food carts serving up delicious local fare. This particular vendor was a Bánh mì master.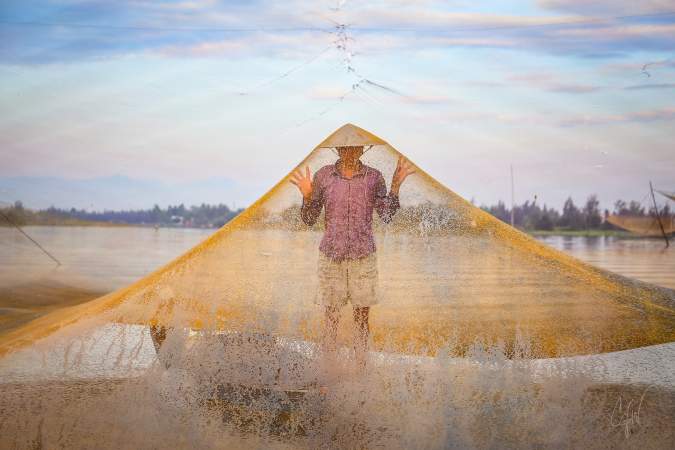 At dawn, this fisherman was prepping to raise his fishing net out of the Thu Bồn River. As he pushed up against the water-soaked net, he created a shape similar to the outline of the mountains in the background. I am actually shooting from under the net here. 
Favorite place your work has been published?
My photographs from Southeast Asia were published with Reuters News Agency, and photographs I took in Ethiopia for the Himalayan Cataract Project appeared in USA Today.
A favorite place where your work was shown publicly?
Our first documentary film 'Anatomy of 'Anatomy'' was shown at several film festivals. My favorite screening was at the Indianapolis International Film Festival. The audience was so engaged and curious.
What details do you believe make the best photographs?
Photograph what you love. When you are passionate about a subject or project, that will shine through.
How do you go about focusing on them in your work?
I want my photos to tell a story. I want them to spark curiosity and have the viewer feel emotions tied to that moment I've captured. Everyone will experience it a little differently. That's the beauty of it.
Are there any other photographers that have influenced your work?
Ami Vitale, Annie Griffiths, and Michael Yamashita share points of view that resonate with me. They are storytellers.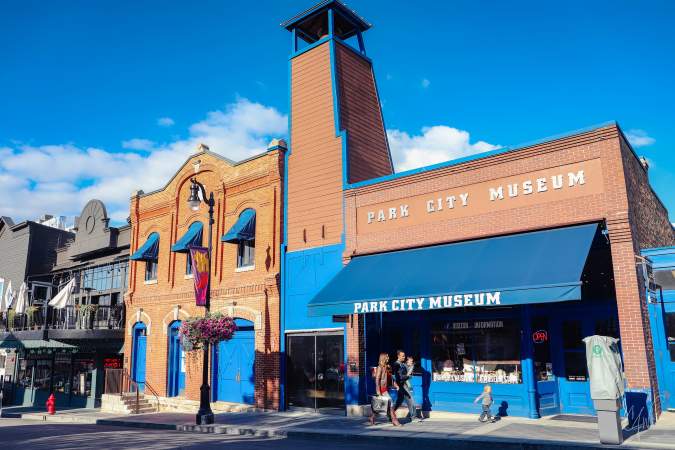 I enjoy studying the history of a place, and Park City is so fortunate to have its museum sit right in the center of Main Street, reminding us how it all began.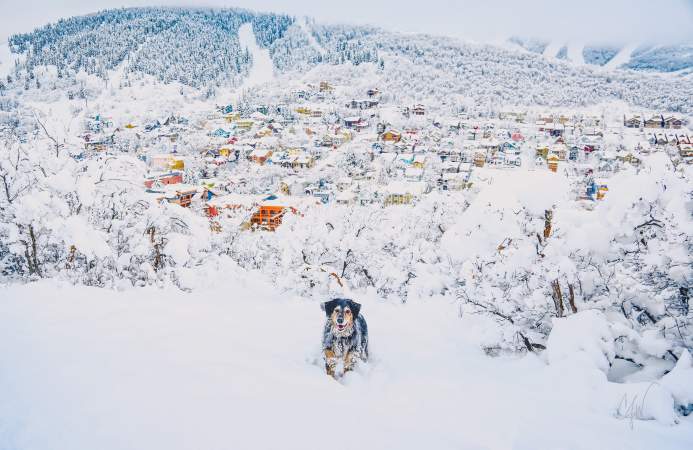 There's nothing like a fresh morning snowfall blanketing Park City. This photo is special to me because a) that's my fine, furry best friend in the foreground, and b) the pops of color coming from the snow-laden old townhouses make me smile.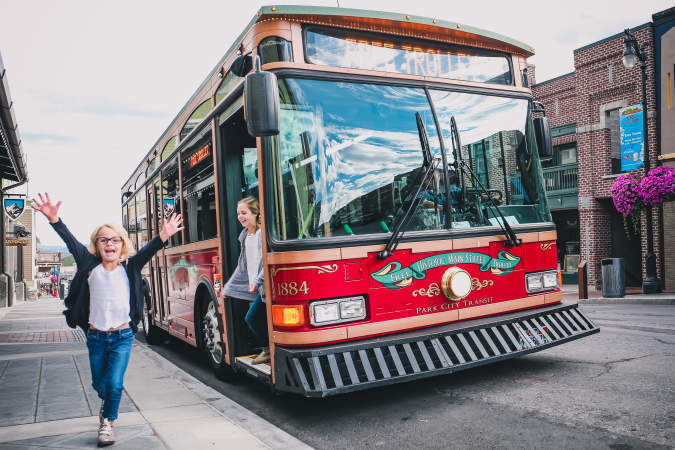 I love how this photo encapsulates the sheer joy of a child ready to make it a great day in Park City.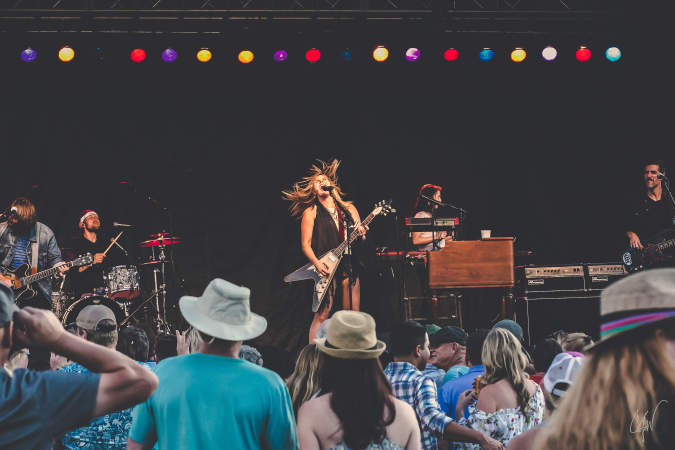 We are so lucky to have the caliber of musicians that roll into Park City from around the globe perform in our small town. This is Grace Potter rockin' out at a summer concert. You can feel the energy she's pouring into this performance.
What about Park City inspires your work?
Our tight-knit community inspires me. And, of course, our stellar mountain surroundings that provide endless opportunities.
What is your favorite season in Park City as a photographer?
I am enamored with early autumn in Park City. The pace of the town slows, the ground begins to chill - there are foggy mornings and cool evenings, but the afternoons are still warm.
As a photographer, winter can be such a magical time here. It's beautiful, but also the temperature and elements can be harsh for photographing and filming. I like the challenge of it.
What do you do for fun when you're not working?
You can't be bored in Park City. There are so many phenomenal recreation possibilities here. Beyond the outdoors, we are so fortunate to have the Egyptian Theater, Park City Film, and the Park City Institute. I love having the opportunity to take in a show or film. And, as I am a coffee and tea junkie (many of the local establishments can attest), it's great to hole up in a corner with a giant cuppa joe and work or connect with friends.
Have you had any jobs/assignments in town that stand out?
There are so many incredible moments and hilarious mishaps. Falling into tree wells and freezing extremities come to mind, but moreover, what stands out to me is the work I've done with the nonprofits in town. They are the heartbeat of Park City and have certainly brought me more joy than I can express. I've witnessed and captured several life-changing moments here because of these organizations.
Do you have a favorite trail for photographs?
There is a spot on Park City Mountain I call the enchanted forest. It is different every time you walk through, depending on the time of day and season. The way the light filters through is always interesting – it feels ethereal.
Do you have any advice on taking photographs in Park City?
Pick a favorite perch and get into the details of it. Take photos of what makes it special to you. Also, there are so many people with warm and welcoming smiles here. Capture the ones you love the most. It's a great way to keep the memories of the people and places that make you feel happy, vibrant, and alive.
And for fun, we had to ask:
Where is your favorite place in town to eat or grab a drink?
Yuki Yama just makes me happy inside and out. Sitting at the sushi bar, you get to see the masters in action. The dishes are beautiful and taste just as good.
My go-to place to get my drink on is Old Town Cellars. A perfect spot to get some sips in and sometimes even get a lobster roll from Freshies if you time it right. Now that is a killer combo.
More of Claire Wiley's Work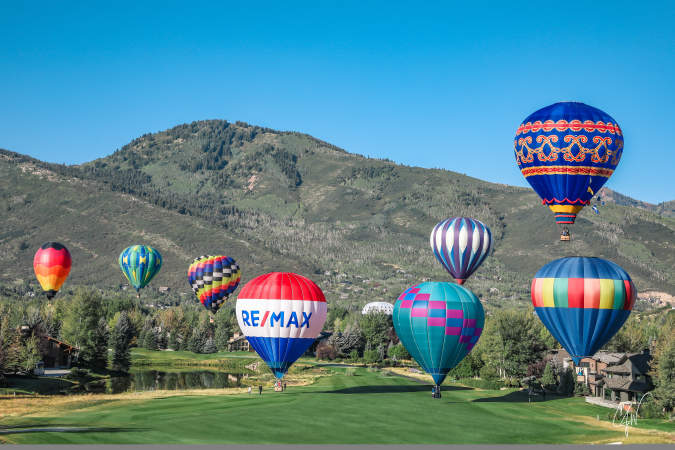 I've always had an affinity for hot air balloons. This was taken from the basket of a balloon during Autumn Aloft 2019. I love this local event.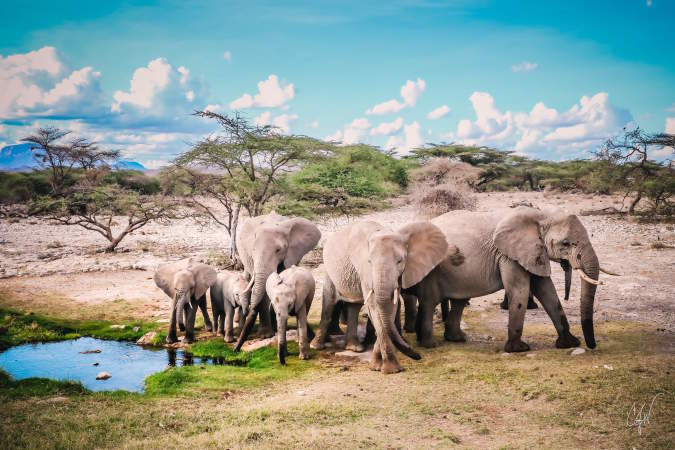 This family of elephants was quenching their thirst at a small watering hole at the Samburu National Reserve. Watching their group dynamic was fascinating. As they strolled away they strategically line up so the mother took the lead, the youngest stayed in the middle and the teenagers brought up the rear.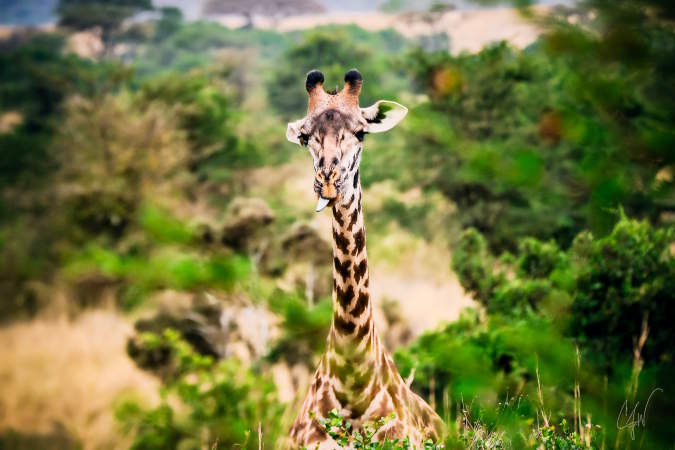 Alone on an early morning Safari in the Nairobi National Park, my guide and I stopped at a watering hole and quietly watched a giraffe (who seemed to be quite the character) go about his morning routine.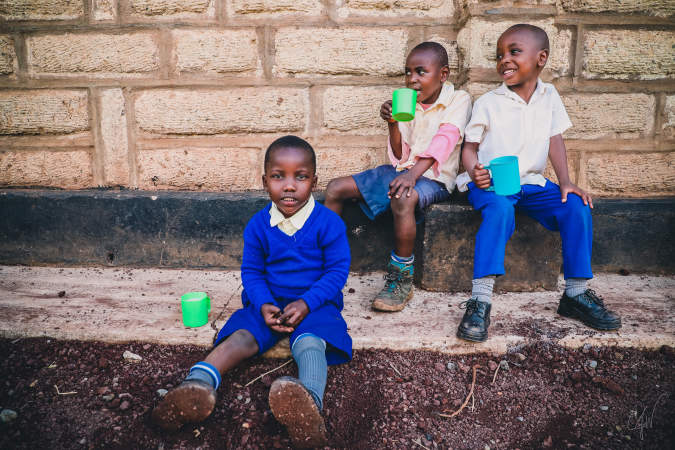 This was snapped while hanging out with primary school kids in Kenya during their porridge break. Lots of giggles.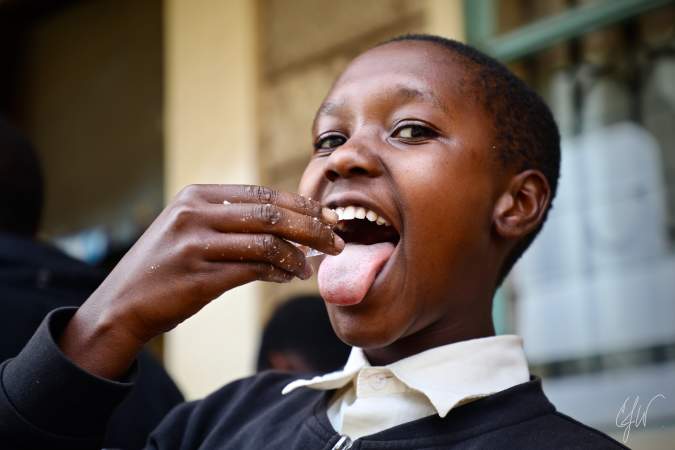 We were teaching the four seasons to children in an area of Kenya that sits on the equator. We used ice cubes so they could understand what snow felt like. Many of the kids had never felt or tasted ice before. It was so much fun to see their reactions.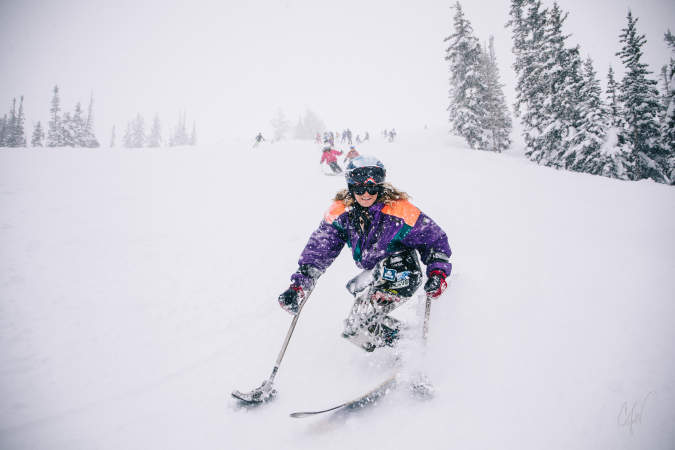 Each year, the National Ability Center hosts Skiing with the Legends. Olympians and Paralympians rock 80's ski gear and gather at Deer Valley Resort for a great day on the mountain as part of a fundraising event. This is Paralympian Ravi Drugan ripping down the mountain at the beginning of an epic powder day.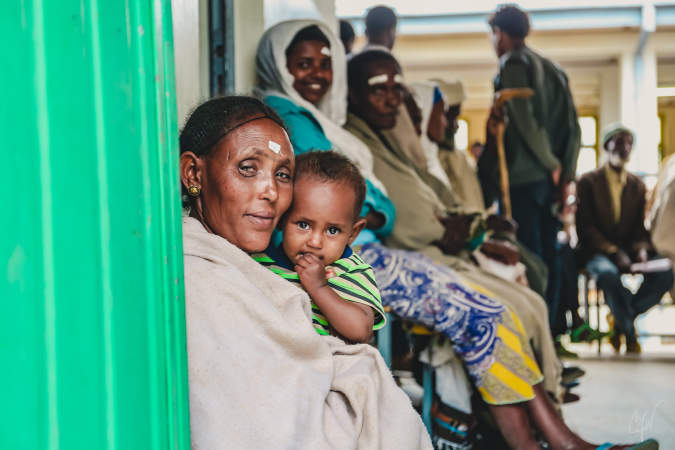 While on assignment in Ethiopia with the Himalayan Cataract Project, I came across this mother and son. The mother was patiently waiting to undergo eye surgery. Ophthalmologists involved with the organization operate on hundreds of people in just a couple of days. Many have cataracts and come to the doctors completely blind, and 24-hours post-surgery they can see. Amazing.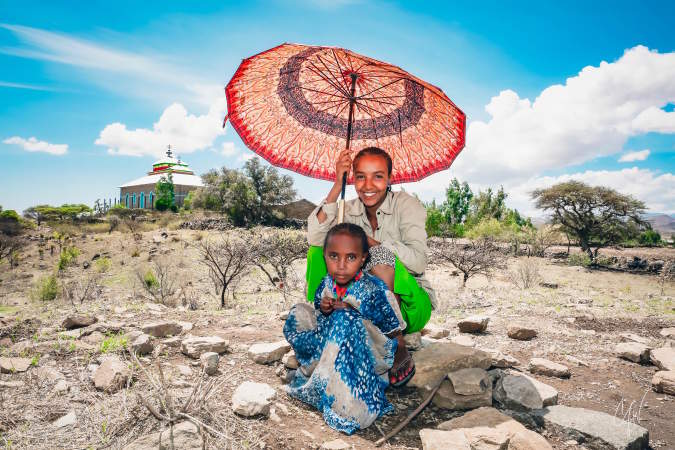 On a trek from Mekelle to Lalibela, Ethiopia, these beautiful sisters resting under a colorful umbrella outside a church caught my eye.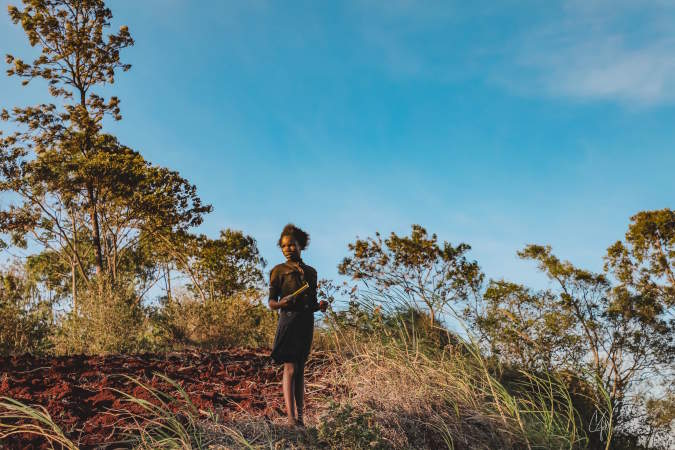 This young girl joined a group of kids who were escorting us to an overlook in the village of Kithoka, Kenya. She looked stunning against the blue sky as she peered back toward the late day sun.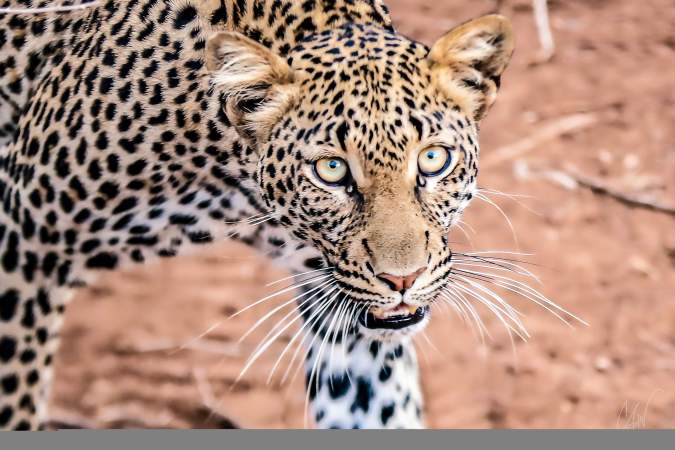 This leopard had just jumped down from its tree perch and walked closely by our vehicle at the Samburu National Reserve. This photo was taken just after he let out a warning snarl to be sure we knew our place. This guy was so stealth and so cool, and just look at those eyes. Swoon.