"We are a husband + wife team. We met unconventionally, eloped within days of knowing one another, and lived out of our car for the first six months of our marriage. Is it hard working/living/existing together 24/7? Umm, yeah. At times. When we're shooting, one of us has to be in charge, and it's usually me. At home, Victor rules the roost. The ying-yang of our work-life balance is a delicate dance that we've (almost-sorta-maybe) perfected over time." - Carla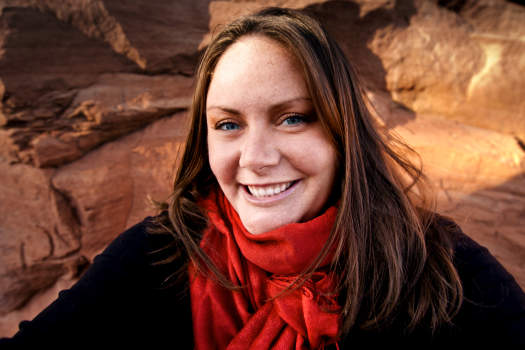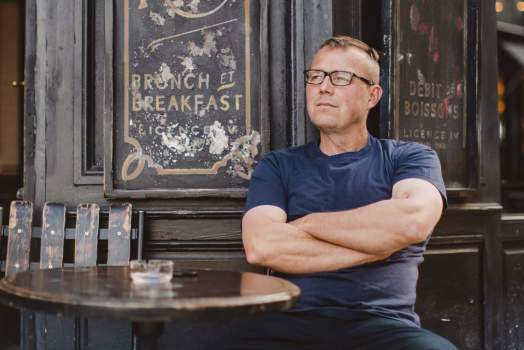 Professional Photography
What was your first camera? 
My very first camera was a Canon 35mm Rebel when I was 13 (Santa's big gift that year). My first professional camera was a Canon EOS-1Ds — National Geographic photographer Paul Nicklen gave me one of his used bodies when I was working with him in Arctic Canada.
Do you specialize in a specific style of photography? 
We shoot everything: people (portraits/headshots, weddings/events, families/newborns/seniors, boudoir, engagements/couples), food, product, architecture, landscapes. And we shoot every which way: natural light; studio/strobes; lifestyle, editorial, and fine art; digital and film; wide-, mid-, and macro-shots. I savor the diversity of our work and couldn't imagine limiting our subjects or style.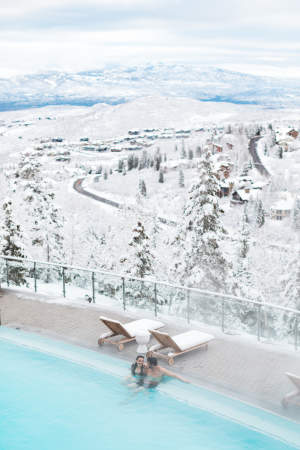 It's hard not to fall in love with Park City in the winter. The expansive landscape, dreamy powder, steamy pools… and, of course, a little romance on the side.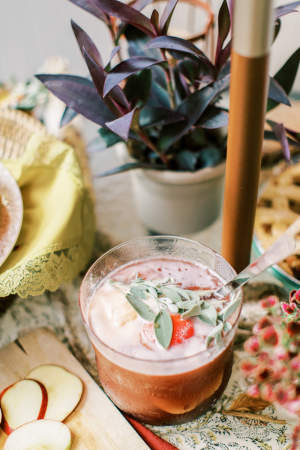 Food sessions are so much fun for me. This was shot on location for a client in Holland, Michigan.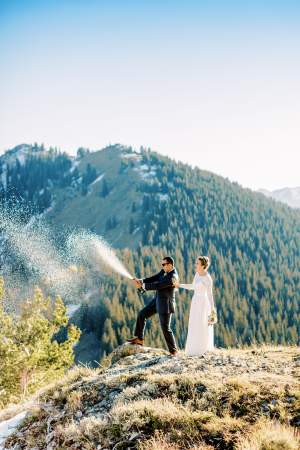 A sparkling fall elopement at Guardsman Pass in Park City.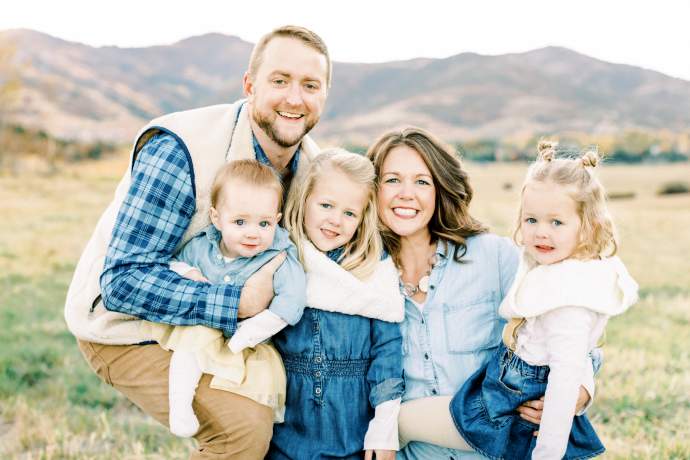 "Family photography holds a special place in my heart. We've photographed many of the same families for nearly a decade, capturing toddlers growing into teens, teens into brides & grooms, and parents becoming grandparents. These relationships have become some of the most meaningful of my life." 
Do you have a favorite style of photography as a fan? 
Anything shot with medium format film. I'm a film junkie.
Do you travel for photography assignments? 
About half our shoots/clients take us out of Utah and occasionally we'll have a commission outside of the country. We travel approximately six months a year. 
Favorite place your work has been published? 
While true thrills have been seeing our images in features for "Martha Stewart Weddings," "InStyle," "Harper's Bazaar," "Variety," and "The Wall Street Journal," I recently got a giggle seeing one of our photos in the "National Enquirer." Also, signing agreements to work with clients like Canon, Marriot, or NBC makes my heart flip a bit. When I first started my business, I never could have imagined the client list we've amassed. Such a gift.
A favorite place where your work was shown publicly? 
Chase Bank once used a photo of ours on their landing page — I was pretty fired up about that. We had a show at the Kimball Arts Center a few years ago, and that was beyond exciting for us. They threw a little opening night party and so many of my PC friends showed up to support us — it's still one of my favorite Park City memories, ever. 
Where can people see and purchase your past work? 
Please, feel free to check out our website! 
What photographers have influenced your work? 
In Herb Ritts' celebrity work, I marvel at a photographer that mastered the most styles of shoots while also making his work playful and authentic, capturing portraits that artfully illustrated his subjects' personalities. His candid shots inspire the way I want to photograph people. 
And for fun, we had to ask:
How many photos have you taken of/at the McPolin Barn? 
Literally thousands, and I keep going back for more! I'm a total sucker for that spot. It's my favorite place to suggest for a family session because there is so much to capture: barns, a bridge, stream, rustic fences, benches, mountain views, trees, fields… and, of course, the occasional biker or nordic skier in the background. 
More of Carla Boecklin Creative's Work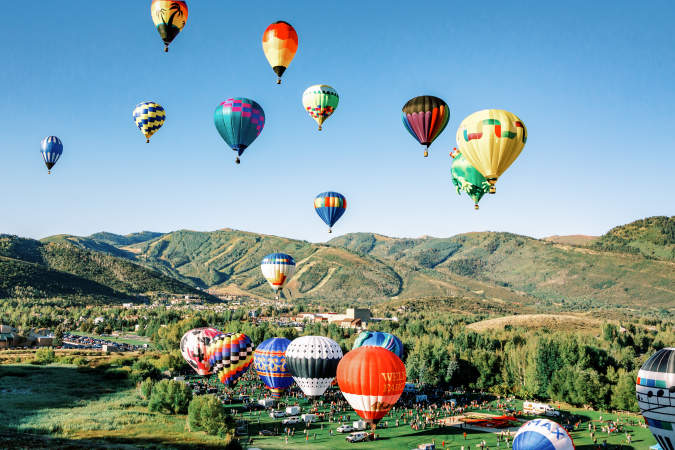 The Autumn Aloft hot air ballooning event, Park City.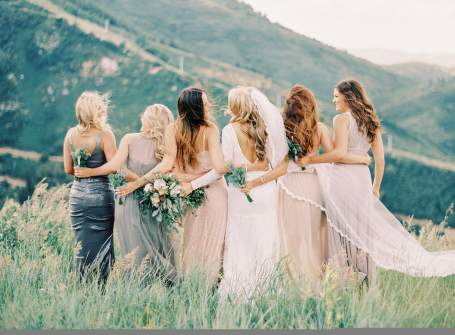 A bridal party during a summer wedding at Lookout Cabin, Park City Mountain.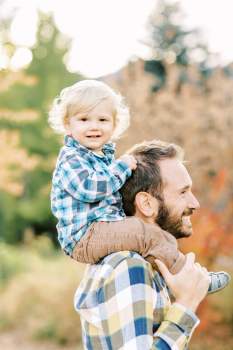 Another beautiful local family in our mountain town setting.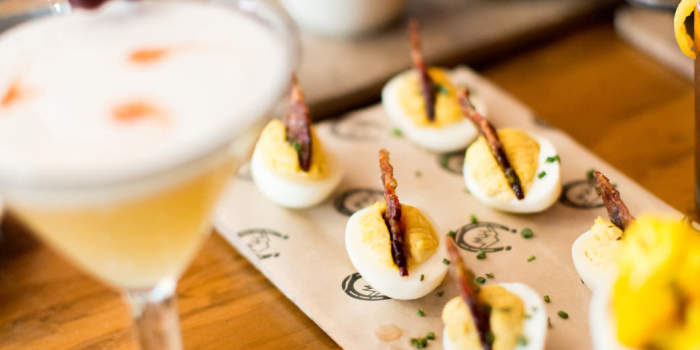 Food photo, High West Distillery, Park City.
New Year's Eve at Alta's Torchlight Parade. An assignment for Salt Lake Magazine. I love the feel of this image – one of my favorites that I've taken myself.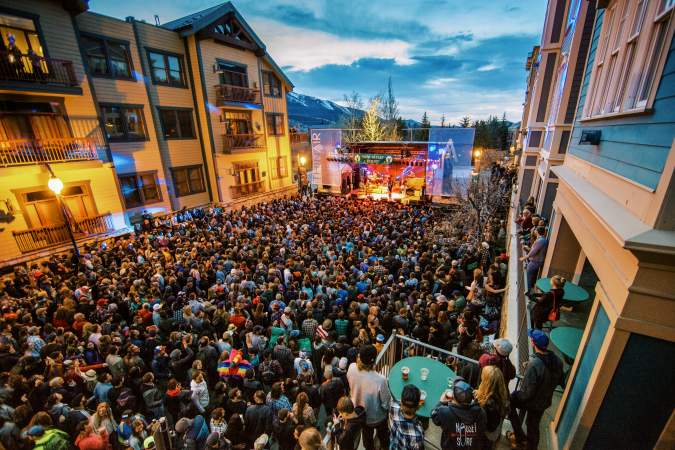 A free spring concert on Main Street for the conclusion of the Thin Air Conference, Park City.
Personal statement about your professional career:
Although Park City is a world-class destination, it's also just a small town. And although we love the gigs that take us all over the globe, we're happiest when we're shooting at home. We didn't know a soul when we moved to PC ten years ago, and working with local clients is how we made friends and built a life for ourselves here. In that way, working with Parkite families and businesses is how we gratefully became a part of the community, and our local clients have meant everything to us.