While most people come to Park City for the plethora of outdoor adventures, sometimes we need a little time off the slopes or a break from the hiking trails. That's where the Paint Mixer comes in to provide the perfect indoor activity for your Park City vacation. Located off Main Street in the Summit Watch Plaza, the Paint Mixer hosts two-hour painting classes in their bright and spacious studio. They can also bring the art to you via their "Van-Go" mobile studio, which allows them to set up at any venue for small to very large groups. 
Details
What: The Paint Mixer. In addition to the step-by-step classes, other popular Paint Mixer classes include D.I.Y. Ski Signs, a new favorite among guests, and kids' classes. 
Where: 738 Main Street, Park City, Utah 84060
Who: All ages are welcome. Adult classes are limited to those 21 years of age and older.
How: Call 435.604.0820 or visit the Paint Mixer website to register for a class.
The Background Sketch
Owner Jill Johnson has a masters in art therapy and is a former member of the U.S. Freestyle Ski Team. As an art therapist, she worked with individuals dealing with a myriad of mental, emotional, and physical challenges. After she witnessed how the creative process could help people heal, Johnson was inspired to bring art into the lives of as many people as possible.
 Photo credit: Sarah Baltz
"Our goal is to make art accessible to anyone that walks through our doors," Johnson says. Thanks to great music, friendly and talented instructors, and a fun atmosphere, people get comfortable and let their creative juices flow, she told us.
Another cool element: The Paint Mixer partners with other local businesses to give guests a true taste of all that Park City has to offer. If you're 21 or older, you can enjoy adult beverages from local brands including Old Town Cellars, Park City Brewery, and Alpine Distilling.
The Paint Mixer also hosts classes at Whole Foods every first Thursday of each month. "We take over an area in the Silver Mine Tap Room and do a smaller canvas," Johnson says. "Guests of all ages can enjoy the variety of great food and beverage offerings in the Tap Room as they paint."
Experience
The Paint Mixer's most popular offering is the step-by-step painting classes, Johnson tells us. That's what we tried out on a recent Saturday evening. The night we attended, the image du jour was called Snow Shadows, depicting a very wintry, Park City-esque scene.
If you (like me) haven't picked up a paintbrush since elementary school, don't worry — you're in good hands. The instructors at the Paint Mixer are all professional artists who will help you along every step of the way. Take it from me: You'll be shocked at how simple it is to create a stunning work of art in under two hours.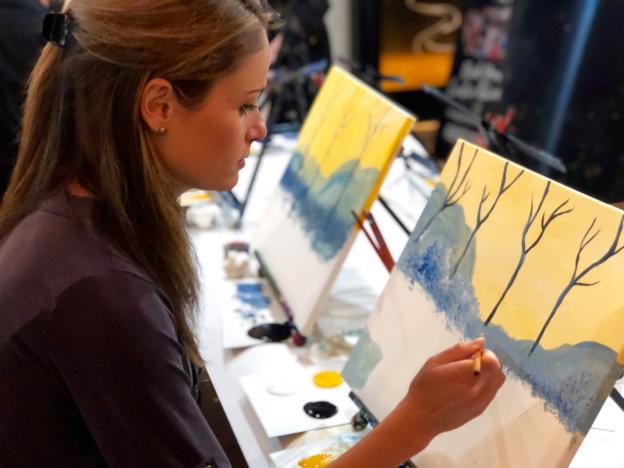 Our energetic instructors, Anna and Logan, welcomed the other couples as we chatted over our canvases. (It seemed to be date-night for everyone on the Saturday night we attended!) She explained the process and what we needed to know about the supplies. The Paint Mixer provides everything you need to paint: palettes, brushes, smocks, paint, and canvas are all included.
Oh, and you can't forget the most important supply of all: a glass of wine. We went with the Old Town Cellars rosé, a delightful, dry wine that pairs perfectly with painting. The high-energy soundtrack also helped get our creative juices flowing.
Anna broke the painting process down into simple, doable steps even I could follow. The time flew by, as we jammed out to the music, sipped our wine, and put our paintbrushes to the canvas. It was a little stressful at times for a newbie painter, but our instructors were always happy to answer our questions and walk us through the steps.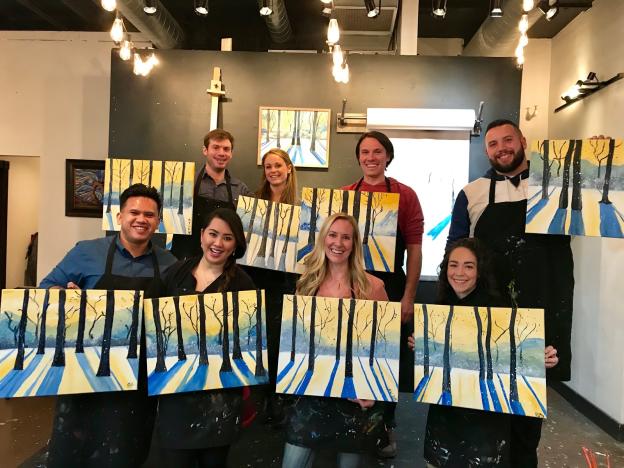 The end result? We had a blast. It was a fun, unique way to spend our Saturday night — and we came away with gorgeous new works of art. A "real" artist may beg to differ, but I'd say my work is definitely display-worthy.​