Embarking on a new trail system can be daunting, what's worse, is not knowing exactly what you're in for. Luckily, insider tips at local bike shops coupled with today's outdoor apps make it a bit easier for riders of all skill levels to find routes that match their ability, but it never hurts to have recommendations from locals. 
The truth is, no one should be overwhelmed in working to enjoy a day on the dirt. So, whether you're just learning how to switch gears or have a bike for every trail, we've got a few options to catch your eye next time you're in town.
Defined Terms Listed Below
BD, Both Directions - Riders are able to climb or descend on the trail
DH, Downhill Only – No uphill riding or climbing
UH, Uphill Only – No downhill riding or descending
Technical – The trail is rocky, narrow, loose or rooted. These are common experiences when mountain biking, but technical trails have them in more frequency or difficulty.
Endurance – The trail may not be as technical, but riders should be prepared to expel a significant amount of effort in the climb.
Beginner
Newbies are welcome! Park City is home to miles of greens and double wide trail (not to mention paved paths), and as with any sport, you have to start somewhere.
For never-evers we recommend a guided tour tailored to your skill level by one of the many bike shops in town for your first day out. They will match you with the perfect guide to teach you everything from climbing skills to body positioning, letting you take the next few days on your own to practice.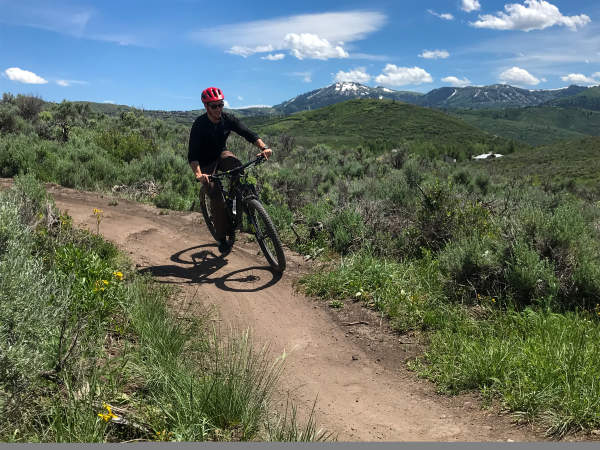 Round Valley is one of the best spots for new riders. All trails below are green-level trails, meaning they are perfect for beginners. Many can be combined to create a loop.
Matt's Flat - Common trail to and from parking lots, BD
Fast Pitch – BD
Silver Quinns – Paved path that connects beginner dirt trails in RV, BD
Hat Trick – BD
Downward Dog – Easy flowy trail, great first ride for beginners, DH
Porculimb – Great first climb for beginners, UH
There are many trailheads in RV, one of the best is off the 248 near the Park City Ice Arena, or take the Silver Summit exit off the189 for a backside view of Park City with similar green-level trails.
Intermediate
The majority of rides in Park City fall into this Intermediate category, which can be further divided to denote whether the trail is technically challenging or more of an endurance ride. Between Canyons Village, Park City Mountain, and Deer Valley, trailheads are a plenty. There are also numerous other starting points around town that make the experience feel a bit more locals-only (but don't worry, you're more than welcome on any trail in town).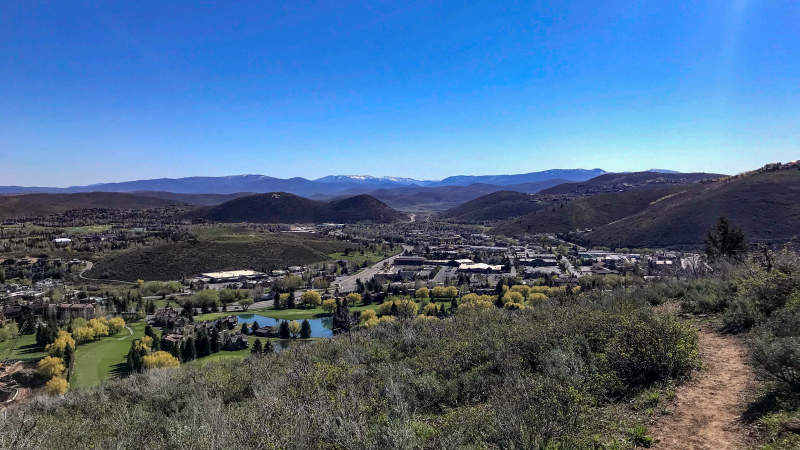 Endurance
Armstrong – Heavy climb, UH
Jenni's Trail – Lower Jenni's UH, Upper Jenni's BD
Prospector + Freemason- Great cross country trails, BD
Mid-Mountain – Traverses all three resorts, BD
Technical
Gambel Oak Park – Easier technical ride, great views of Deer Valley, BD
Loose Moose – Fun Decent, DH
Johns – Tight switch backs, extremely technical - DH
Flying Dog – lower on the technical side - BD
Advanced
For riders ready to challenge themselves on some harder trails, look no further than the few options below, almost all with narrow, technical terrain. If this is your jam, check out Deer Valley's bike haul pass and enjoy a few laps, sans climbs.
Masonic – Dense and tight, BD
Sweeny's Switchbacks – Rocks, roots, and tight turns, BD
Spin Cycle – Tight turns and a quick descent, DH
Aspen Slalom – Loose with tight turns, DH
Tsunami – Jump trail at Deer Valley, DH