If you are looking for a modern approach to wellness beyond the scope of traditional healthcare that includes pain management, energy revitalization, relaxation, and personal aesthetics, the recently opened Ahu Wellness Lounge and Boutique in The Pendry Hotel Plaza is the place for you! The owner Heather Fox has been a dedicated facilitator of holistic healing for over 25 years and is excited to offer F-Scans, light therapy, wellness consultations, and an oxygen bar right at the base of Canyons Village.
How It Got Started and What They Do
Heather started out as a massage therapist 25 years ago and has been an entrepreneur ever since.  Focusing on holistic health care has been her number one goal, sharing her philosophy that when you feel good on the inside you can then shine from the outside. As a massage therapist, she specialized in sports massage and has worked on world-class athletes in Oregon, Montana, and Colorado. Knowing that massage was only a stepping stone into the world of alternative healing, she started learning and integrating other modalities into her practice. Heather started training in A Touch for Health, Reiki, Crystal Light Therapy, Energy Kinesiology, and graduated from both culinary school and the Institute of Integrative Nutrition as a Health Coach. Heather has used everything she has learned to create a unique experience at the AHU Wellness Lounge where she shapes very specialized treatment for her clients.
The AHU Wellness Lounge offers some very unique healing experiences that include F-Scan & Firefly Light Therapy™, Biomat & Stellar Light Waves Crystal Light Therapy, Red Light Therapy, and an Oxygen Bar.
There is also a lifestyle boutique filled with beautiful feel good items from small businesses like gorgeous blankets, wonderfully scented candles, unique jewelry creations and so much more. It is truly a place where everyone will find a gift for anyone - or even for yourself! And, the AHU Wellnes Lounge was just placed on the 100 Businesses Championing Woman from the State of Utah!
Highlights
These holistic healing practices are unique and you might not be familiar with what they are and how they might help with your wellness. Continue to read on for a description on how these therapies can be an effective treatment for a range of issues.
Biomat
The BioMat has been approved by the FDA and is classified as a Class 2 medical device and combines far infrared rays, negative ion therapy and the superconductive healing properties of pure amethyst for the effective treatment of a range of health issues including: stress, insomnia, sprains and strains, post-surgical healing and scar reduction, joint and muscle soreness, chronic neck and back pain, heavy metal toxicity, inflammation, arthritis, Lyme disease and circulatory issues. If you need to release stress, detoxify your body or you have health issues, simply lying on the BioMat provides the benefits of improved well-being, improved mood and pain relief.
Stellar Light Waves
The StellarWaves Crystal Light Bed is a vibrational healing tool that helps balance the physical, mental, emotional, and spiritual areas of the body. While crystal healing stones on their own function on separate levels due to different vibrational profiles, the StellarWaves chakra light crystal bed uses clear quartz crystals, chakra light, and color frequencies to promote wellness on many levels such as:
Improves blood circulation and cell metabolism
Reduces pain and strengthens the immune system
Relieving insomnia
Eases inflammation and stiffness
Helps alleviate stress, improve mood and provide a sense of well-being
Helps rejuvenate and revitalize the body's cells, tissues, and systems
Counteracts the effects of static energy and EMF radiation
Provides relief from symptoms of acute or chronic illness
Photon therapy stimulates acupressure points to remove blockages
Photon therapy helps correct imbalances in bio-magnetic energy
Some Common medical conditions aided by using the Crystal Beds are:
Stress and tension
Poor blood circulation
Back pain or muscle stiffness
Migraine or tension headache
Depression, anxiety, and insomnia
Fibromyalgia and chronic fatigue
Symptoms of chronic illnesses
By using the BioMat with the Steller Waves Crystal Bed (currently the highest in-demand energy healing tool treatment in the market) in unison you can tell that the benefits are palpable.
Advice
Hydrate before your therapy experience so the F-Scan can pick up anything in your gut.
Wear comfortable clothing
The AHU Wellness Lounge is a wonderful spot to spend an afternoon enjoying some holistic healing. If you just need a moment for some rest and relaxation or are actually struggling with a health issue I highly recommend trying the light therapy as a legimate option for care.
Firefly Light Therapy
The Firefly is a multispectrum class 5 laser LED light therapy for pathogens in the gut, pain, and neurological issues. It's latest in multi-spectrum LED light therapy for pain, neurological disorders, and pathogen issues. There's exciting data from current clinical studies which indicate that the Bales Photonics Firefly Light Therapy may be able to reverse the symptoms of central nervous system disorders like Parkinson's and Alzheimer's. Additionally, extensive proof exists documenting pain relief from all types of inflammatory diseases and injuries with the use of this multi-spectrum technology. And when you combine Firefly with an F-scan you have a powerfully accurate new way to pinpoint and potentially destroy parasites in patients suffering from a variety of auto-immune disorders and gut issues. Firefly utilizes a powerful wave of light to penetrate the skin, tissue, and surrounding nerves to treat soft tissue injuries, reduce pain, promote wound healing, and provide therapy for chronic conditions such as arthritis and failed back syndrome.
Oxygen Bar
If spending time in the mountains makes you breathless definitely stop by AHU's Oxygen Bar! This healing service boosts energy levels, helps with altitude issues, increases your endurance during exercise, helps you bounce back more quickly from physical exertion, provides relief from stress, increases your concentration, helps you relax, and eases headaches and hangovers. Sounds like a perfect addition to anyone's day after a day of skiing or spending time in the fresh air.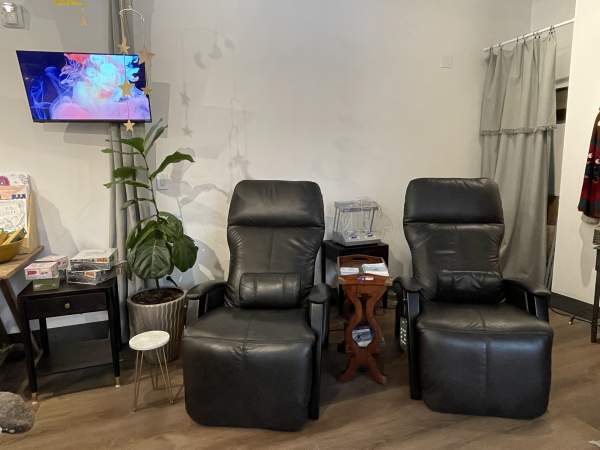 Experience
Booking my holistic light therapy experience was seamless through Heather's website. She followed up promptly and I was able to get my session on the calendar for the following week. The AHU Wellness Lounge is conveniently located in the Pendry Hotel Plaza next to other shops and restaurants and adjacent to the slopes of Canyons Village. Parking was easy right in the hotel's lot.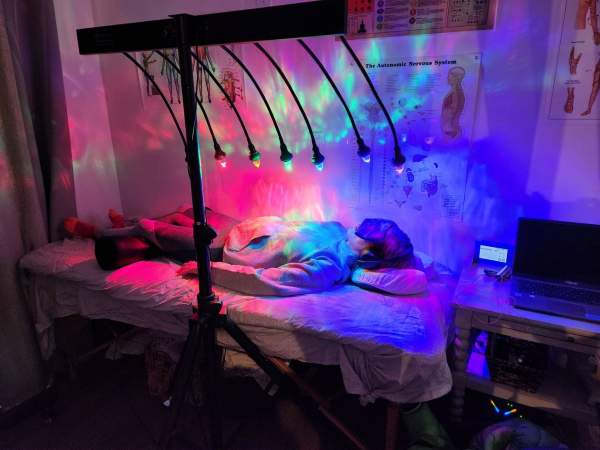 Stepping into the tranquil lounge and boutique, you feel transported to a serene and relaxing environment. Heather greeted me and lead me to the back of the lounge, where her light therapy table was set up. We began with some health questions and she took my vitals and used the F-Scan to scan my gut and check for any parasites. My panel came out normal - no parasites or anything yucky going on in my gut! Yay! After Heather explained to me the benefits of the BioMat + Stellar Light Waves Crystal Bed and how it promotes relaxation and calms symptoms of stress, pain, and chronic illnesses. The machine is wild looking. Each of the lights is positioned to point to your body's chakras, channeling the healing energy to radiate from within. I laid down on the table and Heather placed headphones with ambient music over my ears and an eye mask over my eyes. I then lay there for 40 minutes, feeling the warmth of the table and the lights and feeling so completely calm and relaxed as I let the light therapy do its thing. This experience gives you permission to slow down, lay down, and feel a sense of calm wash over your body. We are always rushing and running from one activity to another, sometimes even when we are on vacation. By scheduling some holistic healing, you are actively promoting wellness by letting yourself just be still. And I appreciate experiences that slow me down and force me just to be present. After forty minutes, Heather came in and roused me from my relaxed state. I definitely felt rested and a bit euphoric after the light therapy. She said that the therapy would also help promote a good night's sleep - which I was looking forward to. After my therapy, I perused the boutique and came away with many great gift ideas for friends and family.
I didn't have a chance to utilize the Oxygen Bar, but I can only imagine how amazing it would be if I suffered from altitude sickness or needed a little boost of energy. The air is definitely thin up here in the high country and having an Oxygen Bar right at the base of the slopes is indeed quite helpful for those needing a little extra help to feel their best selves.