A nine-iron might not be your first impulse when traveling to the site of the 2002 Winter Olympics, especially when summers in Park City require a steady rhythm of padded shorts, hiking sandals, and the occasional dress code. But this town was built on the unseen, the buried treasure hidden below, or above ground – if you're a golfer.
Groomed and watered in the Wasatch back and never more than 30 minutes away from Park City's Main Street lie 14, that's right, 14 different golf courses. Some public, some private, each of them holding the potential to add yards to your stroke, courtesy of mother nature.
And while a summer spent on the green might not ring out with the same echoing chant of Park City's gold-rated trail system, the views from the fairways at 7,000 feet have no need to shout, the majesty of the landscape speaks for itself. 
Below are a few courses we've rallied to kick-start your search. Whether you're looking to join a club, or simply enjoy an afternoon tee time, these courses are prepared to welcome your foursome (give or take) for an Ace of an afternoon.
Canyons Golf-Public
Adjacent to Canyons Village are the greens at Canyons Golf, a 97-acre, 18-hole, par-70 course with more than 550 feet of elevation gain. Designed by course architects Gene and Casey Bates, Canyons Golf opened the summer of 2015 wrapping around the side of the mountain behind the Waldorf Astoria towards the Orange Bubble Express. With greens visible from Highway 224, this course is open to the public and offers both memberships and day passes with discounts for seniors, military, juniors, and afternoon tee-times.
Transportation is provided via Park City Transit, High Valley Transit, and Micro-powered by High Valley Transit. All routes can be found via the MyStop or High Valley Transit app.
Glenwild Golf Club and Spa – Members & Guests
Adjacent to Kimball Junction and tucked discretely between Silver Summit and the i-80 lies a shiny bit of sport unmined and above ground. With expansive 180-degree views of Park City's winter runs, this private course was designed by Tom Fazio and offers a 7,541-yard, par-71, 18-hole course for all skill levels, once recognized as the "Best in Utah," by Golf Digest.
For those looking to call this club home, summer months offer amenities beyond the fairways from spa treatments to a private pool, to Camp Glenwild for kids. Membership information is by request via their website or phone. Guests are welcomed alongside a member.
Park City Golf Course - Public
Built in 1963 as a nine-hole course, Park City's public course was expanded to 18-holes in 1973 offering locals and visitors the chance to tee off at the base of Park City Mountain's winter runs. With fairways just off Main Street, hungry golfers can dine within walking distance to either the pro shop or the transit center, depending on your mode du jour, making breakfast or lunch, depending on your tee time, always within reach.
The course itself caters to all skill levels. Golfers must be at least seven years of age to play this 6,754-yard par-72 course and reservations can be made eight days in advance via their online booking system. Anyone looking to book nine-holes may do so after 3:00 pm. The driving range is open until 6:30 pm daily and the pro-shop is located just inside Hotel Park City.
Transportation is provided via Park City and High Valley Transit. All routes can be found via the MyStop or High Valley transit app.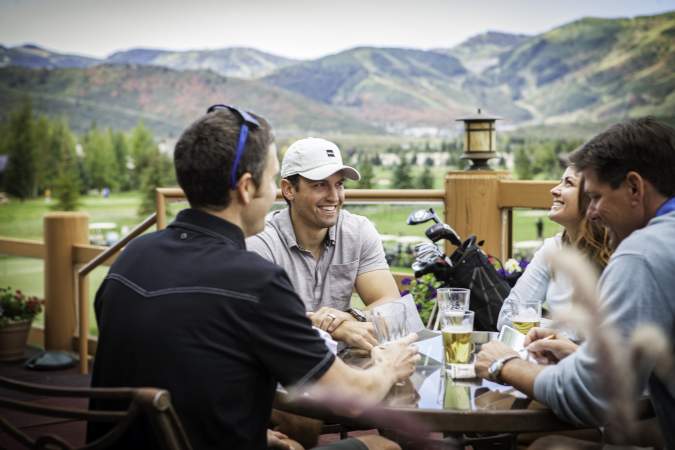 Promontory Club – Members & Guests
Promontory is home to two separate courses, both of which are open to members and their guests. Designed by Pete Dye, once named Architect of the Year by Golf World magazine, Dye Canyon Golf Course offers six different tees to play from, encouraging younger and burgeoning players to enjoy the game.
The Nicklaus Painted Valley Course, designed by Jack Nicklaus, once considered to be the greatest golfer in the world, takes pride in offering one of the most challenging courses members and guests might play, at over 8,000 yards. Both courses sit as the highest elevation golf courses in Park City. With forecaddies, lessons, expert club fittings, short game facilities, and a world class club, Promontory provides members and their guests an experience both on the green and off.