Here in the Wasatch Back, we have a deep heritage that's rooted in agriculture, mining, and exploration. While our family is getting a great taste of all the adventures that can be found in the Park City area, this year we're trying to be a bit more well-rounded and experience what's right around us on a deeper level. 
We drive past the Heber Valley Artisan Cheese dairy a couple of times a week, so I decided that it was time to teach our kids about where their beloved cheese comes from with a tour of the dairy farm.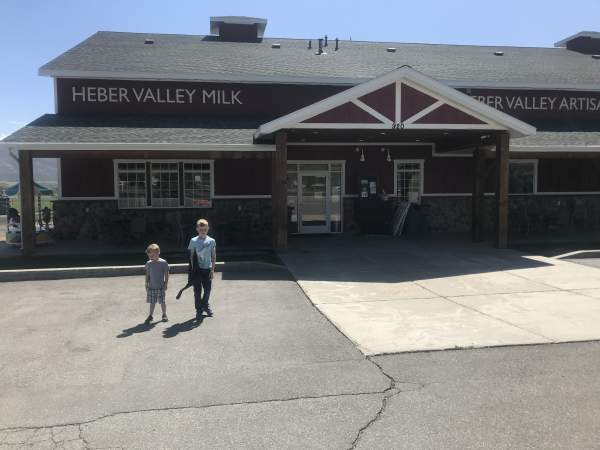 What Is Heber Valley Artisan Cheese?
The Heber Valley Artisan Cheese shop and farm are located north of Midway, about 20 minutes south of Park City. The area is right next to the mountain and the views from there are absolutely stunning.  The operation consists of a massive dairy farm and a cheese and country farm store that's open to the public. 
The store alone is worth the visit. Inside you'll find a huge variety of gourmet cheese flavors and other dairy products. The store is stocked full of local goods such as fresh bread, salsas, jams, pickles, popcorn, and even handmade craft items. If you're looking for a good place to find locally made items to give as gifts, this is the place to stop.
It's a great place to take the family either for a quick stop at the store for some delicious treats or to stay for a while and enjoy the farm.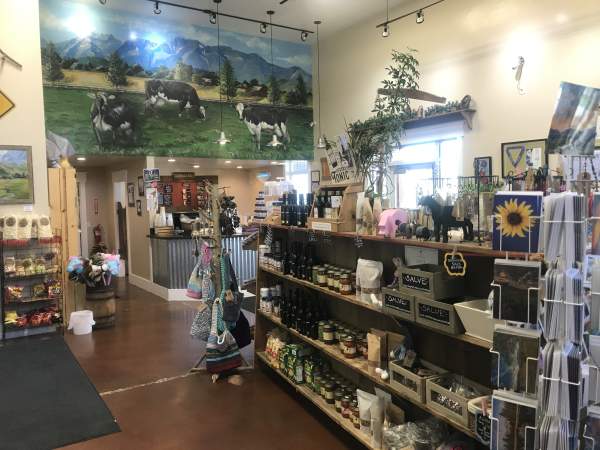 Dairy Farm Tour
Dairy tours offered daily at 11 am
Kids 0-3 Free
Kids 4-12: $8
Adults 12+: $16
The dairy farm tour was so amazing and so much fun for the entire family. The tour took an hour and was the perfect length for my boys who are 4, 7, and 9. Not only was it a great learning experience for all of us, but it gave us all a greater appreciation of what it takes to get us that morning glass of milk!
At the start of our dairy tour, we were picked up at the cheese factory and taken on a hayride over to the dairy farm around the corner. The kids loved the ride, but they were quickly obsessed with our first stop - seeing the baby cows. For the first few months of a calf's life, they're kept with the other babies in little sheds and cared for individually by the farmers. Our kids got to get out and pet the calves and were so thrilled by how friendly they were. My 4-year-old made special friends with one cow who kept licking him and trying to suck his fingers. It was fantastic. 
After spending some time with the babies, we got to head into the dairy barn where the milk cows are kept. It was nothing like I had expected.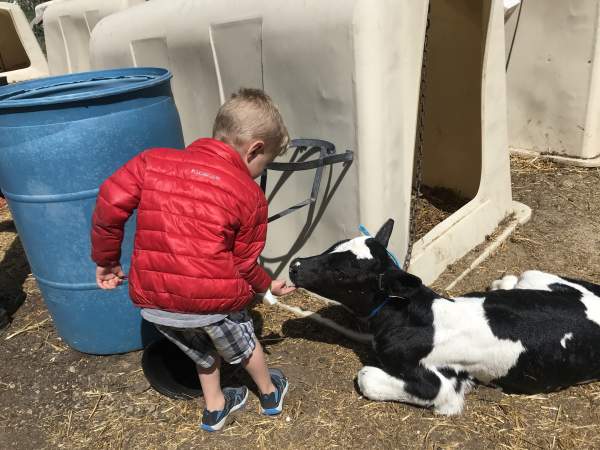 First of all, the smell really wasn't that bad, especially considering that there are over 300 cows in the same building. The farmer kept joking that this was their robotic dairy because they've been able to automate so many aspects of the dairy operation. They even have a machine that cleans up all of the poop in the dairy every 30 minutes!  It was really impressive.
The cows were all very curious about our family there and loved having the kids come over and pet them, which was so wonderful for the kids.
Next, we learned about how the cows are milked and all the technology that goes into that process. It was so impressive, and I never imagined that a dairy farm could be so high-tech.
Additionally, the cows are all trained to go and be milked whenever they feel their udders are full. It's very similar to the concept of feeding on demand that many parents use for babies. Some cows go in to be milked 5 times a day and others only want to be milked once or twice. 
To be milked, the cows actually wait in line to go into the milking area. Once they are in the holding pen, a robotic milking machine uses cameras to attach to each teat and milk the cow. While the cow is being milked, the computers are monitoring everything from milk flow to temperature and comparing each cow's milk production with how they have produced in the past. All of this information is then analyzed by the farmers to track if any cows aren't eating enough if they are getting sick and if there are any other concerns about the cows' health and well-being. 
When the cows are done being milked, the computers open the gate and they can go back in and join the rest of the herd in the barn.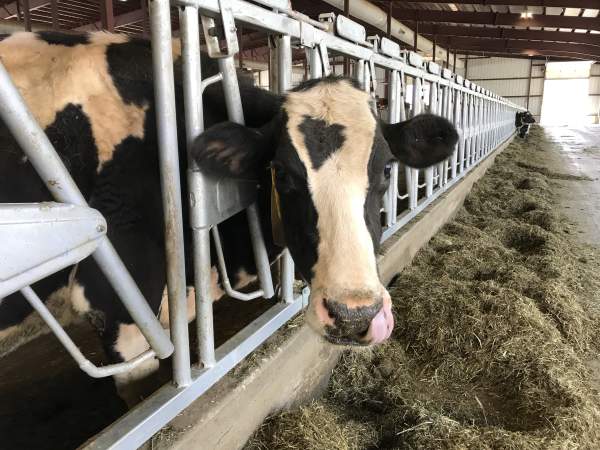 From there they can enjoy their food, or even head over to the cow spa which automatically spins and scratches the cow to help them always stay comfortable. With a huge ventilation system, the barn stays warm in the winter and cool in the summer. 
Truthfully, all of this was fascinating to watch. The kids couldn't believe how much technology went into raising dairy cows, and I was amazed and how complex the entire operation was. We got a behind-the-scenes look at how one of our kid's favorite foods gets to our family and it was such a great learning opportunity. 
It was clear that the farmers at the dairy were doing every possible thing that they could to ensure the health and comfort of the cows. Honestly, it made me fall even more in love with eating their cheese. 
Eating At Heber Valley Cheese
If you're heading into the cheese store, plan on coming out with a full belly. Inside you'll find a small cafe serving grilled cheese sandwiches (made from their artisan cheeses and fresh bread), as well as a huge variety of ice cream. All of the flavors are so good that adults and kids alike will love stopping in here for a quick bite to eat. Our favorite is to enjoy our food outside on the picnic tables for amazing views of Midway and Mt Timpanogos. 
Other Events At Heber Valley Artisan Cheese
If you're heading over to the cheese store in Midway, make sure to check out their full calendar of events. They always have great classes and events for the community and teach classes on making cheese, yogurt, and my favorite gelato!  
A visit to Heber Valley Artisan Cheese is a great way to connect with and learn about our local agricultural heritage as well as enjoying some delicious food while you're there!