Are you looking for a great way to spend the day in nature, but not sure what to do when unexpected weather arrives? We recently spent a day visiting the Swaner Preserve and EcoCenter, and it was the perfect fit for our nature-obsessed family.
Details 
What: Family Programs
When: Year-Round
Who: All Ages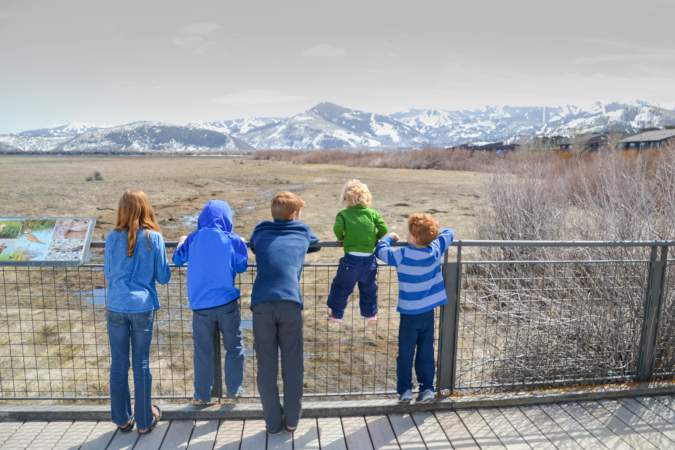 This past month, Swaner EcoCenter is showcasing their Nature's Ninjas exhibit. Inside are dozens of animals that all have some sort of "secret power". We learned about camouflage, armor, spikes, poison, and more. You can walk through the center on your own and enjoy reading through the displays, but the real gem of this exhibit is the live shows.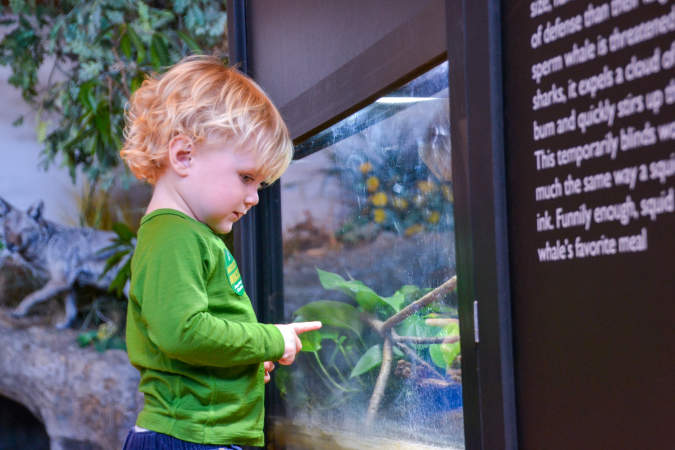 There are many live shows throughout the day, so finding one when you get there shouldn't be a problem, and it's a highlight of the EcoCenter that should not be missed. 
Experience
During the show, a naturalist brings out several different animals to show off to the group, and as they do, they teach the audience all about them. A majority of them we were able to pet or hold, so it was perfect for keeping all the kids both excited and engaged. I was actually a bit worried that my younger kids (ages 2 and 5) would have a difficult time holding still and paying attention, but the staff there did a great job at gearing the presentation to all ages. Actually, my pre-teens were completely fascinated by it! 
We went on a weekday, and so our group size was small and intimate (about 15 people), which gave us lots of time to hold and pet all the critters without feeling rushed. Our kids held turtles and snakes, pet hedgehogs and beetles, but the armadillo was the star of the show. Having never seen one up close before we were all fascinated as this little critter pranced around the circle, licking our fingers, nibbling our shoelaces, and making the younger kids squeal with delight whenever it got close. The whole time we were in this show, the naturalist keep telling us more and more about the animals, which kept things fun but also really educational too!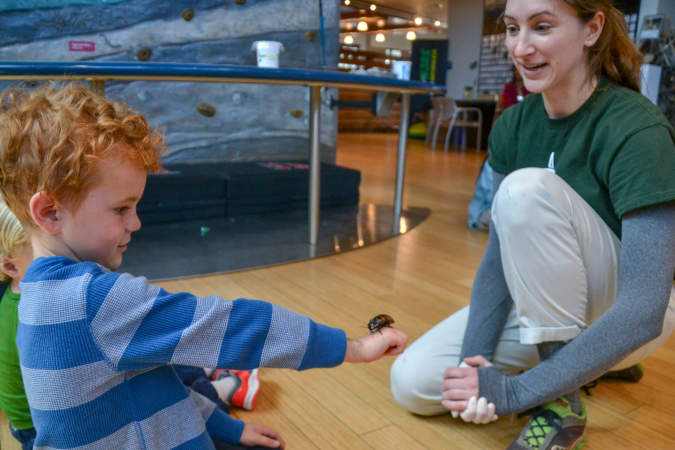 About the time the show was wrapping up, the naturalist said she had one more surprise for us and took us to the back of the exhibit. After grabbing several handfuls of food, she opened up the porcupine cage, where our new friend Quill-ber, waddled over to us. With a back-full of quills, all of the kids were definitely timid about being so close to him, but as we learned more about porcupines, everyone's comfort levels went up, and before we were done, the kids were all sitting just a couple of feet away from him. Our guide clearly could tell how interested everyone was, and let us stay there for at least 10 minutes as our new critter friend snacked on veggies in front of us. My kids talked about how cool it was for the rest of the afternoon!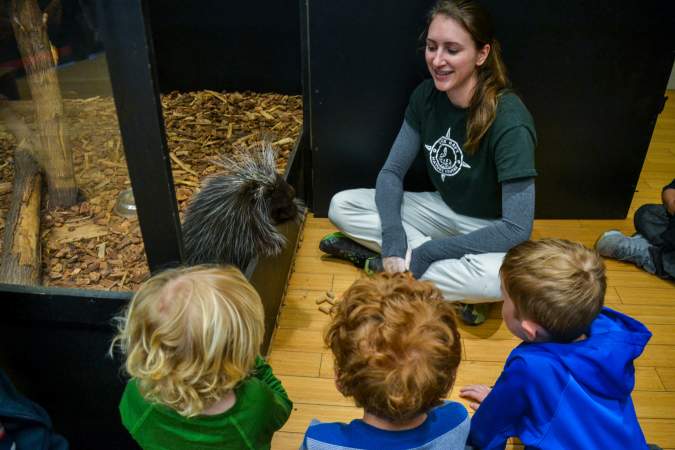 Aside from visiting an exhibit at the Swaner EcoCenter, there are several other things that you can do. Right out the backdoor, is a wetland area that you can go out and check out. There is a boardwalk, so you can get a good sense of what the ecosystem is like without damaging it. While we didn't see any, this wetland is a refuge for Sandhill Cranes and many other birds. Tours of the wetlands are available on Saturday mornings (details below).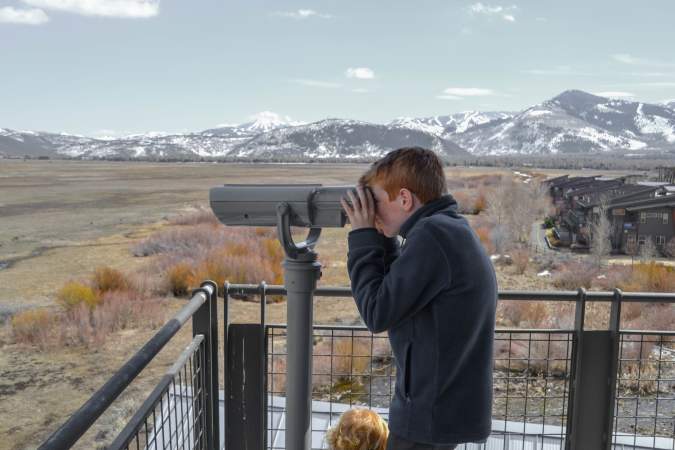 Above the EcoCenter is a three-story observation tower where you can get a bird's eye view of the preserve. From up there, our kids spotted a herd of elk resting in the grass, as well as a few deer down in the willows.
While the weather wasn't cooperating for us, there are also several trails on the Swaner preserve that you can enjoy as well. The easiest one from the preserve is just south of the EcoCenter on a short gravel path. The trail is short at only about .3 miles but is a great way to see the wetland area more. This gate is locked, so make sure to ask the front desk for the code to unlock it. A bit farther out, the Swaner preserve also has a lot of preserved land on the north of I-80 that has several different trails as well. Currently, those trails are pretty muddy, but will hopefully dry out in the next few weeks.
While the "Nature's Ninjas" exhibit has finished, Swaner has a lot of other activities and programs going on throughout the year.