The Sundance Film Festival is one of the most popular times to visit Park City.
Park City, Utah, is a special place any time you visit. But there are certain events that come along each year that make it an extraordinary place to visit. Whether it's the Torchlight Parade on Christmas Eve, the country's most popular film festival, or a lung-burning mountain bike race, you'll find events throughout the year that give you even more reasons to visit Park City. Here are nine annual events that keep people coming back every year.

1. SUNDANCE FILM FESTIVAL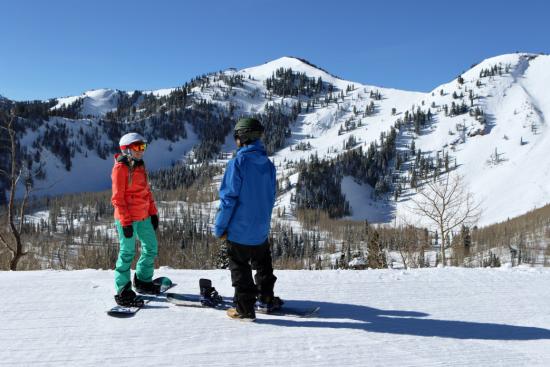 The action may be inside during the Sundance Film Fesitval, but that means you'll get much of the mountains to yourself. 
Locals and longtime visitors to Park City have gotten used to the fact that for 10 days at the end of January, Hollywood takes over and paints the town black. During this time, lodging options are booked out in advance at the highest rates, and you will likely have a snowball's chance of getting a table at a local restaurant or après hot spot. But it's not a complete takeover: Locals know it's usually one of the best times to ski. For one thing, it's the right time of year when the Wasatch storm cycles really start dropping the white stuff on the peaks of Deer Valley and Park City Mountain resorts. Look for lodging out by Redstone and Kimball Junction like the Newpark Hotel. Think of the public bus system as a giant Uber that will drop you off at the mountains. Once you make it to the slopes, you'll be thinking "where is everyone?" Plus, if you want to take in a movie or go people watching in downtown Park City, it's all there for you. This year the festival takes place from January 19 to 29, 2017.

2. PARK CITY POINT 2 POINT MOUNTAIN BIKE RACE 
The Park City Point 2 Point mountain bike race started out as a single long ride through many of the area's choicest cuts of singletrack trail, until inspiration hit founder Jay Burke with the idea that it would make a killer race event. The epic Labor Day event is 75 miles long and includes 12,000 vertical feet of climbing and descending. Yes, you'll spend the better part of a year training for the race, but it will be worth the effort. The trail riding is spectacular, but it's the community of participants that make this event so special. You just need to mark your calendar for February 15, 2017, which is when online registration opens for the 9th edition of this ride. It will sell out the limited number of spots in minutes.

3. TOUR OF UTAH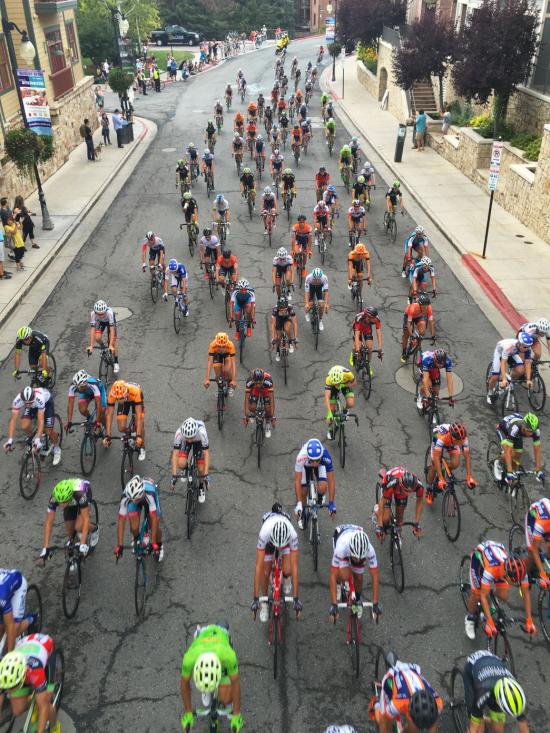 The Tour of Utah is one of the top road races in the country. 
For road cyclists, the Tour of Utah is the top race in the state, and one of the best stage races in the country. The demanding, weeklong event travels across Utah, with the final stage and finish often in Park City. Spectators will find an all-day festival on historic Main Street to enjoy as the riders take on the final 78-mile stage that includes 7,883 feet in elevation changes, including the infamous climb of Empire Pass. The event begins on August 1 and finishes on August 7.

4. AUTUMN ALOFT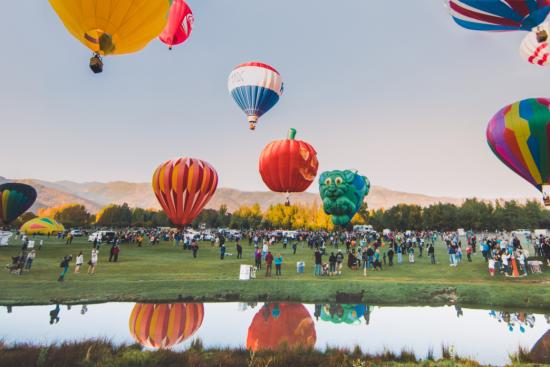 Look to the skies of Park City for the Autumn Aloft festival. 
Each September, those in the hot-air balloon community—and those who enjoy the spectacle—come to Park City for the Autumn Aloft festival. The event is free to spectators, who can arrive in the morning to watch the launch or check out the evening balloon glow, where tethered balloons light up the night sky. The sight of the balloons soaring over the mountains in the fall makes this one of the best weekends to visit Park City.

5. THIN AIR INNOVATION FESTIVAL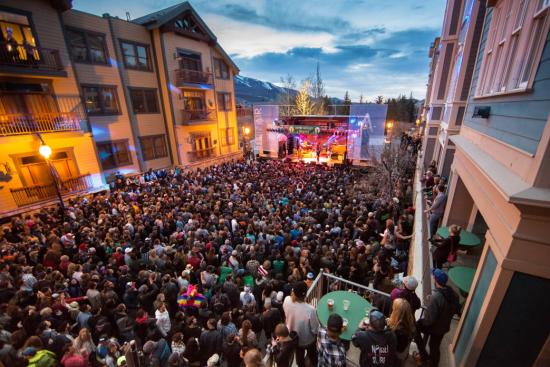 The Thin Air Innovation Festival brings thought leaders to Park City.
The Thin Air Innovation Festival is a newcomer to this bucket list, but the inaugural event held in 2016 was so successful, we think it will be around for years to come. It takes place in early to mid April, right about the last week the resorts are open in Park City. It's a think-tank style event that combines engaging speakers and panels, with every year having a new theme to center on. The event is structured in a way that companies and groups can bring their meetings and "bolt-on" to what Thin Air offers, but it's also open to curious individuals and entrepreneurs who want to network, learn something new, and engage with current thought leaders—and maybe write off a spring ski trip as a business expense. It's capped off with an open air street concert on lower Main Street. The 2017 event takes place from April 5-7.

6. FREESTYLE WORLD CUP
The best freestyle skiers in the world will be coming to Deer Valley for the FIS Freestyle World Cup—and you can watch their incredible acrobatic skill on the mountain. Using the same venue and runs as in the 2002 Olympics, competitors will be under the lights for this nighttime event that features a party atmosphere. Taking place from Feb. 1-4 (and airing on NBC), the competition will feature men's and women's aerial events on Friday night, with men's and women's moguls and dual moguls on Thursday and Saturday night. After the conclusion of the finals each night, stick around for a fireworks display.

7. KIMBALL ARTS FESTIVAL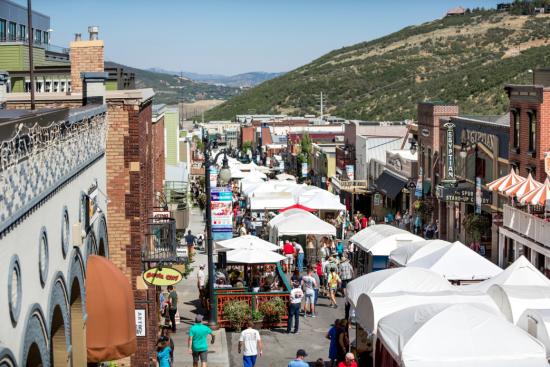 The Kimball Arts Festival brings artists from all over the country to Park City. 
This year, the Kimball Arts Festival celebrates its 48th anniversary of bringing artists to downtown Park City to display and sell their creations. You'll find artwork in 12 different categories—from drawings, paintings, and photography to glass and wood creations—and the weekend is filled with cultural events to accompany the festival. In addition to the more than 200 artists in town, visitors will find live music, kids activities, fashion shows, dance exhibitions, and yoga classes. The Festival After Dark keeps the entertainment going into the night, with movie screenings and musical performances in Deer Valley's Snow Park Amphitheater. The 2017 event takes place from August 4-6.

8. TORCHLIGHT PARADE 
For more than 50 years, Christmas Eve in Park City has meant the Torchlight Parade. The annual tradition starts in the plaza of the Park City Mountain Resort, with live music, coffee, and hot cocoa. The crowd then moves to the base of the mountain and watches resort staff ski down the PayDay run while carrying red torchlights, creating a spectacle that's not to be missed. This holiday tradition continues this year on December 24.

9. PARK CITY FOOD AND WINE CLASSIC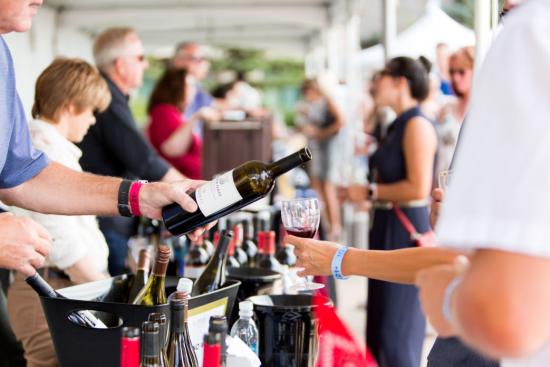 The town is filled with wine lovers for the Park City Food and Wine Classic. 
At the Park City Food and Wine Classic, food and wine lovers get a chance to meet some of the top tastemakers in the country. You'll find winemakers, vineyard owners, and master sommeliers all discussing their favorites, while some of the country's top chefs will preparing the perfect dishes to pair with your finds. The festival is filled with opportunities for tasting, as well as special events that pair outdoor activities in Park City with food and wine. Spend the morning mountain biking before enjoying a gourmet lunch with the perfect wine pairing. Take a class in preparing ceviche from a master chef, or simply stroll around the city sampling the incredible offerings. This year's festival will be held from July 6-9, 2017.


Originally written by RootsRated.