Photo credit: Stein Eriksen Lodge
1. GOGGLE TANS: How else will your friends know you went on a ski vacation if you don't return home with the tan-lines to prove it? Springtime is the best time to lock in your goggle tan - the sun stays out later in the day and there is no need to keep your face covered in the warmer weather.  Don't forget your SPF!

2. YOU ONLY NEED TO WEAR ONE LAYER: Not only does this make getting dressed to hit the slopes a breeze, but it will also lighten your suitcase.  Warmer temperatures = fewer layers.  Try a moisture-wicking base layer underneath a shell with ventilation zips for maximum breathability.

3. IT STAYS LIGHTER LATER: Even once the resorts close for the day, you can still enjoy plenty of other outdoor activities in the daylight.  Try Nordic skiing, snowshoeing, or snow biking, to name a few.
Photo credit: White Pine Touring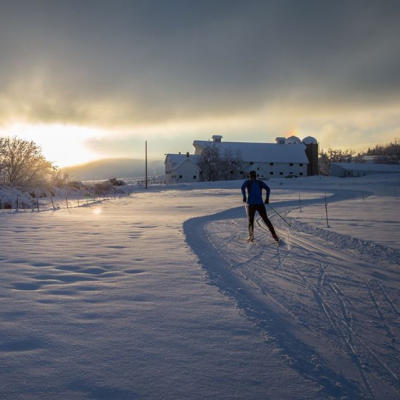 4. OUTDOOR CONCERTS: We can't think of a better way to end a ski day than by grooving to live music outside. Spring concerts in Park City are plentiful.

5. YOU CAN ENJOY LUNCH OUTSIDE ON THE DECK: Outdoor deck dining is not just for the summer months. Midday lunch outside during spring is a great way to break up your day on the mountain.  Try Deer Valley Resort or Park City Mountain Resort's on-mountain dining options, or head down Quit'N Time underneath town-lift to grab lunch on Historic Main Street.

6. HERO SNOW: Skiing is always fun, but skiing in soft snow that's conducive to all skiing abilities/desires is the BEST.  Enjoy skiing bumps? Perfect, they're soft in the spring and you'll feel like a pro. Prefer groomers? Even better - firm in the morning and softer by the afternoon, springtime groomers will make you feel like Ted Ligety on a GS course.

7. PARK CITY POOLS: Park City is loaded with beautiful swimming pools at hotels and resorts across town.  Now that it's finally warm enough, take a dip and relax by the pool.  It's the perfect way to cap off your ski day.
Photo credit: Waldorf Astoria Park City



8. YOU DON'T HAVE TO USE HAND WARMERS: Worry not about remembering to put hand warmers in your pocket before leaving for the resorts - you won't need them! Spring's mild temps help keep your hard-to-manage extremities warm.

9. APRÈS-SKI OUTSIDE: It's always fun to grab a beverage after a great day on the mountain, so why not enjoy the fresh sunshine while you do.  Grab your friends and hit the deck - there are local craft beers to imbibe as you absorb the sun's warmth and chat about your great day on the slopes. 
Photo Credit: Montage Deer Valley

10. DISCOUNTS & DEALS: As we welcome warmer days, we also welcome discounts and deals.  Visiting Park City after the Christmas and President's Week holidays allows you to avoid peak pricing.  Enjoy various lodging, equipment rental, and activity discounts when you vacation in Park City during the spring.