You may be a glamorous and fearless couple, always skiing down expert pistes together through fresh powder. Then, launching yourselves into the air, executing perfectly synchronized jumps while being filmed in super slow motion by an international film crew who specializes in extreme winter sports documentaries.
But you may also be a mom and a dad . . .
So, your winter ski vacation visions may be a little more kid-friendly. In terms of a world-class winter sports destination that is perfect for families of all skill levels, there is no equal to Park City, Utah. It's home to two renowned downhill ski resorts—Deer Valley and Park City Mountain, the Utah Olympic Park—a still-thriving winter sports training facility built for the 2002 Winter Olympic Games, and Woodward Park City—a year-round action sports training center and facility. Between alpine and Nordic skiing, snowshoeing, snowboarding, and even dog sledding, your entire family of big and little daredevils will have plenty of snow and ice time to test the extremes of your abilities and capacities for unbridled fun.
Park City is located 32 miles/47 km east of Salt Lake City in the Wasatch Mountain Range of Northeast Utah. The Salt Lake City International Airport (SLC) has non-stop flights from over 100 domestic and international locations. It's as easy as, 1. Land at SLC, 2. Grab your luggage, 3. Hop on a Park City shuttle, 4. Carve up the slopes, drink hot chocolate, shop, dine, play and have the best ski vacation your family has ever had.
Lodging is top-notch in Park City. Choose from over 100 hotels and lodges with kitchens, multi-bedrooms, laundry, pools, child-care onsite, as well as B&Bs, condominiums and vacation homes.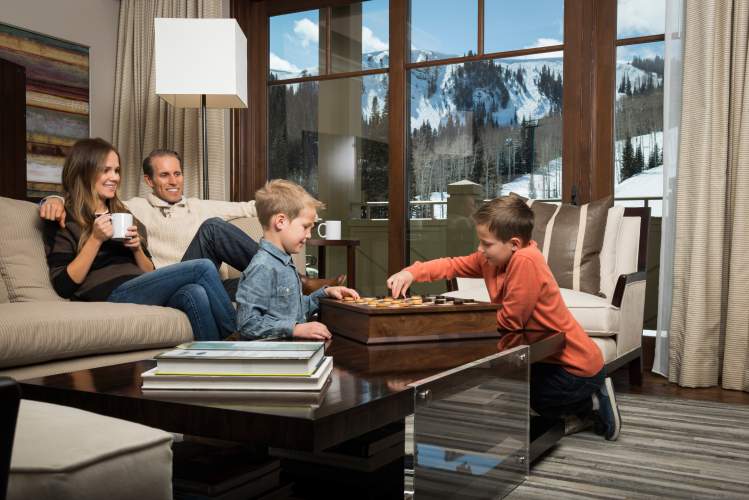 Yet another great aspect to Park City is that although there are world-class ski resorts just steps away, the town itself has a quaint and charming "small town" feel that endears it to families from around the world. Park City was established in 1868 as a silver mining town. The first winter sport in Park City is said to have been a ski jump that silver miners built on a pile of mine tailings in the 1930s. After the silver mining faded into history, Park City almost did too, but in 1963 the first ski area was built with the help of a federal redevelopment grant … and the rest is history. Awesome history! Park City was the host of the 2002 Winter Olympic Games as well as the home of the annual Sundance Film Festival.
When not on the slopes, courses or terrain parks, Park City has plenty to offer families of all ages. Check out museums, like the Alf Engen Ski Museum at the Utah Olympic Park, which gives visitors the cool history of skiing in the Rocky Mountains of the United States, or the Park City Museum on Main Street and learn about Park City's rich mining history and how it re-invented itself as a popular ski destination. No visit to Park City would be complete without checking out the many art museums and galleries. Once you're there, you will understand why artists flock to Park City—and how Park City comes through in their exceptional creations.
Take a food tour of Park City and indulge in the best gastro delights this former silver mining town has to offer. It's come a long way from hardtack and beans of the 1860s. From old-school American cuisine (burgers, fries, mac & cheese) at Squatters to a unique European family dining experience at Fireside Dining, there is a great food for every palate—young and parent-age alike (ski daredevils are not "old").
The kids will also love other Park City activities like a kids' zip line, rope course, or snow tubing. Furthermore, all passionate action sports athletes of all ages and abilities will love the fact that Woodward Park City is open daily.
So, take your family to Park City this winter. You'll prove that you are still that glamorous jet-setting couple carving up the slopes—even if you only prove it to yourselves and your kids, which are the only opinions that really matter anyway.