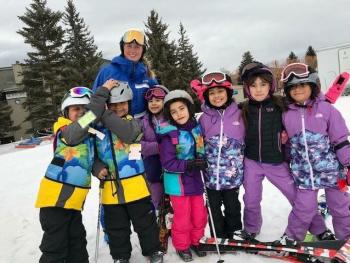 When she arrived from Middlebury, CT, in her VW Golf in 1998, Youth Sports Alliance Executive Director Emily Fisher didn't envision becoming a deeply committed Parkite or an inspirational motivator with a distinguished career in outdoor rec.
"I'd been hired over the phone to work for the US Ski team and figured I'd be here through the 2002 games," she smiles. She later led the Freestyle Team at the 2006 Turin Olympics but eventually returned to the Wasatch Back for good.
"I love being able to Nordic ski out my door, all the opportunities for my kids, and the fabulous friends I've made," she says. "I grew up skiing all disciplines, alpine, Nordic, ski jumping. Skiing makes my heart happy and my mind calm."
Emily is thrilled three USA Olympians in Beijing started in YSA's Get out and Play grade-school program, "but for me, it is really about getting students to try something new and seeing their giant smiles. Sports changed my life, and I want every child to have that chance."
"With a busy career and two kids, the early mornings offer a rare moment of quiet," she says. "I'm up early, sneak in some exercise  (thank you, Beau Collective!), get the kids off to school and head to the office."
Although she oversees seven competitive teams, after-school programs, a donor network, and a Stein Ericksen endowment and scholarship program, Emily says, "My favorite days are when I get to see our athletes in action. I am so grateful for them and my smart, funny, hardworking, and caring colleagues."
 "To me, that is what being a Parkite is all about," she concludes. "Playing hard, working hard, embracing the mountain lifestyle, and caring for each other."
Participate, cheer on, or donate to Emily's amazing kids at ysaparkcity.org.