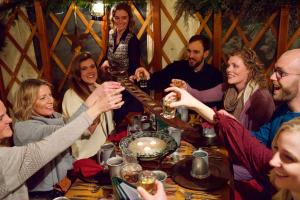 When Joy Vik is nighttime snowmobiling, the view from 8,700 feet near The Viking Yurt restaurant brings memories of her late father. "Dad was the weekend doc for the ski resort beginning in 1968," she says. "He would marvel at how much has changed."
Joy says growing up here means "being a Parkite is my identity." She and her Norwegian-born husband Geir were motivated to open Viking Yurt in 1999 in order to raise their daughters in PC. "My background is in finance and Geir is an electrical engineer, so our talents made a yurt-style restaurant doable," she says.
Today, Joy creates the recipes for the 28 nightly guests and runs the business and marketing side while Geir handles the infrastructure and equipment, including the snowcat that brings guests on a mountain top sleigh ride for nighttime views. "Geir loves being outside, taking in the piano music coming from the yurt, absorbing the view of the stars and the town below."
She believes their hands-on, egalitarian attitude has helped mold a smoothly operating restaurant team. "There is no pecking order," she says. "Considering the difficult logistics of running a mountaintop restaurant, everyone is vital."
Off work, the couple love to ski and share their love for animals, regularly donating to Nuzzles & Co. animal rescue. Joy even published a photo book, "When Dogs Dine Like Vikings," featuring local doggos "posing" at the Yurt.
Joy concedes being open seven days a week can be exhausting. Still, the pair get plenty of recuperation time by summering in Norway and touring the American West in their teardrop trailer. No matter where their travels take them, though, Joy says, "I always know Park City is the place for me." 
For your next fine dining experience, we think you will find Viking Yurt is the place for you.