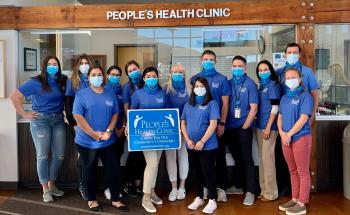 To Beth Armstrong, community service is second nature. So when she came to Park City in 2004 from Los Angeles where she'd worked in hospital administration, "I immediately became involved with the building of the Park City Hospital and went on its Board," she says. She was named Executive Director of People's Health Clinic in 2015.
Beth and her team worked hard keeping People's Health Clinic open and staffed during the COVID emergency, adding new patients who had lost jobs and insurance. "We hired Dr. Mairi Leining as Medical Director to broaden volunteer providers and expand services to meet the 25 percent increase in patients since COVID," she recalls.
Patients qualify for Clinic services if they have no health insurance and show proof of residency in Summit or Wasatch Counties. The Clinic offers non-emergency Primary care, Women's Health Services (Prenatal, Mammograms, OBGYN), Diabetes Education and Treatment, Mental Health Services and Pediatrics.
Beth says her Louisiana small-town roots helped her connect with the Park City vibe of giving back and serving others. "That seems to be the lifeblood of who we are," she says.
After many years in LA, the family came to Park City to accommodate their then 11-year-old son's love for ski racing. "It was going to be a one-year move," she laughs, "and the rest is history!"
Looking back on a successful management career, Beth says serving at People's Health Clinic "is the greatest job I have ever had."
We are glad she's there! People's Health Clinic has been earning our trust and admiration since 1999, and we love the work they do.
Find out how you can contribute at peopleshealthclinic.org.