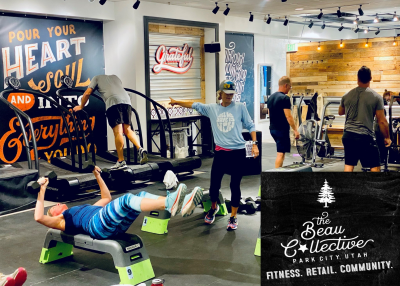 "Every sunrise, we are a place where people elevate each other," says Whitney White Kozlowski of The Beau Collective, the fitness and social hub where hundreds of Parkites challenge themselves while reveling in each other's company.
"It is a world of connection, fitness and community building," Whitney says of the 45-minute HIIT-style classes full of inspiration, whimsy, upbeat music and fired-up people. "My favorite part is how we make our lives fun, fit and lighthearted."
Whitney opened in 2015, though being a mountain town fitness guru was not always part of the plan. "I was a beach kid in California with a publicity job lined up at 20th Century Fox in LA," Whitney recalls. Instead, she discovered the mountains and the fitness world while working for an events company during the 2002 Olympics. "Fitness is the most endearing fluke of my life," she says.
Whitney loves the special bond Parkites share, "a life full of family, activity, natural beauty, support and 'magic mountain moments' or MMMs," she laughs.
"My contribution is building connections, health and adding value," Whitney says. "I am an enthusiastic YES when it comes to putting time, money or goods to better use by extending them to others."
Whitney brings her "contagious good energy" to everything she does. "Life is too short," she believes. "We're not here for a long time; we're here for a good time!"
You can find out what she means at The Beau Collective's new location at The Outlets Park City, "Our goal is to surprise, delight and transport you every time you walk in," she says.
Soon, you will be adding The Beau Collective to your list of Park City MMMs.