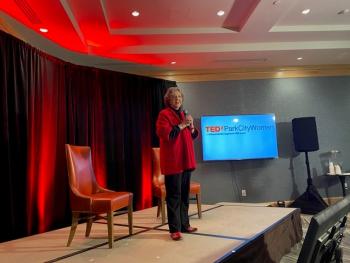 Teri Orr was a single mom of two working in retail after moving to PC from Nevada in 1979. "I owned a clothing store in Tahoe City, so I knew how to do that," she recalls. 
But advice from a Tahoe friend haunted her. "She told me, 'You need to go on all of life's rides,'" Teri recalls. A natural but unpublished writer, she submitted a column to the Park Record, and a career was born at "ten dollars a column," she laughs. She eventually became editor and remains a respected regular columnist. 
She also runs TedX Park City, bringing people together for a TED-like experience while adding a unique touch - offering a food and wine pairing with each topic. "The women of Hell's Backbone Grill in Boulder, Utah and John Cumming of Crimson Wines decided to do that, and it's been fun," she says.
Being a Parkite means "I put sweat equity in the town like everyone back then," she states. "We were making a community one school and fire station at a time. We still speak a secret language based on old buildings and nicknames  - The Alamo, The Depot, Scoop, Chicken, and Mad Dog," she recalls. "The metal in the mountains matched the mettle of the people. We want to see each other succeed, don't suffer fools, and are generous beyond measure."
Today Teri loves to "travel at the drop of a map," and after 40+ years, "I love living in a community passionate about the past,  present and future."
Like the ore in these mountains, Teri Orr carries our history and is crucial to what makes Park City special. Check out tedxparkcity.org and catch Teri's regular column "Sunday in the Park" right here in the Park Record.