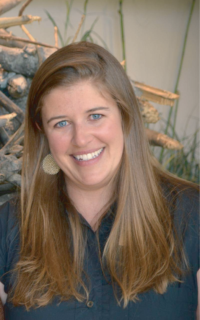 Survival of the Slowest – the fascinating exhibit at Swaner Preserve and Ecocenter until February 6 – offers a live look at the counterintuitive adaptations of slower, smaller, and weaker animals such as sloths, chameleons, and even an albino Burmese python.
But slow isn't what comes to mind when you meet Swaner Exec Director Nell Larson. "Every day starts with a mug of chai and a walk or ski with my dog, Doug, and ends with a hike or a skate ski by headlamp," she says.
A native of New York's Adirondacks, Nell came to PC as a Swaner Preserve intern after earning her master's in environmental management at Yale's School of Forestry. As is true for many Parkites, there was some serendipity involved. "I had other plans lined up," she admits. "At the last minute, this perfect internship arose. I packed up the Sentra and hit the road. After one year in Park City, I was hooked!" She was named Executive Director in 2013.
Nell prioritizes getting out of the office and going hands-on with Swaner's mission. "We spark curiosity about the natural world and inspire stewardship," she said. "I love working on projects like stream restoration to protect Bonneville cutthroat trout. Then, at the end of the day, I visit Sash and Lulu, the sloths at Survival of the Slowest." 
Nell sees firsthand how Park City's environmental awareness and Swaner's mission harmonize. "It's so rewarding that the community is excited by our work," she says. "We look to them for volunteer work, financial support, and so much more. The response is always amazing!"
Tickets to Survival of the Slowest are $12 and $8. The wetland pier, observation tower, and naturalist room are always free. Swanerecocenter.org.