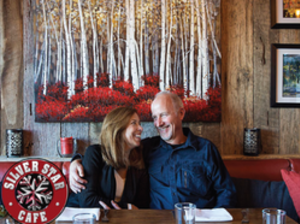 USA Today called the Silver Star Café "Park City's Best Dining Secret" because of its unique "American roots cuisine," a contemporary, made-from-scratch, diverse expression of regional foods and flavors of the American Melting Pot.
The restaurant, located at the foot of Silver Star ski lift at Park City Mountain Resort at 1825 Three Kings Drive, is also a favorite of Guy Fieri, who spotlighted the eatery in his Food Network shows, "Diners, Drive-Ins and Dives" and "DDD Nation." And Forbes says it serves the "Best lunch and dinner in Park City."
And while these national accolades mean a lot to owners Jeff and Lisa Ward, the husband and wife team hasn't veered away from their local foundation. When asked what community means to them, the Wards' response was simple: "Commonality of place, and working together in support of common values, for everyone's quality of life."
The Wards are 40-year Park City locals. And while Jeff's resume is filled with a career in restaurant operations, Lisa's specialty is communications and community development, where she spent 16 years mentoring youths and adults in the community on civic engagement and leadership, ran her own marketing and public relations company, and served as editor of Park City Magazine for several years.
The Wards, who celebrate their 30th anniversary this year, have served on numerous nonprofit boards and committees throughout the years, and Jeff has served four terms on the Park City Chamber Bureau board, including serving as board chair.
In March 2010, the couple bought and began running the Silver Star Café, with the idea of offering a community gathering place where locals and guests would be equally welcome at what they call the "four legs of our table" — great food, ambiance, service and acoustic music that is intimately performed by local and nationally touring artists every Thursday, Friday and Saturday nights.
The café features full offerings of wine, beer and craft cocktails, and the food and service are fine-dining, yet warmly welcoming and come-as-you-are, whether it's straight from the ski hill or hiking trail, or out for a special celebration.
In addition to welcoming their dining guests with their warmth and hospitality, the Wards also treat their staff as family, which was especially important when the restaurant closed temporarily due to the coronavirus pandemic.
The couple worked hard to keep their staff and pay them, thanks to federal CARES Act financing and reached out to them regularly during the shutdown.
"Although we had to close for a little bit, we kept in touch with our staff, because we were worried about them and their families," Lisa said.
Once the restaurant got the green light to open again, the Wards asked their patrons to wear masks until their staff members were vaccinated.
Jeff and Lisa also enjoy spending time with their "gang of eight" family that includes two adult sons, a nephew who joined the family, and their spouses and partners.
Through it all, they are proud to share the Silver Star Café, a place that feels like home, where everyone is treated as welcome friends.