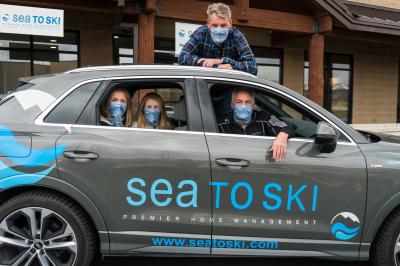 The average vacation home is owner-occupied just 29 days a year, a fact Park City vacation homeowners Charlie and Maura Robbins saw as an opportunity more than 20 years ago. As second homes proliferated, they were ready with Sea to Ski customized home management services, "where attention to detail sets us apart," Maura says.
Coming to Park City for the mountain lifestyle with their two kids back then was "only temporary," Charlie recalls. The family returned to Seattle in 2001, purchasing a second home before leaving. "We noticed that property managers focused on the nightly rentals," Charlie said. "We felt second homeowners who didn't want to rent were overlooked." 
Charlie focused his MBA research on vacation home management, and in 2005, the Robbins returned to launch Sea to Ski. "We were new and had no clients," Charlie says of their early days.  But in 2006 and 2007, long-time Parkites Tierney Groy and Scott Benson joined the team. Both are managing partners today.  "We were extremely fortunate to align with great people who have also become good friends," Maura says. 
Today, Sea to Ski has expanded into HOA management and fantastic concierge service while becoming known for supporting the Park City Community Foundation and the Egyptian Theatre, where Maura is a president emeritus after years on the Board of Directors.
But it is their love for Park City that sets them apart. "After all these years, it still feels like a small town," Charlie says. Maura concurs. "Owning and operating a business in the town we love just makes it even better," she says.
For second-home services from people with PC passion and insight into why high-quality vacation home care matters, we recommend Sea to Ski every time!