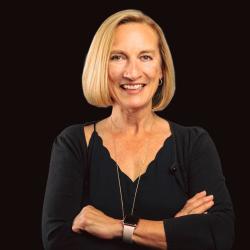 "When I learned about the profound influence of a quality childhood on the trajectory of young lives, I was hooked," Andrea Barnes says of taking the helm of PC Tots on Sidewinder Drive and PC Tots, Too on Prospector Avenue six months ago. A seasoned nonprofit executive, she's enthusiastically tackling the challenge of making quality childcare affordable for working families. "Many get priced out," she says. "Childcare is often a family's biggest expense, including rent or mortgage." Space requirements, regulation, and other built-in expenses make bringing costs down difficult.
PC Tots' solution offers tuition on a sliding scale based on Area Median Income. A nonprofit corporation, PC Tots donors – area corporations, foundations and individuals – make reduced rates possible. "Donations allow us to serve working families with safe, enriching childcare," Andrea says. In addition, local businesses understand their workers need reliable and safe care for their children. "We are critical infrastructure," she says. "We help make businesses successful."
"Fortunately, there is a robust tradition of philanthropic support here that is quite incredible," she adds with a smile.
Andrea calls herself an "adopted Parkite," a resident of SLC who loves PC's beauty and lifestyle. "My husband and I love skiing, biking and golfing in Park City."
Donations and volunteers are critical, but Andrea says, "our greatest need is building community relationships that will propel us into the future." To that end, she is seeking Board of Directors candidates for terms beginning July 1.
With the future of PC riding on the safe and enriching development of our youngest Parkites, we're hoping you decide to get involved with PC Tots as a donor, volunteer, board member or all three. Andrea's dedication and drive will assure your contributions help make every PC Tots child a success.