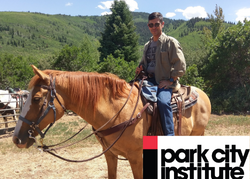 Park City Institute Managing Director Ari Ioannides is not a 'typical' tech entrepreneur. Besides technology and business, Ari loves storytellers. "The way performers compel us through photography, film, dance, music, theatre and literature does more than entertain," he says. "Anyone can find something enriching in what they do."
For more than 20 years, the Institute has brought world-class performances to Eccles Center, illuminating and entertaining Parkites "in a state-of-the-art theatre right in the middle of our community," Ari marvels.  "We don't have to drive for miles," as people in most smaller towns do.
Ari stepped into the Managing Director spotlight in 2020. However, he and his wife, former Park City School Superintendent Ember Conley, have been active with the Institute for years, supporting "intimate opportunities for Parkites to engage with the world's most creative, provocative minds," Ari says.
An 18-year resident, Ari's enthusiasm for Park City never wanes. "Think of it," he says. "Families spend well over $10,000 a week to enjoy our town, and we get to live here year-round." He and Ember enjoy hitting the slopes, riding horses, and savoring PC's excellent dining scene.  Ari also serves as Vice President of the Board of Recycle Utah. "I love the nonprofits who care for our people and environment," he says.
Ari and Ember's four children all attended Park City Schools, and he is committed to supporting PC students. "Over half of (Institutes) performers offer master classes and performance opportunities to students," he says.
With the 2021-22 Main Stage Series launching in November, Ari and Park City can look forward to many exciting evenings. Check out the fantastic performers headed our way at parkcityinstitute.org.